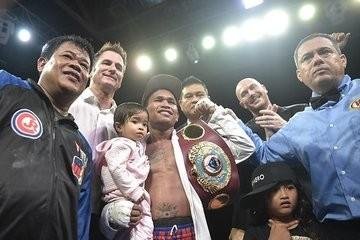 Source
Filipino boxing icon Manny Pacquiao is set to perform in America this November in the challenge of Filipino Johnriel "Quadro Alas" Casimero to World Boxing Organization (WBO) bantamweight king South African Zolani Tete.
This is what Sean Gibbons, president of Pacquiao-owned MP Promotions, revealed.
Gibbons said Casimero was impressed by the Philippine National Team after its 10th round knockout victory over Mexican Cesar Ramirez on Saturday night at the San Andres Sports Complex in Manila.
This victory, in which Casimero defended his interim WBO bantamweight title, paved the way for Casimero and Tete's upcoming title fight.
Tete has been told by the WBO that he will have to defend his crown against Casimero for 90 days from now.
WBO Asia-Pacific representative Leon Panoncillo said both camps could start negotiations.
"On Monday Senator Manny Pacquiao and his MPP will make a significant offer along with our partner PBC (Premier Boxing Champions) to do the fight in the United States in November of this year," Gibbons said.
"Senator Pacquiao is committed to creating the best scenarios for his MPP fighters to have a level playing field to win."
Casimero, a native of Ormoc City and a former member of Omega stable in Cebu, has a 28-4, 19KOs record while Tete holds a 28-3, 21KOs record.
Casimero has indicated that he will take a short break after his victory over Ramirez and will start preparations for his fight against Tete.
Casimero, who is a 2-time world champion, said he had to prepare for Tete because of his ability and ability.