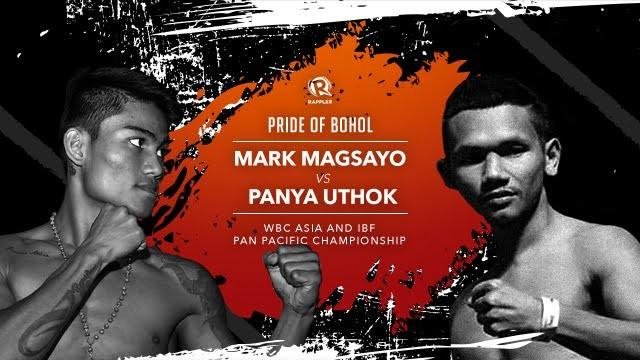 Source
Mark "Magnifico" challenges former world boxing champion Panya Uthok in Thailand not just in the mouth but not on the ring to do his bidding.
Veteran 29-year-old Thai fighter Uthok, formerly known as Pungluang Sor Singyu Onesong, has earlier announced that, like the other Filipinos he has opposed, he will wake up and stop Magsayo in their fight tomorrow night, August 31, for the WBC Asia Featherweight title to be held at the Bohol Wisdom Gymnasium.
"Well, as often as I can count on that is exactly what they say to me. He's just going to do it in the ring, let's see," said Magsayo, who holds an 18-0, 14 KO card.
Yesterday, during a luncheon held at the Atrium of the Bohol Quality Mall, it was officially declared that both had gained 126 lbs. which is their rival.
However, Magsayo admits how difficult it was to fight a veteran and former world champion who had a record of 53-6, 35 KOs among some of the Filipinos he victimized.
"We know that he (Uthok) is very fighter so we prepared very well. We really need stamina, up in the air, "said Magsayo who was an amateur when Uthok knocked out AJ Banal in their world title fight in 2012 at the Mall of Asia Arena.
WBC Asia vice-president Colonel Damrong Simakajorhboon of Thailand revealed how important the fight was for Uthok.
He said that if Uthok wins, especially with an impressive victory, it could return to entering the WBC rating and potentially fight back for a world title. Uthok wants to be in his middle age and shows that he is still in good shape.
"This fight will determine his career. If he wins, then we will be in the Top 15, and, it is possible for him to fight for the world title. But if he loses, then at his age, for me, he must be good for retirement, "Damrong said in an enterview.
"That is why he is very well prepared for this fight. He sparred 100 rounds already since he started his training, three months ago, "
Frances Magsayo, Mark's wife who is also the director of the Vladimir Boxing Promotion, has revealed that the IBF Pan Pacific Featherweight title will no longer be included in the contest.
This is because the IBF has been very responsive to their requests.
"We gave the IBF belt because they were late in responding, so instead of two titles, it's one. It's just the WBC. And maybe the IBF title is next, "Frances said.
The fight between Roldan Aldea and Aavar Turapov was also canceled for 140 lbs. This is because Aldea is set to fight in Russia on September 7.
But what is also expected to draw attention to the card is aided by the local government in Tagbilaran City, a fight between Philippine bantamweight champion Giovanni Escaner of the Marty Elorde Stable who will defend his title against Pael Renoel in the Flores Boxing Stable on 12- round match.
Completing the promotion that the Vladimir Boxing Gym has won is Virgel Vitor's Tagbilaran City battle against Allan Alberca; Rafael Clar who defies Pablito Balidio's ability; Danrick Against Jonathan Francisco; Powell Ball against Charlie Malupanga; and Franco Serafica against Jimboy Rosales.