Wow.
Just wow.
What an absolutely terrible week I've had in Fantasy Premier League. Almost every player in my starting 11 let me down and I've slipped massively in every league I'm in.
Big results will be required to bridge this gap now.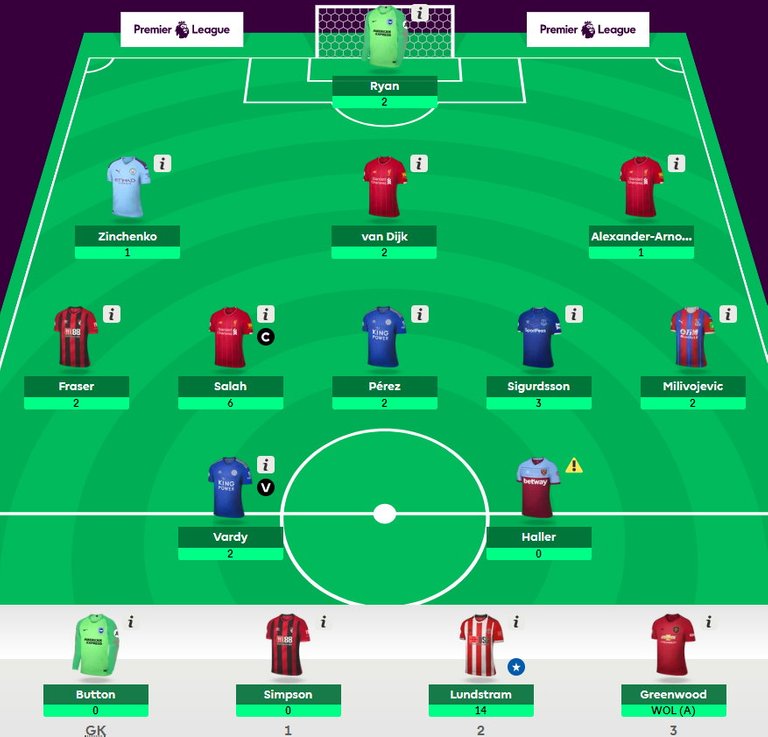 Let's start at the back. What a disaster. The tried and tested defenders of Liverpool and Manchester City both had awful times of it this week. Zinchenko, of course, was part of the Manchester City team that conceded 2 goals. Alexander-Arnold and van Dijk were let down by a comical error by stand-in goalkeeper Adrian and my clean sheet points vanished.
My midfield simply isn't getting the job done at the moment. Salah was relatively quiet this week, perhaps explained by a lot of minutes in the legs following the extra-time endured midweek. Fraser, Perez, Sigurdsson and Milivojevic have all been bog-standard over the last 2 games, however.
Vardy had a difficult task against Chelsea but should have scored and, sadly, Haller didn't make the matchday squad. To make things worse, Lundstram remained firmly on my bench and netted 14 points I've missed out on.
A total of 23 points simply isn't good enough. I have a lot of thinking to do before next weekend but I think I may use my free transfer to move Fraser out of the team as he'll be up against Manchester City.