The Premier League 2019/20 season has finally arrived so, before heading off to Anfield tonight, I thought I'd post my final Fantasy Premier League team.
This team has gone through many changes from players to formations but I think I've finally landed on a team that I'm really happy to take into the first few weeks of the season.
Starting 11
GK - Mathew Ryan (4.5)
I had originally chosen a premium goalkeeper in Ederson but felt that a saving of 1.5 to spend elsewhere was enough to change my mind. Nick Pope is my preferred choice at a cost of 4.5 but I will go with Ryan for the first few games as I believe his fixtures are more favourable. After that, I'll likely bring in Pope to take over for the rest of the season.
DEF - Trent Alexander-Arnold (7.0)
Alexander-Arnold retains his place in my team from the previous draft. His high-scoring season last time out makes him feel like a must-have. With the addition of VAR, there may be a few more free-kicks for him to take this season and that's why he gets the nod over Robertson.
DEF - Virgil van Dijk (6.5)
Robertson loses his place to van Dijk here for the simple fact that it saves me 0.5 to spend elsewhere. van Dijk scored highly last season and I believe he'll do the same again this time around, perhaps even adding to his goalscoring points.
DEF - Oleksandr Zinchenko (5.5)
Zinchenko comes in to take Ake's place. Although he costs 0.5 more, he'll be a bargain if he can retain his place in the Manchester City backline. Clean sheets are the aim of the game here and he simply has more chance of achieving this over Ake.
MID - Mohamed Salah (12.5)
There's not much that needs to be said about this one. Yes, Salah is expensive, but he's also won the Golden Boot 2 seasons in a row and, if he's as sharp as he looked in the Community Shield, he could go on to do the same again.
MID - Gylfi Sigurdsson (8.0)
Sigurdsson has been a points banker for years now. At just 8.0, he's managed to score over 150 points in 4 of the 5 previous seasons and I expect him to have a similar output this season.
MID - Ayoze Perez (6.5)
Perez is somewhat of a wildcard here. He's cheap at just 6.5 and he scored 12 goals in a terrible Newcastle team last season. Now he's at Leicester under an attacking-minded manager in Rodgers, I'm hoping he'll push on again and become a real bargain.
MID - Ryan Fraser (7.5)
Fraser scored a whopping 181 points last season from 7 goals and 14 assists. At just 7.5, he frees up some funds for another premium player upfront but is a calculated risk. With Bournemouth playing newly-promoted Sheffield United at home in the first fixture, I'm hopeful that he can bag me some points early.
MID - Luka Milivojevic (7.0)
Milivojevic scored 144 and 166 points in the previous 2 seasons and there's no reason to believe that he won't maintain that kind of form this time around. Again, at just 7.0 he seems to be a bargain for his output.
FWD - Pierre-Emerick Aubameyang (11.0)
I was torn between Kane and Aubameyang for my final premium player, but the Arsenal man is slightly cheaper and had an incredible season last time around with 22 goals and 7 assists. With VAR, he's likely to bag a few extra penalties this season, too.
FWD - Sébastien Haller (7.5)
Haller is my wildcard of the team. He's new to the Premier League so this is a risk but he scored 19 goals for Frankfurt last season and I'm hoping that he'll find good form immediately at West Ham.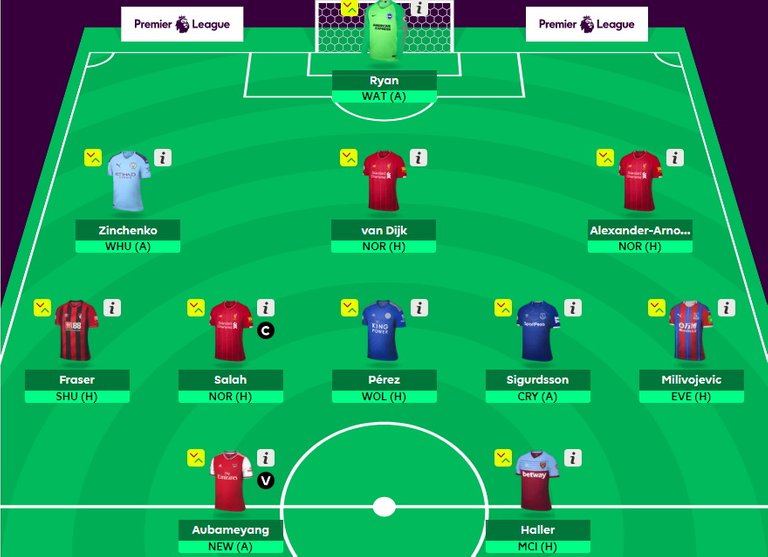 Bench
Button
Simpson
Lundstram
Greenwood