Choosing a fantasy team can be a fine balancing act at times. Everyone wants to pick the best players in the Premier League but there are certainly pros and cons to this approach.
From a positive point of view, the best players in the league are likely to earn you a lot of points. However, there is also a negative to this because a lot of other people will also have the same players in their team. That means you're not able to pull away from the pack even when they score well. Back to a positive, though, it also helps you to keep pace with everyone else. Skipping over such players could leave you lagging behind.
Ahh, decisions, decisions.
With this in mind, I took a look at some of the most selected players in each position to see if there are any you simply must pick or avoid at all costs.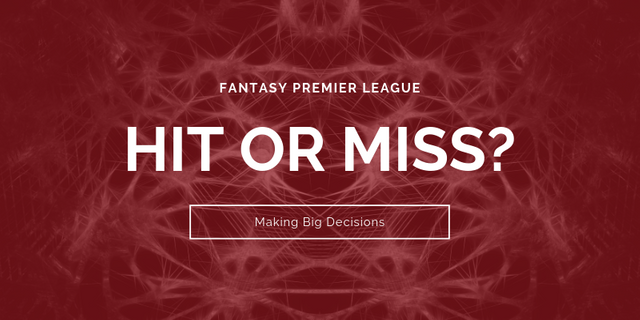 Goalkeepers
Liverpool's Alisson has so far been selected by a whopping 32.9% of players. It's hardly surprising considering the fact that he won the Golden Glove last season, but I get the feeling that you'd be better off opting for another goalkeeper for the simple fact that almost a third of players have him, too.
In terms of quality, you can't go far wrong with Manchester City's Ederson. He's also likely to bag points for lots of clean sheets but has only been selected by 17.9% of players. That's quite low considering he plays for a team that concede very few goals.
My wildcard here would be Manchester United's de Gea who has only been picked by 9.6% of people. Until last season, he was considered to be the best goalkeeper in the world by a lot of people. He made some blunders that have taken the shine off him somewhat but has never been helped by a leaky defence in front of him. As Manchester United have strengthened at right-back and are looking to bring in another centre-back, I think de Gea could record a lot more clean sheets this time around.
Defenders
The most picked defender is van Dijk with 43.7% of players including him in their team. Although he'll likely record a lot of clean sheets and does score a few goals, he's not really the kind of player to provide assists. As difficult as it is for me to say this, I think he's one to avoid.
Robertson and Alexander-Arnold have been selected by 36% and 29.1% of players. It makes sense as they both recorded a huge amount of clean sheets and assists last season. Part of me thinks that these are must-have players because I don't see where you're going to find the equivalent points elsewhere if they have similar seasons this time around.
However, a defender that catches my eye is Leicester's Chilwell. He's only been selected by 5.9% of players so if he scores big then you'll be laughing your way up the rankings. He recorded 10 clean sheets and 5 assists last season and I do feel that Leicester have a good chance of improving collectively this season.
Midfielders
Salah is the most picked midfielder (although he's actually a forward) with 37% of people including him in their team. I believe this is the kind of player you might have to pick simply because he puts massive amounts of points on the board.
Sterling has also been picked by a lot of people, with 27.5% of teams including him in their starting 11. Again, Sterling is the kind of player that will no doubt score a lot of points, but there could be better value elsewhere.
My wildcard in midfield is Perez who has been selected by just 12% of players. With 12 goals and 2 assists, he did pretty well last season. However, I do feel that he'll have a chance to improve on those numbers now that he's moved to Leicester.
Forwards
Jimenez is the most selected forward at the moment with 35.7% of players picking him for their team. It makes sense as he scored 13 goals last season and made 10 assists. He's pretty much the main man at Wolves but I don't like him in my team for the simple fact that he's selected by a lot of people and I don't believe he's going to improve on last season's totals.
Aubameyang is showing potential with just 17.9% of players selecting him for their team. With 22 goals and 7 assists for Arsenal last season, this was a bit of a surprise to me. The only question I have is whether he'll be able to match those totals again. He's now 30 years old and I'm wondering when we'll see his performance levels drop off slightly.
My wildcard here is Firmino, who has been Mr Consistent in terms of fantasy points for the last few years, scoring 180, 181, and 160 over the past 3 seasons. He's only been selected by 8.7% of players at the moment so would be a great option to help you leapfrog others in your league when he performs well. I'm expecting big things from Firmino this year who wasn't quite at his best last season.