With great sporting events such as the Women's World Cup and ICC Cricket World Cup available to watch over the summer, it doesn't seem that long ago that the Premier League season ended.
Nevertheless, the first round of fixtures for the 2019/20 season isn't far away and will be kicked off with Liverpool vs Norwich on 9th August. That means that it's time to start thinking about fantasy football again. We all know that picking a cool name for your team is the most important thing, but let's not forget about creating a team that can actually compete at the top of your chosen league.
With that in mind, I'm going to go through a few fantasy football tips that have helped me somewhat over the years. If you have any to add then I'd love to hear from you in the comment section below.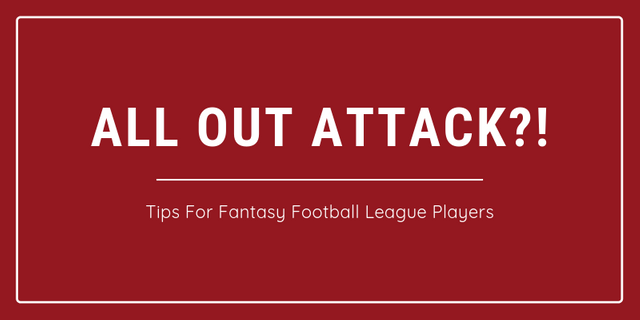 Budget Considerations
One of the things that I used to struggle with greatly was making use of my limited points budget in the best way. What I'd tend to do was spread my budget as evenly as possible over all 15 players. This was a mistake.
The issue I was having during the season was that I was fielding a much weaker team than I needed to. By spreading my budget around too much, I ended up with a first 11 of mediocre players, but also a lot of wasted potential sitting on the bench not earning me any points.
A strategy that has served me well over the last few years is to be brave with my budget. I now field the strongest possible first 11 that I can and pick up the cheapest scraps available for my bench players that have no impact on my weekly points earnings.
One potential issue that you may run into here, however, is that you'll be severely short on quality if one of your main players isn't able to play due to injury or suspension so this is something to be mindful of.
Being Obvious
Unless you're new to football then there are plenty of players that you know will perform well over the course of a season. The issue with that is that everyone else knows this as well.
One of the biggest conundrums a fantasy football player faces is whether or not to pick the most obvious choices for their team. Players like Salah, Aguero, and Kane are almost certain to net you a lot of points, but they'll also be providing a lot of other people with points, too. That means that you won't be getting ahead of others when they score big.
However, you also have to consider that if you don't pick these players then you could be left at the back of the pack when everyone else is picking up consistent points from them.
My advice here is to play a balancing game. Don't pick a team full of players that everyone else will have, but include a couple in your list to keep things ticking over nicely from week to week.
Another option here is to pick high scoring players that won't necessarily be in everyone's team. For example, Salah is likely to be one of the most picked players for obvious reasons. However, Jimenez is also a player who tends to earn a lot of points but won't be in as many teams.
Hidden Gems
A potential way to find an edge over your opponents is to scout out some of the hidden gem players. Examples of this could be players who have only just entered the league after being promoted from the Championship last season or have been transferred in from other leagues.
Have a look at the promoted teams and see how their players performed. If you can find high scorers or players who assist a lot of goals, you could be on to a winner.
Another advantage here is that these players will often be undervalued so you can pick them up at a bargain cost, freeing up funds to splurge elsewhere in your team.
One potential issue here, however, is that some players aren't ready to make the step up to the highest level and, therefore, there is a risk that you could be wasting your time with certain players. Fortune favours the brave, however.
Formation
My preferred style of formation is one that leads to the most goals and assists possible. This means I'm looking for an all-out attack approach when picking my team.
Of course, there are certain rules in place to stop you from picking 15 forwards, but my tip here would be to choose the least amount of defensive players possible for your starting 11. That means you'll need a goalkeeper and 3 defenders in your starting 11, but the other picks in these positions can be bench players and, therefore, you can choose ones that cost as little as possible.
When picking your goalkeeper and defenders, it's all about clean sheets. Although there may be talented players in these positions at smaller clubs, they're probably not going to earn you many points because they rarely prevent the opposition from scoring.
With that in mind, I tend to spend heavily on a good goalkeeper at one of the top clubs. They're the most likely to earn you points for clean sheets. For my 3 defenders, I again opt for players who are part of a team that concede very few goals, but I also look for those who are attacking in nature and provide assists. This will net you a lot more points along the way.
VAR
With VAR coming into play in the Premier League this season, there are likely to be a lot more penalties than we might have seen in the past. For this reason, I believe it would be prudent to include players who take penalties for their teams. This could be a great way to grab some easy goal points.
You could also look to pick players who are good at taking free-kicks, but I wouldn't advise doing this unless they are involved with open play goals a lot too. Scoring nothing for weeks and then seeing a bonus for one converted free-kick isn't going to help you in your league.
Fixtures
A common mistake for many fantasy football league players is to ignore the upcoming fixture list. By keeping an eye out for which games are about to be played, you can make tactical changes to your team to give you a better chance of earning a lot of points.
For example, if one of the top 6 teams are playing a team struggling at the bottom of the table, they will probably have a better chance of scoring lots of goals. On the contrary, if your midtable striker is up against one of the best defences in the league in their next game, then you are perhaps less likely to see them net you a lot of points that week.
Injuries and Suspensions
My final tip is to keep an eye out for any injuries and suspensions that your chosen players may have picked up. If you're not checking your team regularly then you could be wasting a chance to earn points by keeping these players in your starting 11 or by being forced to play someone from your bench who is almost guaranteed to earn you nothing.
And that's it for now. I'd love to hear any tips you've picked up over the years.
You can find more of my sports posts over at Scorum