Cabal and Farah winners in the doubles final at Wimbledon. The court is dyed Colombian tricolor.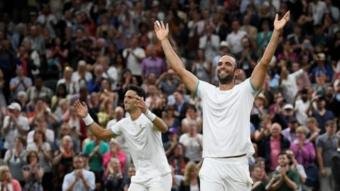 Source
The court of the Wimbledon final is dyed Colombian tricolor, with the exciting doubles final where Juan Sebastián Cabal and Robert Farah emerge victorious, leaving on the court the French Nicolas Mahut and Edouard Roger-Vasselin. The best thing about this is that for the first time Colombian tennis players get to win such a prize, and they do so after an amazing match that lasted 5 hours.
Relevant events in the match:
First time Colombian tennis players win a Grand Slam.

Partial 6-7 (5-7) 7-6 (7-5) 7-6 (8-6) 6-7 (5-7) and 6-3.
Mahut hit and thrown on the playing field. It happens that a ball of Farah that was at 192 km / h hit Mahut a few centimeters above the left eye. Due to this event, the match was stopped during the first set, a few minutes while the doctor in charge confirmed whether he had suffered major or minor damage.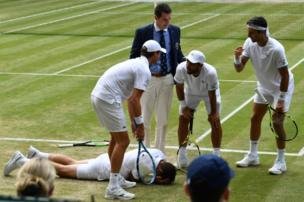 Source
---
---