ANTHONY DAVIS INTRO TO THE LAKERS

Let me put this out straight.
I will be following the California teams really close next season.
I think the championship team will come from there.
Way too early to say which one but you can guess all you want.
I will be following from afar the whole NBA and some key players.
It is merely impossible to stay put for 82 games and all.
AD had his intro and I was submerged by one word
———————WIN————————-
Playing with king James means pressure to win and when you channel that pressure to the basket and defensive play you will win.
The percentage of players wanting to win are really low.
Making sure you score at the right time and pass will differentiate this duo in LA.
:::::::::::::::
Even though AD and LBJ are the best duo in LA,
Respectfully I have to mention kahwi the destroyer of di nasty is at the same building with Paul George.
Whenever both LA teams play it is going to be full house and I am pretty sure if schedule already done it will be tweaked for them to play prime time.
This will be the season of BEST DUOS
::::::::::::::::::::::::::::::
Putting team first and find a way to share the ball will be key.
Lakers must find a way to be worthy of championship without making much noise.
Hum hum !
As always hopefully no injuries from both sides
Clippers will be right there and leonard "funny smile" will carry them.
Hope the best for KD and Thompson for a quick recovery.
As a fan we need you guys with your flawlessly taking shots.
The next two years will be inevitably the best season the NBA will have.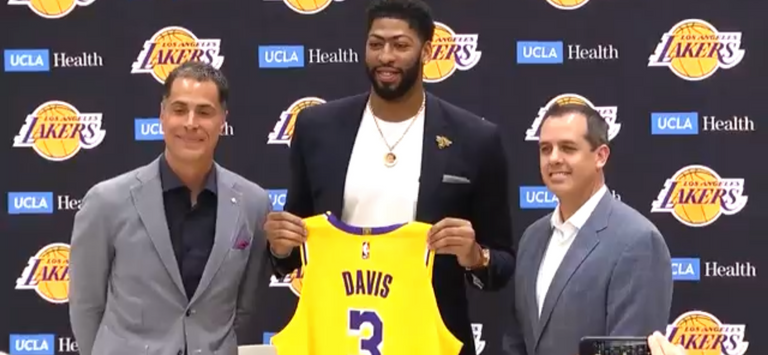 As a supporting cast Lebron was there and I am pretty sure AD will learn and adapt.
Kyrie states that he was wrong for leaving LBJ to be Alpha.
AD has the opportunity to learn and be the addition to carry the Lakers for the incoming years.
I have heard that AD may not stay in LA.
WAY TOO EARLY TO SAY.
LA is the ultimate place to go and prove you can play.
Hollywood baby!
People forget Lebron did go to seven straight championships.
This experience is worth fighting for.
Again winning is all about putting in on the floor the right way and the right time.
Keep on postin
---
---