I predict Liverpool will collect 3 points when visiting Crystal Palace headquarters today. Liverpool is too strong for Crytal Palace. Moreover, the Reds just beat the Blues, Manchester City 3-1 at Anfield last weekand.
Jurgen Klopp's 'troops' will make every effort to keep their distance from other clubs. Now Liverpool is very comfortable at the top of the Premier League standings.
Crystal Palace is very rarely win against Liverpool. So I am very confident Liverpool will roll Crystal Palace up even though they are playing at home.
Mohammed Salah and Sadio Mane will dismantle the Palace defense and freely score a number of goals.
I hope Liverpool can play well and not underestimate the opponent. Even though on paper, Liverpool can win easily. But it must be remembered, this is football. The ball is round. The worst possibilities can happen.
Van Dijk will work hand in hand to guard Liverpool's defense. The Reds don't let their defending down. Just a little off defend, then 3 points will drift in vain.
And most important, I predict Liverpool win 4-1. The first goal will be scored by Firmino. And tell me your score.
BAHASA
Saya memprediksi Liverpool akan kembali meraih poin penuh saat melawat markas Crystal Palace hari ini pada pukul 21.00 WIB. Liverpool terlalu kuat untuk Crytal Palace. Apalagi, The Reds baru saja mengalahkan The Blues, Manchester City 3-1 di Anfield.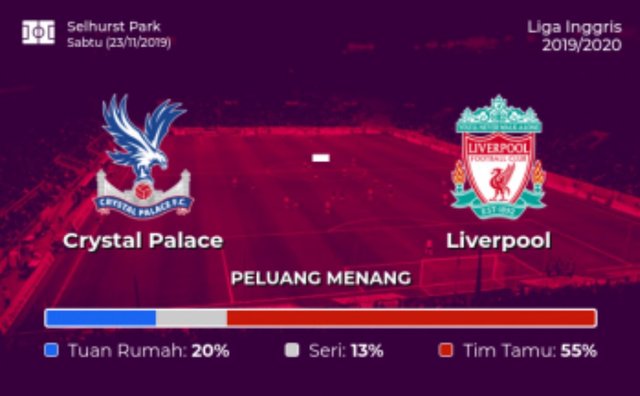 Source
Pasukan Jurgen Klopp akan berusaha semaksimal mungkin untuk terus menjaga jarak dengan klub-klub lain. Kini Liverpool sangat nyaman di puncak klasemen sementara Liga Inggris.
Crystal Palace sangat jarang menang melawan Liverpool. Jadi saya sangat yakin Liverpool akan menggulung Crystal Palace walaupun mereka bermain di kandang sendiri.
Mohammed Salah dan Sadio Mane akan membongkar pertahanan Palace dan dengan leluasa menyarangkan sejumlah gol ke gawang Palace.
Saya berharap Liverpool dapat bermain dengan baik dan tidak meremehkan lawan. Walaupun di atas kertas, Liverpool dapat menang mudah. Tapi harus diingat, inilah sepakbola. Bola itu bundar. Kemungkinan-kemungkinan terburuk dapat saja terjadi.
Van Dijk akan bahu-membahu menjaga pertahanan Liverpool. The Reds jangan sampai lengah. Sedikit saja lengah, maka 3 poin akan melayang sia-sia.
Saya memprediksi pertandingan tersebut dimenangkan Liverpool dengan skor 4-1. Gol pertama akan dilesakkan oleh Firmino.