Liverpool won against Crystal Palace 2-1 at Palace home base. This victory made the Reds stay pleasantly at the top of the Premier League standings. I am highly convinced Liverpool will lift Premier League trophy of 2019-2020 season.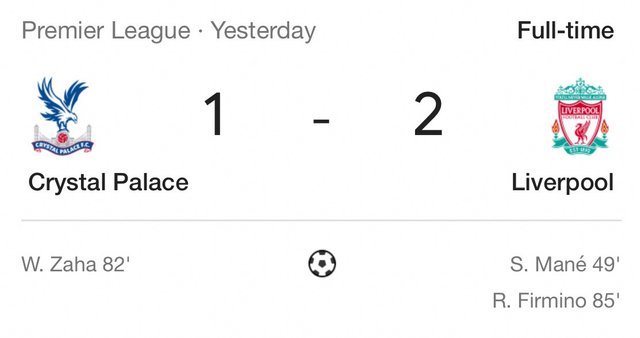 I see Liverpool is getting much better day by day under Jurgen Klopp's management. Liverpool were lifting the last English League trophy in the late 1990s. Will The Reds win it again this season? Is Liverpool unstopable?
If we look at the team spirit and the spirit of all players, it is highly possible Liverpool will win it. My hope and all Liverpool fans in any parts of the world must be the same: Liverpool is Premier League champions.
Last season, Liverpool won the Champions League, this season the Premier League champions is enough. It will be very special, of course.
I was predicting Liverpool win 3-1 against Palace, with Firmino as the first goalscorer. But the final score showed Liverpool winning 2-1, while Firmino scored the second goal for Liverpool.
BAHASA
Liverpool menang melawan Crystal Palace 2-1 di kandang Palace. Kemenangan ini memperkokoh posisi The Reds di puncak klasemen Premier League. Saya semakin yakin Liverpool akan menjuarai Premier League musim ini.
Saya melihat permainan Liverpool semakin berkembang hari demi hari dibawah manajerial Jurgen Klopp. Apakah Liverpool akan kembali juara setelah terakhir kali mengangkat tropi Liga Inggris pada akhir 1990-an? Apakah Liverpool unstopable?
Apabila melihat semangat tim dan semangat seluruh pemain, sangat mungkin Liverpool akan juara musim ini. Harapan saya dan seluruh fan Liverpool di berbagai belahan dunia pasti sama, yaitu Liverpool juara Premier League.
Musim lalu, Liverpool juara Champions League, musim ini juara Liga Inggris saja sudah cukup. Akan sangat spesial tentunya.
Saat melawan Crystal Palace saya memprediksi Liverpool menang 3-1 dengan Firmino sebagai pencetak gol pertama. Tetapi hasil akhir menunjukkan Liverpool menang 2-1, sementara Firmino mencetak gol kedua untuk Liverpool.