My favorite club, Liverpool has been one year unbeaten in Premier League. What a record! I still remember The Reds lost for the last time when they played against Manchester City on January, 2019 at Etihad Stadium. Man City win 2-1 over Liverpool. However, after that game, Liverpool are unbeaten to date (January 4, 2020).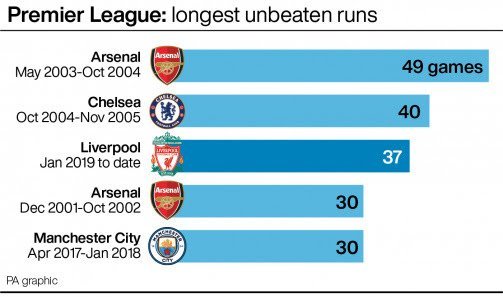 Source
I can hardly believe Liverpool could make this record since I know they has not so deep squad. But it happens now, coach Klopp with his players have reach a remarkable move in Liverpool history.
After beating Sheffield, now Liverpool become more hungry and their opponents would get trembling to face The Reds. We are still waiting who will be able to beat Liverpool. I think big teams like Man City, Chelsea or Man United are pretty curious on how to beat Liverpool.
As a fan, I am interested to watch (on television) the match Liverpool vs Man City at Etihad Stadium this year. It will be the biggest match this season. If Liverpool could beat The Citizens, then Liverpool are the best team in Premier League.
It's not easy to have one year unbeaten, and possibly Liverpool will continue to extend the record. But, Liverpool should win over Tottenham Hotspur on matchday 22. It's not easy though, they have to play at Tottenham Hotspur Stadium. Mourinho is hungry to end Liverpool's record. Mane, Salah and Firmino must be mindful of that.