I don't know whether it's coincidence or not. Mourinho's first match with Tottenham Hotspur won against West Ham United. The match took place at West Ham home, and this victory was Spur's first away winning of this season.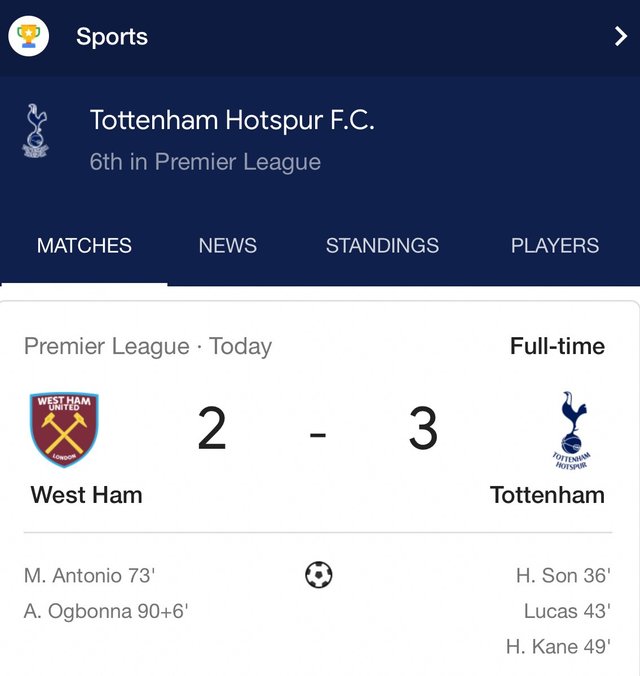 Did Mourinho's arrival has a big impact? Could be. Because Mourinho is a great manager. I like Mourinho's managing style. I have been following his style since handling Chelsea, then he moved to Inter Milan.
Tottenham Hotspur won 3-2 against West Ham United. Great players like Kane, Son and Lucas Moura scored goals for Spur's victory.
I'm sure Mourinho will succeed with Spur. Mourinho will bring change to Spur. Mourinho is a great coach, so there is no doubt about him.
Winning in his first match with Spur marked that Mourinho is still a special one.
However, I think we should remind the services of Pochettino, who has built this team for a long time.
BAHASA
Saya tidak tahu, apakah kebetulan atau bukan. Pertandingan pertama Mourinho bersama Tottenham Hotspur menang melawan West Ham United. Pertandingan berlangsung di kandang West Ham, dan kemenangan ini adalah kemenangan tandang pertama Spur musim ini.
Apakah kedatangan Mourinho membawa pengaruh besar? Bisa jadi. Sebab Mourinho adalah pelatih hebat. Saya sangat menyukai gaya kepelatihan Mourinho. Saya telah mengikuti sepak terjangnya sejak menangank Chelsea, lalu pindah ke Inter Milan.
Tottenham Hotspur menang 3-2 melawan West Ham United. Pemain-pemain hebat seperti Kane, Son dan Lucas menciptakan gol-gol untuk kemenangan Spur.
Saya yakin Mourinho akan sukses bersama Spur. Mourinho akan membawa perubahan bagi Spur. Mourinho adalah pelatih hebat, jadi tidak ada keraguan kepadanya.
Menang pada laga pertamanya bersama Spur menandai bahwa Mourinho bukanlah pelatih sembarangan. Klub-klub lain wajib waspada dengan Tottenham Hotspur.
Bagaimanapun, saya pikir kita tidak boleh melupakan jasa Pochettino yang telah membangun tim ini sejak lama.