Two Premier League teams which are managed by great managers had different results when playing against their opponents in the Champions League group stage knock out yesterday.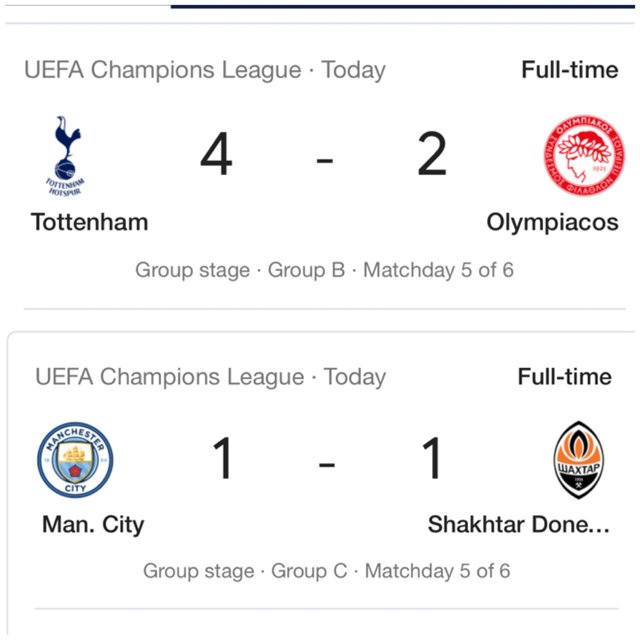 Tottenham Hotspurs which is managed by Jose Mourinho defeated their opponents Olympiakos 4-2. I am proud of Jose Mourinho, he took Tottenham Hotspur to win at home. This was Spurs' second win under Mourinho. I'm happy, even though I'm not a Spurs fan. My reason to be happy is because I like Mourinho.
Meanwhile, another Premier League club, Manchester City only played draw 1-1 against Shakhtar Donetsk at Etihad Stadium. Both City and Spurs played at home, but not equally lucky. I am not a fan of City as well, but I like Pep Guardiola's tiki taka style.
So I am really looking forward to the match between Tottenham Hotspur vs. Manchester City. I want to see the tactics of the two great managers. I am curious who will win the match.
However, Tottenham Hotspur and Manchester City qualify for the next phase of the Champions League. I hope both teams can go further in the Champions League.
Maybe City or Spurs could win the Champions League and hand the Premier League title to Liverpool. LOL
BAHASA
Dua klub Premier League yang dilatih oleh manajer-manajer hebat dunia memperoleh hasil yang berbeda saat bertanding melawan lawan-lawan mereka dalam lanjutan penyisihan grup Liga Champions.
Tottentam Hotspurs yang dilatih oleh Jose Mourinho berhasil mengalahkan lawan mereka, Olympiakos dengan skor 4-2. Saya bangga dengan Jose Mourinho, dia berhasil membawa Tottenham Hotspur menang di kandang. Ini adalah kemenangan kedua Spurs dibawah asuhan Mourinho. Saya pun ikut senang, walaupun saya bukan salah satu fan Spurs. Tak lain, karena saya suka Mourinho.
Sementara itu, klub besar Premier League, Manchester City hanya bermain seri 1-1 melawan Shakhtar Donetsk di Etihad Stadium. City dan Spurs sama-sama bermain di kandang, tapi tidak sama-sama beruntung. City juga bukan klub idola saya, tetapi saya suka gaya tiki taka Pep Guardiola.
Sehingga saya sangat menantikan pertandingan antara Tottenham Hotspur vs Manchester City. Saya ingin melihat taktik kedua pelatih hebat itu. Siapa yang akan menang di lapangan hijau. Dan siapa yang akan terkapar.
Bagaimanapun, Tottenham Hotspur dan Manchester City lolos ke fase selanjutnya Liga Champions. Saya harap kedua tim dapat melaju lebih jauh di Liga Champions.
Mungkin City dapat memenangi Liga Champhions dan menyerahkan titel Premier League kepada Liverpool. LOL..