Liverpool will play against Salzburg in Group E knockout stage of Champions League. Liverpool has to win the match again Salzburg to secure for next round. This is like a dead or alive match. Even though The Reds leads the table, but they have only ten points.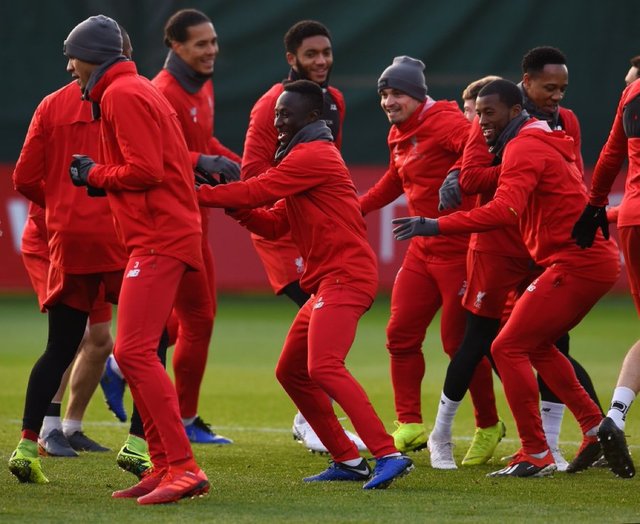 Source
Napoli and SB Salzburg are very closely behind The Reds. Napoli collects 9 points and SB Salzburg 7 points. It's critical for my favorite club, Liverpool.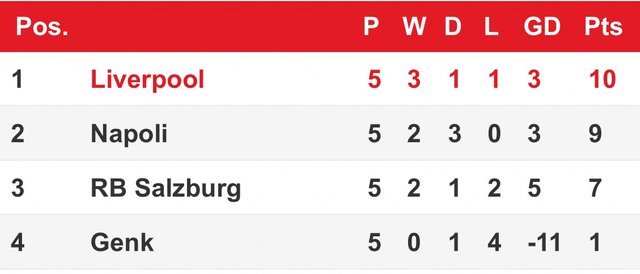 As holder of Champions League winner last season, The Reds has to show that Liverpool is ready to play, and not give up to win Champions League again. I don't have idea how long Liverpool could run in Champions League this season.
It seems The Reds more focused on Premier League. I don't know what coach Klopp will do for Liverpool this season, since many competition they have to play. Trying to win all competition looks impossible unless they have deep squads. I am little bit doubtful about this.
If coach Klopp want to sleep well, then just lead the team to win the game against Salzburg. Just choose to win. Not even to draw. I hope the Reds boss play the strongest squad to finish Group E knockout stage as a winner.
BAHASA
Liverpool akan bermain melawan Salzburg di babak sistem gugur Grup E Liga Champions. Liverpool harus memenangkan pertandingan melawan Salzburg untuk mengamankan putaran berikutnya. Ini seperti pertandingan mati atau hidup. Bahkan The Reds memimpin klasemen, tetapi mereka hanya memiliki sepuluh poin.
Napoli dan SB Salzburg berada sangat dekat di belakang The Reds. Napoli mengumpulkan 9 poin dan SB Salzburg 7 poin. Ini penting untuk klub favorit saya, Liverpool.
Sebagai pemegang pemenang Liga Champions, The Reds harus menunjukkan bahwa Liverpool siap bermain, dan tidak menyerah untuk memenangkan Liga Champions lagi. Saya tidak tahu berapa lama Liverpool bisa berjalan di Liga Champions musim ini.
Tampaknya The Reds lebih fokus ke Liga Premier. Saya tidak tahu apa yang akan dilakukan pelatih Klopp untuk Liverpool musim ini, karena banyak kompetisi yang harus mereka mainkan. Mencoba untuk memenangkan semua kompetisi terlihat mustahil kecuali mereka memiliki regu yang dalam. Saya sedikit ragu.
Jika pelatih Klopp ingin tidur nyenyak, maka cukup pimpin tim untuk memenangkan pertandingan melawan Salzburg. Pilih saja untuk menang. Bahkan untuk menggambar. Saya harap bos The Reds memainkan skuat terkuat untuk menyelesaikan babak sistem gugur Grup E sebagai pemenang.