cesky dole
Czech Republic - England 2:1
What a game for the Czech team! The Czech Republic beat England 2:1 by a goal from 85' scored by 30-year old debutant Zdeněk Ondrášek playing for FC Dallas in American MSL Soccer!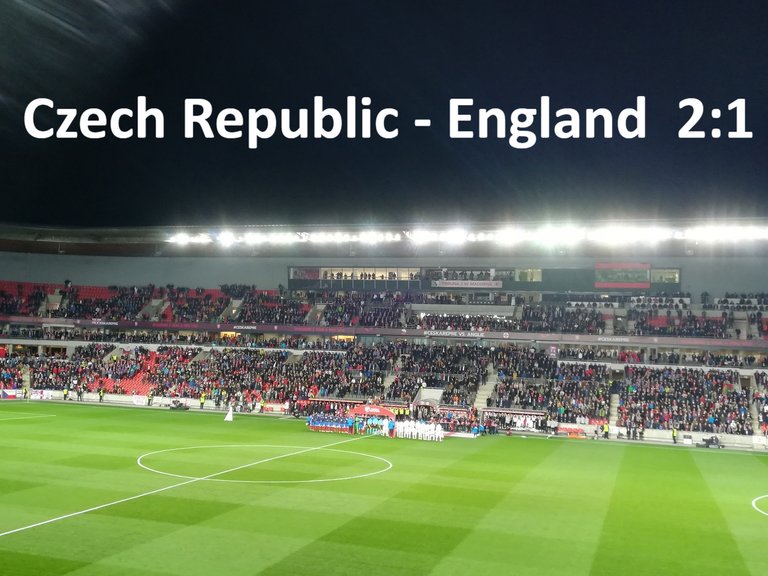 The first half started better for England when Sterling dribbled to the box and was fouled. Harry Kane took the ball and scored in the 5th minute! 0:1, dream start for England!
It took just 4 minutes and the defender Jakub Brabec scored a goal to 1:1. After this moment, the Czech team was better in the first half. It seemed that England was satisfied after the early goal and the fact, that they won the first match against Czechs in Wembley 5:0. They probably thought that it will be another easy game for them.
Before the game, the Czech team had only one possibility of how to earn at least 1 point from it. To play on the edge of their possibility and wish that the English team will have a bad day. And that happened! The Czech team shooted 10 shots in the first half, which happened only for the second time in 78 matches of England team, the previous one was last year in the match against Spain.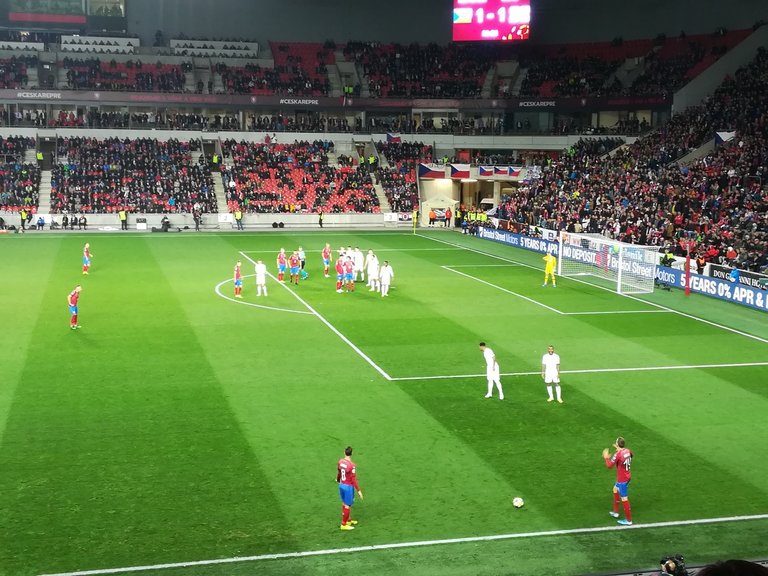 In the second half, England shifted to a higher gear and had few 100% goal chances. But defensive with a leader Jakub Brabec or goalkeeper Tomáš Vaclík prevented goals from Kane, Sterling and Sancho.
The mid-game pause was dedicated to the famous Czech singer Karel Gott, who passed away a week before. But the present for "the master" came after another 45 minutes!
In 65th minute, there came the time for Zdeněk Ondráše, the first national start for him! And the fairytale for this 30-years old attacker begun. In 85th minute, he scored from the pass made by Lukáš Masopust and the Czech fans started celebrating and singing theír favourite "Kdo neskáče není čech, hop hop hop" (it could be translated as "Who does not jump is not Czech, hop hop hop".
I must say, that the English fans brought a perfect atmosphere to the game with the combination of the Czech fans. There was many of them and they were singing their chants very often. It was really nice to see that fair behaviour.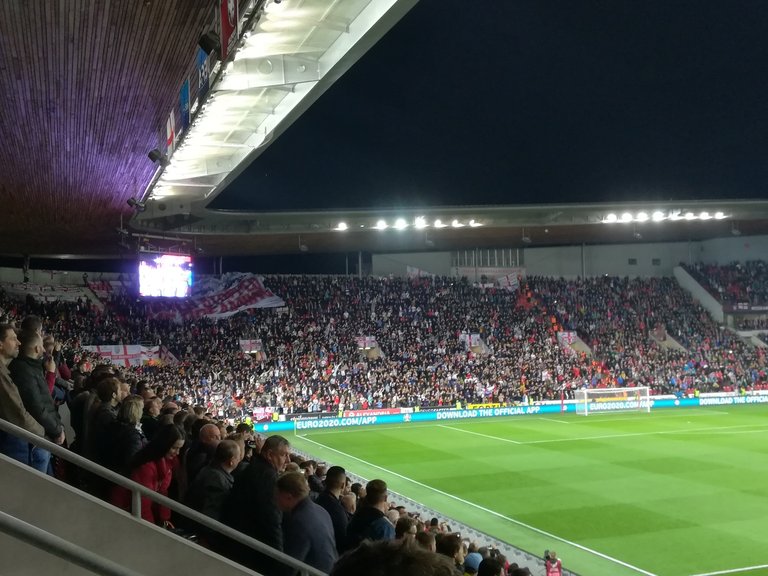 English fans
Special numbers of the game:
1 - 1st game, 1st goal and it was even a winning goal for attacker Zdeněk Ondrášek! What a dream debut.
3 - 3rd match for Albion played Mason Mount and it was his first in the starting lineup.
4 - defender Jakub Brabec, wearing no 4 on his dress, scored a goal and was honoured by the Man of the Match in Eden
6 - that many newspapers in Britain put the headline "Reality Czech" for this match
9 - attacker Harry Kane, wearing dress no 9, was honoured by the Man of the Match by whoscored.com
10 - this amount of years England haven't lose the qualification game, last time it was in 2009 when they were defeated by Ukraine
30 - age of the debutant and winning goal scorer Zdeněk Ondrášek
34 - that is the row of consecutive games, which England haven't lose in qualification for World Cup or EURO.
44 - 44 years took the Czech (and the Czechoslovak) teams to beat England, the last win over this team was in October 1975!
---
Česká republika - Anglie 2: 1
Česká republika porazila Anglii 2: 1 gólem z 85. minuty z kopačky třicetiletého debutanta Zdenka Ondráška, hrajícího za tým FC Dallas v americké MSL!
** První poločas** začal lépe pro Anglii, když si Sterling dodribloval pro penaltu, kterou proměnil v 5. minutě Harry Kane. Čechy to ale spíš nabudilo a tento hrozivý start proměnil ve vlastní výhodu Jakub Brabec, který v 9. minutě vyrovnal po standardce. Od této chvíle převzal český tým otěže a byl lepším týmem po celou první půli. Bylo až z podivem sledovat jistotu, nasazení a kvalitu našich borců! Anglie nejspíš podlehla sebeuskopojení, jelikož předchozí vzájemné měření sil ve Wembley vyhrála 5:0. Tento snový start vypadal na další jednoduché vítězství. Ale bylo tomu nakonec jinak.
Před zápasem měl český tým pouze jednu možnost, jak získat alespoň 1 bod z tohoto zápasu. Hrát na hranici svých možností a být maximálně efektiví a doufat, že si anglický tým vybere špatný den. A přesně to se stalo!
Poločasová přestávka byla věnována zesnulému mistru Karlu Gottovi, když hrála jeho písnička Lady karneval a byl mu také věnován dlouhý potlesk. Ve stejný den se s ním totiž loučily davy lidí v centru Prahy, tak proč se nerozloučit také na fotbalu, že. Také angličtí fans před zápasem mistra ocenili, pravděpodobně znajíc přeloženou píseň o včelce Máje, když sborově zpívali píseň Gott Save the Queen.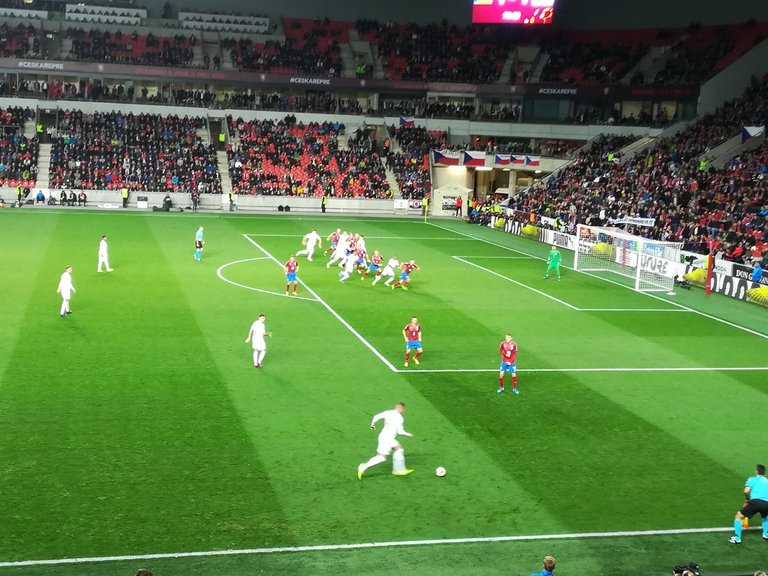 Ve druhé polovině Anglie přeřadila na vyšší rychlostní stupeň a měla několi 100%-ních šancí ke vstřelení gólu. Ale dnes skvělý Jakub Brabec a brankář Tomáš Vaclík zabránili šancím Kaneho, Sterlinga a Sancha.
V 65. minutě přišel začátek pohádky Zdeňka Ondráška, který po dvaceti minutách na hřišti přetavil svůj první start za národní tým ve vítězný gól na 2:1 po nahrávce Lukáše Masopusta! Čeští fanoušci tak mohli začít slavit za sborového "Kdo neskáče není Čech, hop hop hop" a následných mexických vln.
Magická čísla zápasu:
1 - 1. start, 1. gól, 1. vítězný gól - co víc si přát?! Zdeněk Ondrášek prožil debut snů.
4 - obránce Jakub Brabec hrající s číslem 4 byl zvolen mužem zápasu
6 - tolik novinových plátků v Británii dalo do titulku k zápasu popisek "Reality Czech", slovní hříčku pro kontrolu reality (reality check)
10 - tolik let Anglie neztratila kvalifikační zápas, naposledy prohrála v roce 2009, kdy ji porazila Ukrajina
30 - v tolika letech debutoval střelec vítězné branky Zdeňek Ondrášek
34 - tolik zápasů po sobě Anglie neprohrála v kvalifikaci na Mistrovství světa nebo EURO
44 - 44 let nedokázaly týmy ČR a ČSSR porazit Anglii, poslední vítězství nad týmem Albionu se datuje k říjnu 1975!