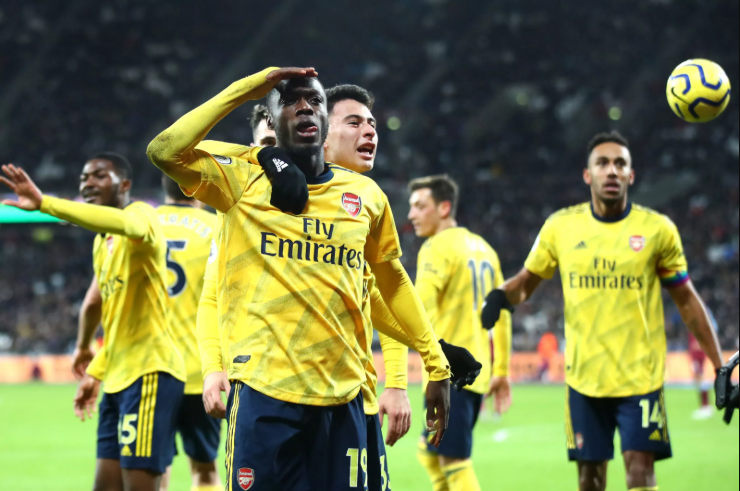 Arsenal finally returns to winning ways after beaten West Ham United in London Derby.
The match was a typical sluggish Arsenal match after Emery introduced us to playing from the keeper. The first half of the match was a mess and we played with no in-depth, with no conviction and no will to win the game.
Most of the balls were passed in Arsenal half. Our players were tapping the balls to themselves in our own half. This shows how deep fear of loosing has eaten deep into the lads
Our inability to move forward cost us some huge mistakes as our players lose balls at critical points and thereby putting the keeper in an uneasy situations and forcing him to make crucial saves.
We gave out some cheap corners and were punished for that when Ogbonna race forward after we failed to clear our own line to score from the 18-yard.
It looked like it would be another game we couldn't win as we entered the second half trailing by a goal.
Gabriel Martinelli in his usual footballing charisma came to the show with a wonderful goal after he received ball from Sead Kolasinac.
Few minutes later, our record signing Nicolas Pepe provided a stunning strike to put Arsenal one goal ahead of
West Ham United.
Pepe then turned to provider after he received a pass from Mesut Ozil and shipped it for Aubameyang who volleyed it into the back of the net.
Auba's goal completed our comeback and gave us the conviction that the match was over!
The was our first win since 6th of August.
Our next Premier League match is against Manchester City. It will take a repeat of yesterday's match to overcome a struggling Manchester City.
If these boys believe in themselves and play like they played against West Ham United and even more, they will secure at least a point against City.
COYG!