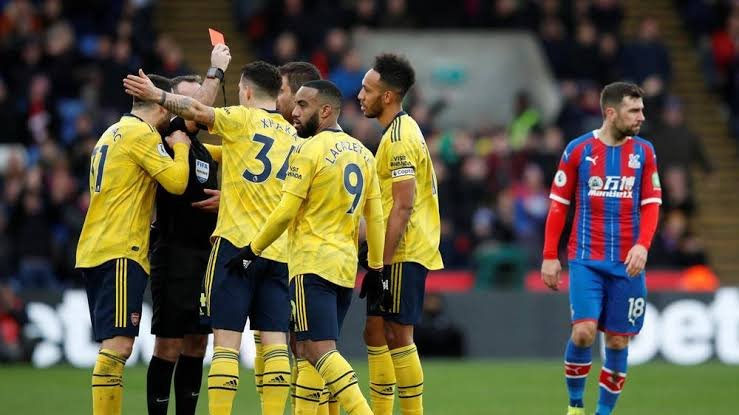 It is understandable is Mikel Arteta is angry with hoe the game against Crystal Palace ended.
For many games now, we have struggled to keep our first half pace and composure in the second half.
The game started very well with gooners hope high and three points at stake. David Luiz again was instrumental and played like an attacking midfielder with wonderful passes for our forwards.
It was Luiz pass that Ozil picked and played towards Lacazette who make no mistake by slotting a pass through to Auba who calmly slot the ball into the back of the net.
One would have thought this would be another win for Arteta but it was not meant to be.
A lack of composure at the back and our inability to clear the ball from our own goal yard condemned us to a deflected goal off David Luiz's leg by Jordan Ayew.
While all hope was not lost after the goal, Auba made a terrible tackle again Meyer and after VAR review, he was given a straight red card after the coach withdrew his initial yellow card to our captain.
With 10 men to play against 11, i thought Palace would outplay a struggling Arsenal team but i was proven wrong.
The lads showed us how far they have gone and how ready they are to play for the White and Red shirt.
We pressed and played like we were 11 players on the pitch. Martinelli missed a chance, Lacazette missed another golden chance after Pepe's short hit the pole.
With a draw, we are a bit sad considering how many chances we missed in the remaining 10 minutes of the match. We could have really won the match by 2 or 3 - 1.
Hopefully, our next home match next weekend will produce the much needed 3 points.
COYG!!!