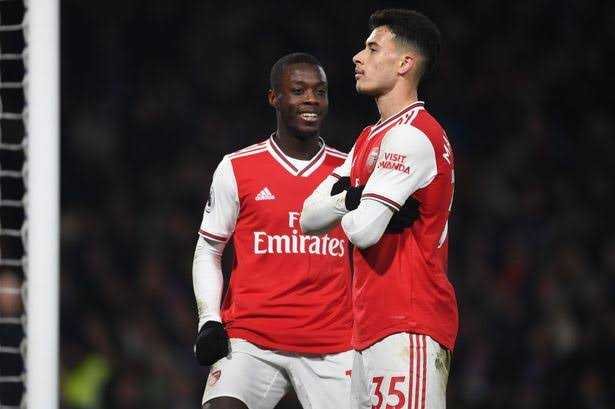 Gabriel Martinelli has caught the eyes of many players and pundit with his display this season.
He has scored 10 goals in all competitions and draw attention to himself after Chelsea match where he ran from his own half to calmly level the match.
Our new center back, Pablo Mari believes our young lad is an incredible talent. Martinelli always play with confidence that often beg the question of whether he is truly an 18-year-old boy.
Mari is yet to play alongside Gabriel Martinelli, but he has seen him perform for us and believes the young lad has brighter future ahead of him.
Pablo joined us from Flamengo in Brazil and says the Brazilians over there are excited with how the player has progressed.
Martinelli is young no doubt but he has played at the level many people in his age have not played. His confidence speaks well of him and his scoring records are also wonderful.
Pablo says he will congratulate Martinelli when he meets him and says the young lad needs to keep working to complement his football talent.
Pablo believes Martinelli has improved in terms of decision-making on the pitch. He believes the player will turn out to be a top player because of his talent.
No doubt Martinelli is a good player with talent and a great future ahead of him. Of he continues to develop the way he is developing, he will go places and probably be the world best player.
He will be among revelation of 2019/2020 talents. He will probably become Arsenal player of the year if he continues to score and impress the fans.