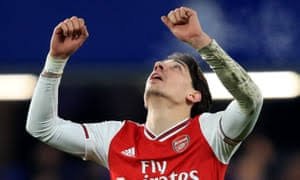 Today, i feel so proud to be a gooner. I have never been this proud to call myself an Arsenal fan in a long time.
It felt like another tough game when we started the match. Nobody could predict where the game would go or who would press hard and better.
Surprisingly, Mustafi did his Mustafi thing by gifting away ball to Tammy Abraham who was on goal before Luiz covered for the ball but committed a foul in the process.
He was shown a straight red card and Jorginho made no mistake in slotting the ball pass Leno.
With just 26 minutes played, we were one man down and 1 goal behind. It felt like another done deal but Arsenal keep pushing.
We were rewarded after we capitalised on a loose ball and counter Chelsea in the process. Martinelli was placed on goal with only Kante to stop him but he slipped and Martinelli made no mistake in restoring parity.
At 1-1, we looked calm and felt we could secure a point. But we were punished again after we could not clear a cross which Azpilicueta reads well and converted comfortably.
It felt like we were done for because the goal came in the 84th minutes.
With three minutes to full time, captain of the occasion, Hector Bellerin scored a brilliant goal with his weak (left) foot. The goal took many by surprise.
Arsenal hold their ground and pushed on to the final minute as we secured unlikely 1 points in a match that we would have loss on another day.
One thing i love about this Arteta team is their resilience and never say never spirit which is seen on the pitch.
I love the display and the compact of the team. The fact that they want to be successful is clearly seen on the pitch. I believe many fans around the world would be proud of tonight's display.
COYG!!!!
Posted via neoxian.city | The City of Neoxian