If you are like me you were thrilled that yesterday's UFC 249 went as well as it did. Sure it was really weird having no crowd there and even weirder when some of the victors jumped the fence to shout to a crowd that wasn't there and you also had to admire the fact that Bruce Buffer put the same enthusiasm into his intros and announcements that he would normally put forth to a crowd of 50,000 people.
There was one kind of blemish on the night though, and it later devolved into accusations of potential drug or alcohol use on the part of one of the officials.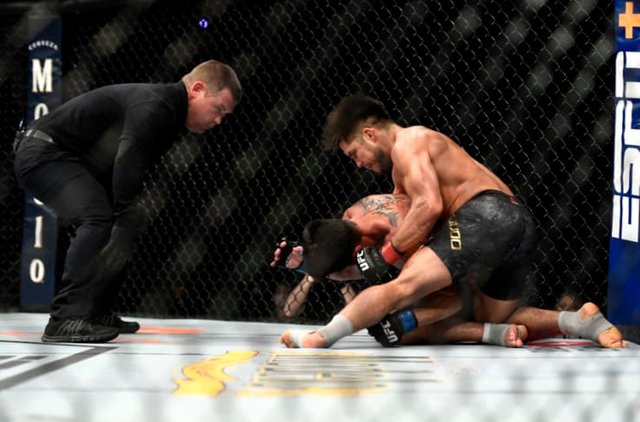 src
It was a pretty even match and any time that Cejudo fights i find it extra exciting because he is so short for a fighter at just 5 foot 4 inches. He does have pretty devastating power if he can get a hold of you because you can imagine that someone that much shorter than his opponents probably has a great deal of strength.
So the fight was going well with Cruz and Cejudo exchanging some great punches, it actually looked pretty even until Cruz got caught with a knee and then reeled back. He took a few hits on the ground as well but as an avid UFC fan, I can say that he was definitely not finished... he was actually making his way back up to his feet when referee Keith Peterson called off the fight by TKO.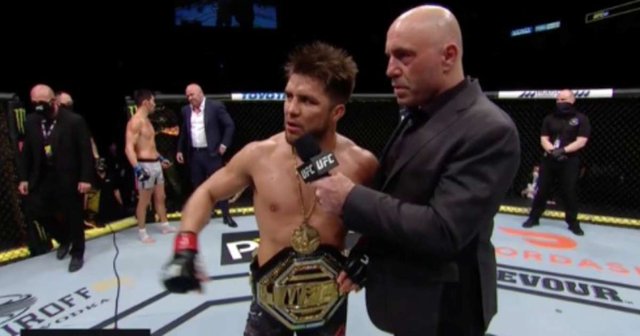 src
Dominick wasted no time protesting the decision and you can see him getting to work on Dana White in the background during Cejudo's post fight interview with Joe Rogan.
Cruz claimed that when he was that Keith Peterson was going to be the ref, he was already worried about the fight being called poorly. Later, he would say in an interview that "The guy smelled like alcohol and cigarettes, so who knows what he was doing?"
He also wants Peterson to be drug tested. I don't want to speculate on Peterson being drunk but i think that most people would agree that it was a bad all on the part of Keith.
src
Cejudo did suffer a rather nasty head cut earlier on in the fight, but it was from incidental head contact while both fighters were scrambling. There was no foul, Cejudo didn't seem phased by it, and the doctor allowed the fight to continue.
All three judges had Cruz losing both rounds up to the point of stoppage, with one judge giving Dominick a mere 7 points (out of 10) for the 2nd.
While Cruz is obviously upset, and plans at least for now to pursue some action against Peterson, he admits that ultimately it is his own fault that he got to that point after eating a really hard knee that resulted in him hitting the canvas in the first place
src
I don't know if Cruz found it insulting or not, but right after winning the belt, Henry Cejudo announced his retirement from the sport - shocking a lot of fans including this guy.
Dana White has made no remarks about Keith's stoppage decision but many MMA-oriented websites say that Cruz was out of line to accuse a long-standing official of being drunk in the ring. It has been suggested that disciplinary action may be taken against Cruz and not Keith Peterson.
You know what they say: Never leave it up to the officials!