About a week ago I wrote about how the landscape of NCAA player's college decisions could dramatically change as certain states have moved to allow student athletes to profit off of their name / likeness. In addition to this impacting whether or not video games can return to having the real players (YES!) this is also going to affect which school players decide to attend. Most star athletes will almost certainly choose to go to a school where they can start to make a bunch of money off advertisements while they are still in school.... wouldn't you think?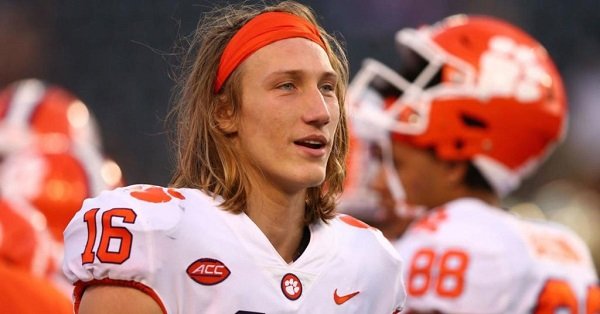 Well when Trevor Lawrence set up a gofundme to give money away to people affected by this coronavirus outbreak, the NCAA initially shut it down because the changes in the rules have not yet taken place anywhere in the country. In Colorado it is close to completion, but is yet to be approved by the NCAA.
It seemed really silly because it had only raised just over $2,500 and all of the money was going to Meals on Wheels and Trevor was not keeping any of the money for himself. However, he had technically violated NCAA rules and was forced to remove his likeness and name from the GoFundMe, which was no obviously going to have no star power.
Just 2 days after the NCAA shut his charity site down, an outcry of support happened for obvious reasons. This morning the NCAA reversed their decision when they issued a "waiver" that I didn't even know existed allowing Trevor to continue his fundraising initiative. It was when Clemson got involved that things finally changed.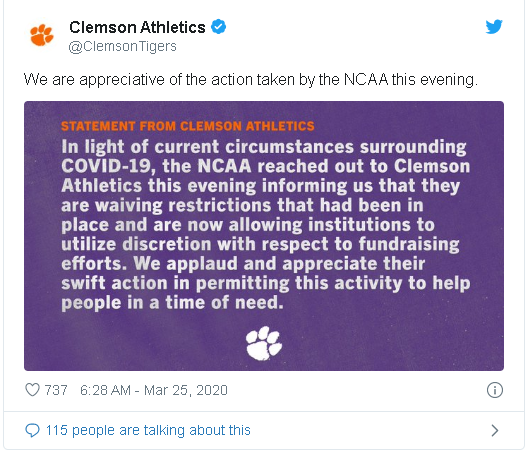 So I guess this storm cloud has a silver lining. Now not only is the GoFundMe able to continue while also using Trevor's name and likeness, but they have also now gotten a ton of free publicity that will almost certainly result in more funding for the project.
The NCAA also made a change to the rules saying that college athletes are now allowed to be involved in "these types of fund-raisers." Which is good, although it is a little vague and once the virus business is behind us, will almost certainly immediately be abused. We'll see!