Rafael Dos Anjos is no slouch, that is for sure. However, when i see these sorts of antics I can't help but shake my head in disgust because when stuff like this happens, it isn't about the sport, it is about money. **Everyone knows that a fight with the loudmouth that is "The Notorious One" is going to result in a big payday.
There are a lot of reasons why this fight shouldn't happen and very few why it should happen.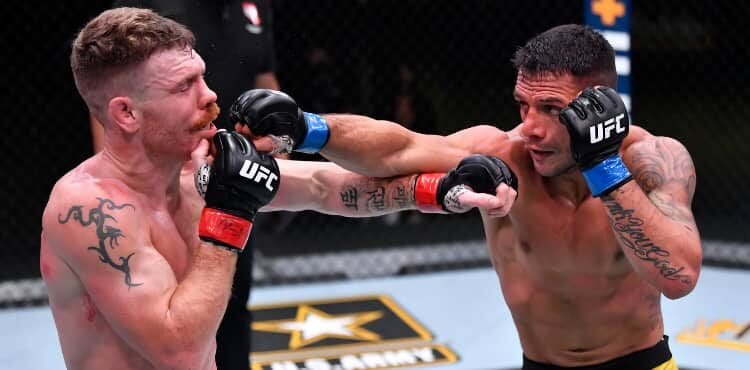 src
Dos Anjos did put on an impressive display in his lightweight bout vs Paul Felder, which RDA convincingly won even though one judge for some reason had Felder, who clearly lost every round, as the winner (this is another story altogether.) Felder is (was) ranked 7th in the lightweight division and I suppose that we should give RDA some props for pulling that victory off since he only recently moved into lightweight.
RDA was ranked a mere 12th in the welterweight division, which is a fantastic division to not be a part of right now if you are that low in the rankings seeing as how there is so much talent in it. Personally, I would argue that it is the toughest division in all of UFC at the moment with the likes of Usman, Covington, Masvidal, Maia, and the always boring Tyron Woodley in the top 10.
While I will say that Dos Anjos really does look like he belongs at lightweight rather than welterweight, getting just one victory over someone that isn't even in the top 5 and is so undervalued that most people were unaware that this fight was even happening, doesn't really do much for RDA's stock.
McGregor on the other hand, gets given basically whatever he wants by Dana White because the Irishman has made so much money for the company that it is always in question about who is really in charge any time that he is on the fight card.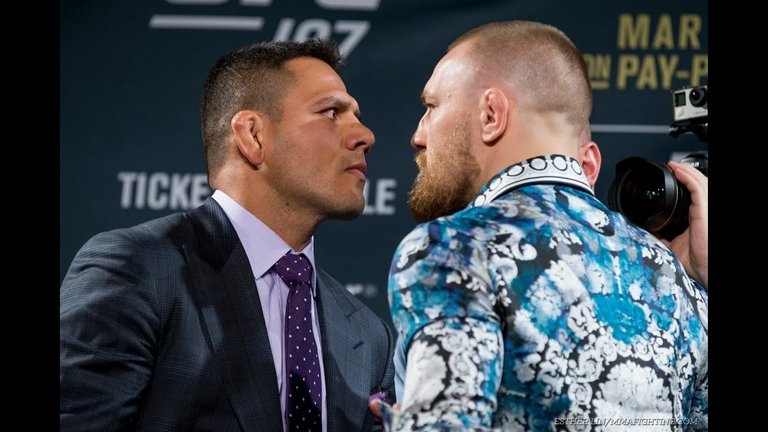 src
The pair were supposed to meet a few years back, but due to a last minute injury, it never happened. RDA gets a pretty convincing win and who do you think he is going to call out in those that are ranked above him? Beneil Dariush? Dan Hooker? maybe Tony Ferguson? Nah, let's just go ahead and go for the guy that guarantees the big paycheck.
Now it still remains to be seen if Conor still has what it takes because he first has to prove his worth in his upcoming fight in January vs Dustin Poirier. What happens if Poirier dismantles the Notorious One?
RDA implied that he and McGregor should be fighting for the vacated title belt which if that is indeed what he meant is even more absurd than him demanding a top-tier fight when he isn't even (currently) in the top 15 of the division - a situation that I am certain will change later this week but as of yet still isn't the case according to official UFC stats.
What about the 6 people that are ranked higher than the person you just beat RDA? What about the fact that you only just recently joined this division after performing in a rather sub-par level in a division that you elected to abandon? What about the fact that you have lost 4 of your last 6 fights?
Conor is not at all shy about responding to anyone who calls him out but if Dana takes the bait on this I am going to be really upset. This fight shouldn't even be considered, let alone for the belt that Khabib only recently vacated.
There needs to be a process to get to the strap, and Twitter and one's ability to talk trash should not be part of the equation. Unfortunately, we see this happening all too often in UFC and it really takes away the credibility of the ranking system and begs the question of "why bother having rankings in the first place?" Let's just go ahead and let everyone do promos like WWE does and whoever is the best at that gets to be the champ.
My money is on Ric Flair if this is the road we are going to go down!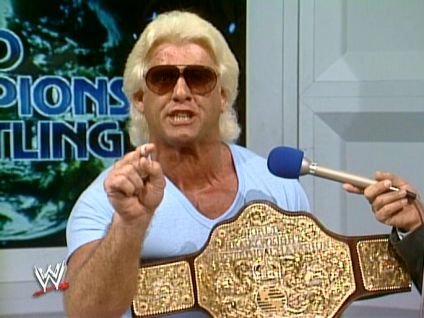 src
Just go ahead and give him the belt in every division... Wooooo!