HSV-Professional Jatta with false identity?
HSV stands for the German Bundesliga Club Hamburger SV from the Northern German City Hamburg - in case some do not know what I am talking about, a scandal, a discussion going on here! Hang on - Hamburg is not playing Budesliga anymore, they are still stuck in Division 2 - which is scandalous enough based on the history and expectations there.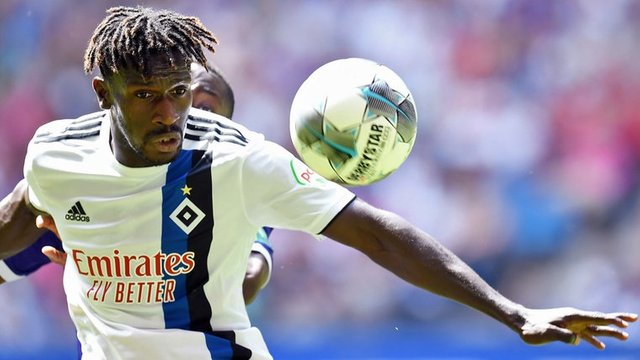 Back to the Football scandal
Bakery Jatta may be playing under a false identity for the second division soccer team Hamburger SV. According to the "Sport Bild", the offensive player's real name is Bakary Daffeh and he's not just 21 but 23 years old. According to the report, two former coaches in his African homeland had identified Jatta as Bakary Daffeh on old pictures. A spokeswoman said that the Hamburg-Mitte district office would "intensively examine the case and follow up the information". In addition, the control committee of the German Football Association (DFB) wants to "investigate the facts", according to committee chairman Anton Nachreiner. The German Football League (DFL) has asked HSV and the player for a statement.
"We have Bakery Jattas valid passport including residence permit. Bakery has shown himself to be an impeccable sportsman and a reliable player since his arrival with us. He quickly integrated into our team and our club. We value him as a player and a person," said Bernd Hoffmann, Chairman of the Executive Board. The HSV has not wanted to make any further comments so far.
Jatta arrived in Germany in 2015 as a refugee from Gambia, his official date of birth is June 6, 1998. He was therefore considered a minor upon entry, unaccompanied minor refugees have a greater chance of toleration in Germany. In fact, he is said to have been born on 6 November 1995. Has the young Gambian player concealed his true identity? There had also been doubts about his age at HSV when Jatta came to the trial training. However, a medical examination of his age had not produced a clear result at that time.
"I didn't play in any club in Africa, there was no such thing there," Gambier had said at his performance in Hamburg. However, he is said to have played for various clubs in his home country and was also active for a short time in Senegal and Nigeria. He was also on the pitch in the U-20 game between Gambia and Liberia and scored the winning goal. Daffeh has not been active since Jatta started playing in Germany.
Club Nuremberg appeal against game classification
Jatta is one of HSV's top performers and signed a contract in January 2019 until summer 2024. "He has a valid passport. This was checked. Everything else is not relevant for us," said Efe-Firat Aktas, advisor to the HSV professional, the "Hamburger Abendblatt". The ID card had been checked several times. Should the suspicion against Jatta be confirmed, there is a risk that the residence permit will be revoked and the DFB will block it.
FC Nuremberg appealed against the score of the second league match on Monday against HSV (0:4) in due time on Wednesday evening. However, the DFL had already confirmed that it had been informed of the Jatta case before the match: "The player was on the eligibility list at the time of the match, so he was allowed to play," the DFL announced. As long as Jatta remains on the eligibility list maintained by the DFL, he may continue to play. A valid residence permit is required. If a residence permit expires or is revoked by the authorities, the entitlement to play would lapse. The HSV itself would only have to fear punishment if the club had committed an offence. Jatta experiences solidarity from "Seebrücke Hamburg", an organisation that is committed to civil sea rescue, safe escape routes and the permanent reception of refugees in Hamburg. "He survived the escape through the Sahara and across the Mediterranean and is now a hamburger like all of us. Instead of a petty discussion about his identity that completely bypasses reality on the deadly migration routes, Jatta deserves the support of his employer and his city," said Christoph Kleine of Seebrücke Hamburg.