Many of the Tribes suffered the same fate over the past few months. I guess it is fairly typical when new projects come online and start promoting by passing out tokens.
The price of the SPORTS token feel like a rock after it was first introduced. This happened to a number of other Tribes I follow such as #SteemLeo. As people receive the tokens, they sell them for others they prefer (or cash out altogether).
I will state that I am all for this. There is nothing wrong with a dump like this taking place. In my view, for a project to succeed, the tokens need to be in stronger hands. Those who are dedicated to said project are the ones who are going to make it go. Thus, they need to have a nice share of the distribution to strengthen the entire platform.
#sportstalk looks like it hit that point. After reaching a price below .0004, we are seeing a shift in the pricing action.
To start, buyers stepped in with some significant bids.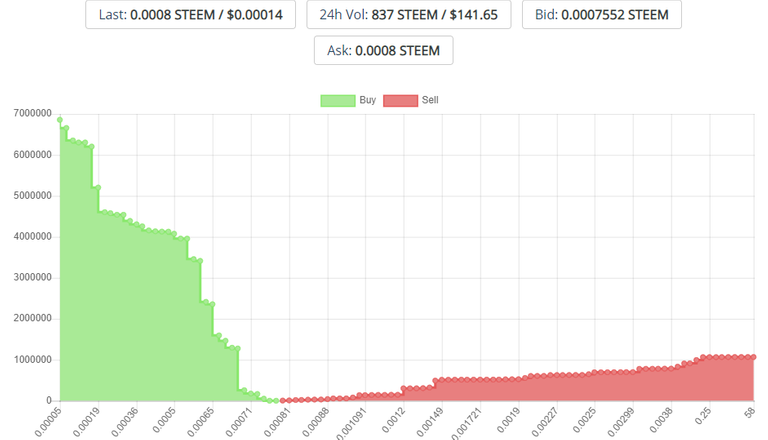 The buy wall is a lot stronger, at this moment, than the selling pressure. The volume on the buy side far exceeds that of the sell.
This is also showing up in the orders placed.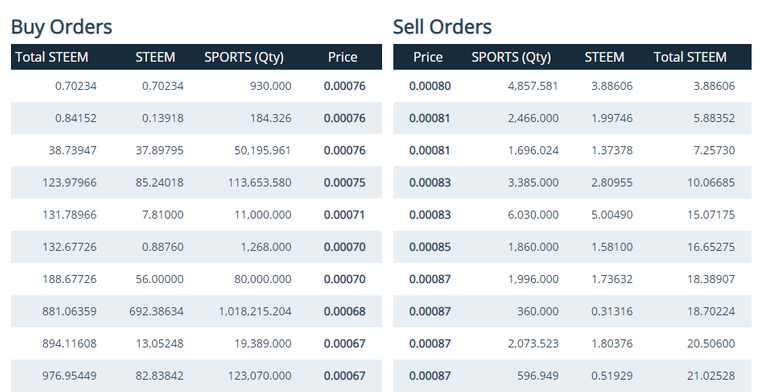 After sinking below the .0004 level, we see a move where the bid on the buy side about doubled where it was a week or so ago. This is a very bullish outlook for the Tribe.
Looking at the token distribution, we see that 14 accounts staked more than 1M SPORTS tokens.

We also see 30 accounts with over 500K SPORT tokens.
Both these numbers are large increases from just a few weeks ago.
I am a big fan of those Tribes that have a huge market. Sports is one of the largest, most fanatical markets that exists. For this reason, I feel this Tribe has enormous potential. Those who are staking the tokens are the ones who are going to lead it down the path of success.
As I wrote in a post in the past, I love the fact that we are seeing a global presence with this Tribe. North American sports are taking a backseat to the likes of Cricket, Rugby, and Football (soccer). Sports is a unifying force across the world (of course team loyalty ends up dividing). No matter what country, however the economic situation, or the politics involved, sports always seems to draw in the fans.
The online world is full of sports related blogs and forums. This is one of the most exciting prospects for Sportstalk. If it can tap into a few of the larger ones, we could see a massive increase in users. I mean, who would not want to get paid to post and comment about their favorite sports team?
Another interesting piece to all of this is the fact that the United States legalized sports gambling. How this comes into play with this Tribe is unknown. That said, gambling adds a layer of interest to sports in the United States that was not present before.
As we see development increase, the possibilities with this Tribe really grow. Could gambling be added to the site? Will we see more fantasy leagues appearing? Will sports personalities start to post their videos and podcasts as they find the site?
We will see how this unfolds. Stability is a starting point and the fact that the pricing action is stabilizing can only help the platform.
This is not financial advice. Do you own due diligence before ever getting involved financially with a project.
---
If you found this article informative, please give an upvote and resteem.