OK, yesterday Betman got it all wrong. He badly believed Spanish bats could show some bat pride, could resist coronavirus from Italy… and that went down the drain. He alse expected Tottenham poultry could show at least so much character to score just once. That also went down the drain. Thank God, today we have Liverpool odds at BetScorum for a correction…


Let's just hope the 'correction' won't be as successful as the one at the World's biggest betting exchange — Stock Exchange!
Let's go back to Liverpool now. Winning for the many months in a row, they forgot how to lose. It must be a kind of shock when Atletico won in the first game. In that state of shock, they lost from Watford, and a few more. Well, the rest is over. Now they have to start playing some football, and get a bunch of money… which they will have to disinfect before sharing, and before the global coronavirus panic. Will they win? You bet!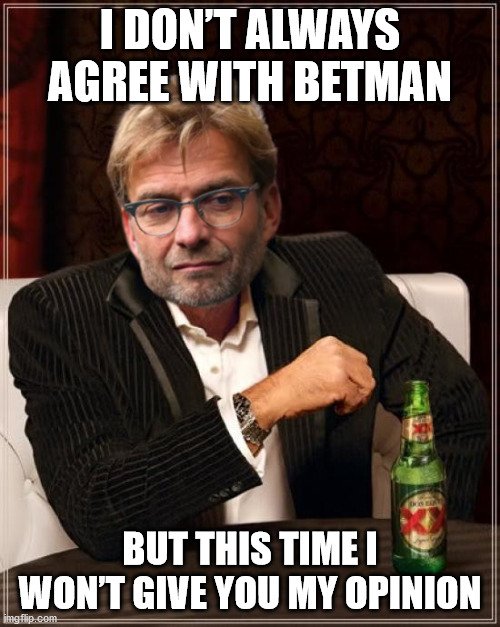 Thanks for nothing, Jurgen. I just hope you did some serious threats with some serious torture to your players, to motivate them for the match. And I also hope that the owners had invested in the right hands of the proverbial 'people in black' at the pitch… and that we can expect a change of name of the club to LiVARpool after the game. Klopp may hide his thoughts, but Betman has an obligation to the Scorum community to show you what is behind the curtain of the Wizard of CL.



You may say: "Hey, Atletico also has something to say here, don't they?" They are actually playing some football there, you know. Ever heard of Barcelona? Well, it's Catalonia now, but they are still in the same league. Which they call "The League". You may also call upon Betman's slow start in 2020… A bit below the surface of 50%… and you can bravely stake at X2, expecting further Liverpool fallout. Or anything else against Betman's odds today:

Or you can call your mom to cry…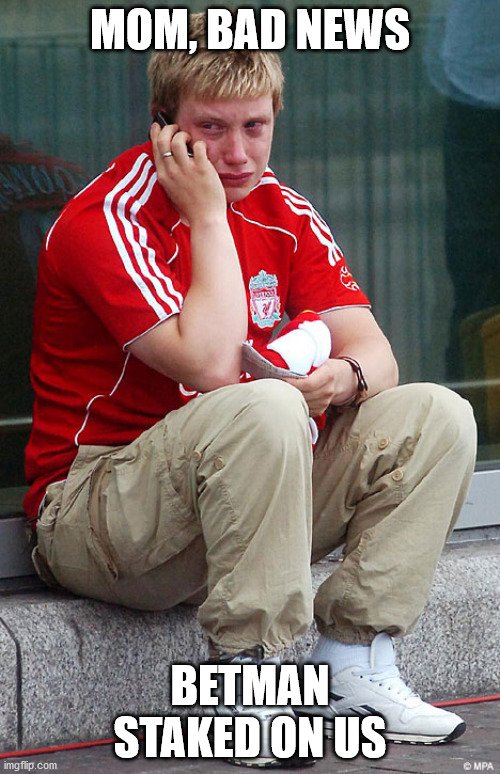 Don't worry kid. Coronavirus will exterminate everyone, so you can stake whatever at full stake. SCR price won't matter. Fiat paper won't matter. Unless you have to wipe yourself. Scorum Loyalty Program (not only) for tipsters won't matter… oh, wait! They do not matter already, since Betman is sending winning or loosing tips at their address in vain… Everything will be over soon. Too bad it will be over before Liverpool gets that long waited Premiership title.
But at least they will finally walk alone!
Find it all out at Scorum


Universal
Basic Income


Check out ABRA and easily invest in 28 cryptocurrencies or BIT10, an index of the top cryptos. Use this link to sign up and get $25 in free bitcoin after your first Bank/Amex deposit, or 1.5% cash back when you exchange cryptos

1GZQG69sEKiMXKgGw9TcGcUCBoC4sC1ZYp