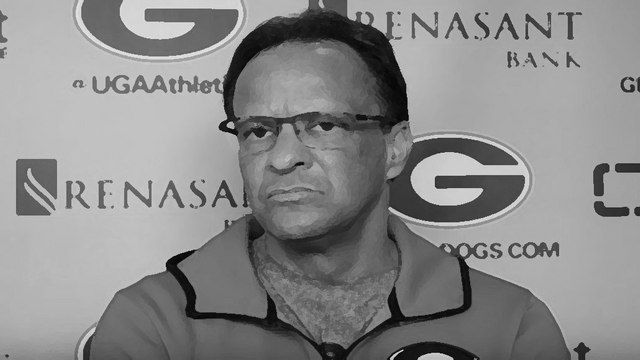 Tom Crean deserves the blame in easily his worst strategic approach to a Georgia Basketball game in his tenure.
Tom Crean made it clear that he knew what Mississippi State's strengths are as a team and who needed to be stopped in his pre-flight press conference. One would assume that Crean, an accomplished Head Coach, would have had some sort of a plan to counteract Mississippi State's strengths and exploit their weaknesses.
However, Crean did not do that and tonight's loss looked like what would happen if Mark Fox had better players.
Instead, Crean played into Mississippi State's strengths and pace of play allowing Ben Howland's Bulldogs to do whatever they wanted, which made it rather easy for this game to get out of hand. Young teams tend to struggle on the road, but the Senior Leadership was just as lacking as the game planning in this 91-59 loss.
Tom Crean's Approach was Wrong
Mississippi State is a team that likes to play a slow-paced game that is very post driven. Reggie Perry and Abdul Ado are known to be able to score in the low post and get offensive rebounds. Their guards feed off the ball movement caused by them getting the low post entry. Georgia is physically not able to keep these strong posts off the low post, which means that the team has to adjust. Georgia is a team that is capable of forcing turnovers, which is something that Mississippi State has struggled with this season.
A Passive and Puzzling Defensive Approach
Crean's approach was to bizarrely play with no backcourt pressure and a switching man-to-man defense up until the 13 minute mark of the Second Half where he realized (when it was too late) that his defensive strategy was not working. A basket would be made and everyone would get back and let Mississippi State stroll up the floor to set up a low post entry into Reggie Perry or Abdul Ado. It allowed Perry and Ado to have enough time to get themselves into position. The turnover count in the First Half was 5 for Mississippi State, which is terrible for Georgia's Defense. One of the points of criticism from Tom Crean when he came to Georgia was how few deflections his team had in each game and how they were worse at doing so than his probation-decimated teams at Indiana. It was a massive step backwards, but then again, Crean's defensive approach was just like his predecessor and that was disturbing.
If you don't force turnovers, enjoy a slow pace of play, and hope that the defensive rebounding situation works out, it is likely you are following the Mark Fox approach. Expect Mark Fox type of results when you do that.
Tom Crean promised 3/4 court pressure and 1-2-2 Matchup Zone, but yet with a matchup where the undersized Dawgs could have exploited Mississippi State's weaknesses, stubbornly opted against it when it mattered. It was easy for Mississippi State to get a quality offensive possession, all they had to do was set a ball screen and the defense would create an easy matchup for them in the post with an occasional slow to develop double team.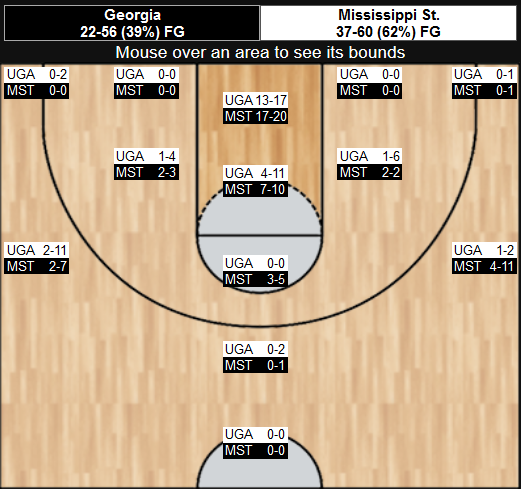 This approach against a team like Mississippi State is how the above shot chart happens. Georgia's inability to make shots led to less aggressive defense and effort on the glass.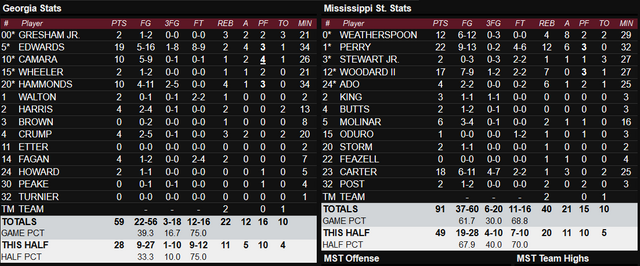 Playing a short bench and then expanding it when the game was in hand was a poor approach. Mississippi State is not a deep team and Georgia was playing deeper earlier in the season. It was strange to Rodney Howard playing in the Second Half when he is only player on the roster physically able to play toe-to-toe with Ado or Perry. Throw in Mike Peake and his energetic play being denied until the very end of the game, it was just poor roster management. Tom Crean's approach would make Jeff Dantzler and a bunch of people with selective memories of the Harrick era very happy, but this approach is outdated and inapplicable.

It was the slowest game of the season in terms of possessions with 62, Georgia had no issues with committing turnovers.
Mississippi State sucked the life out of this Georgia team and Tom Crean had no problem with letting it happen.
Mississippi State was able to do the following:
Have a 53.84% Offensive Rebounding rate.
Have a rather low 15.7% turnover rate.
Have 21 Assists with a 33% Assist rate.
Win the X-Factor Points by 13.
Score 15 fast break points.
Hold Georgia to only 4 steals.
It was a strange trip back in time to the Mark Fox era and Tom Crean is the coach.
Senior Leadership is non-existent.
By the point in the game where the changes were made, this Georgia team was not going to be able to fight back. This is a young team that lacks resilience and leadership, which are by-products of the Mark Fox era where the dictatorial coach gave his team no freedom to operate. Senior leaders are expected to provide the team with the directives and younger players are expected to follow their lead. This Senior Class is not leading and do not know what it means to lead, they know how to complain and get frustrated, but leading is not something that they understand. If Georgia is down at Halftime and do not make a push in the first four minutes, there is no point in watching the rest of the game.
Road games are going to be tough for Georgia without leadership and when coaches talk about guys not talking on defense or communicating on offense, it is a failure of leadership. For all of the success that Georgia has had this season, it is a wonder that this team has accomplished anything. Tom Crean is in Year 1, last season was a Year 0 Demo Season and these sorts of leadership issues happen with teams that do not have upperclassmen. Often, these programs have experienced situations much like what Tom Crean experienced at Indiana. Georgia is in a similar situation coming out of a very toxic situation under Mark Fox. For the players remaining in the program, there is still de-programming to be done as this program shifts into a more "normal" and functional Men's Basketball program.