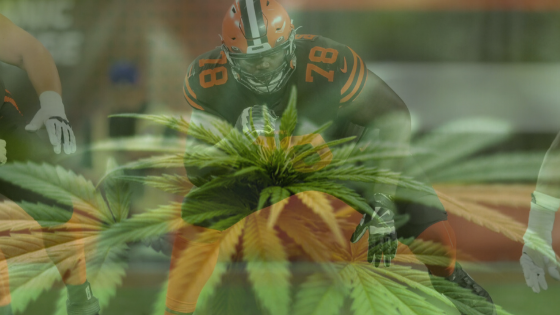 Former second round draft pick and Cleveland Brown's defensive tackle Greg Robinson was recently caught with 157lb (71kg) of cannabis weed along with two others.
Although this much weed suggests it was for distribution, it does open up the conversation of personal marijuana use among NFL players.
Players have been suspended, sacked and even banned for life for smoking. Whether mixing football and weed together is a good mix has been up for heavy debate.
Former NFL tight end Martellus Bennett stated on a Bleacher Report podcast that 89% of NFL players smoke weed. According to a Washington University School of Medicine study of 644 NFL players in 2011, 52% of respondents said they used prescribed opioids during their playing career.
Of those 336 players who were prescribed opioids, 71% said they misused their prescribed drugs.

Former running back Ricky Williams spent a lot of his time in the NFL on the substance abuse program and was suspended multiple times. Now aged in his 40's he's a vocal advocate on the benefits of medicinal weed and has even opened his own cannabis based product line.
A Heisman Trophy winner in 1998, Williams spent 12 years in the NFL and made the Pro Bowl in 2002 in a year he led the league in rushing yards, set the Miami Dolphins single season record for rushing yards and touchdowns scored in a single season.
"It's easier on your liver. It doesn't cut your awareness off from your body, the way most pain medications do. It actually increases awareness of the body." – Ricky Williams on his thoughts on weed.
During his career he was suspended a total of five times for testing positive to cannabis and missed the entire 2006 season. Despite the bans he still forged a successful career rushing for 10 000+ yards and 66 touchdowns.
Another high profile user is current Seattle Seahawk's wide receiver Josh Gordon, who began failing drug tests in college.
Gordon was suspended in 2013 for two games, for ten games in 2014 and the entire 2015 season, a career continually being interrupted due to violating the substance abuse policy.
Pittsburgh Steeler's wide receiver Martavis Bryant was also suspended for the entire 2016 season for NFL's substance abuse policy violations.
He was conditionally reinstated in 2018 where he joined the Oakland Raiders in 2018 only to be suspended indefinitely soon after for violating the terms of his conditional reinstatement.
Gordon and Bryant are examples that the NFL has no tolerance for weed but it's stance is flawed.
In 2015 former Baltimore Raven's running back Ray Rice received only a two game suspension for knocking his wife out in a drunken rage. Only upon much public outrage was the punishment was extended.
Related: Why Social Media is Harming Sports
The stance on weed in the NFL seems extremely harsh when you consider that it's a performance reducing drug and not a performance enhancer likes of steroids and peptides.
It's increasingly being seen as an unconventional way to relieve the physical and mental pains associated with the physical nature of football.
In the interest of player welfare a greater understand is needed and more research required into the effects of weed on physical and mental pain management.
The toll of sports on the bodies of athletes leads to players being prescribed dangerously addictive opioids and any alternative that is less harmful should be seriously considered.
As weed enters mainstream society, the NFL is still behind the times. It seems its only a matter of time before it'll become a mainstream part of football culture.

Shout out to all of those at #sportstalk. Originally posted at Wolf Gang Sports. I curate sports content on basketball, soccer, American football and more. Avid collector of sports jerseys, trading cards and streetwear paying homage to special moments in sports history. Check out the full blog and sign up to the newsletter to be the first to receive our sporting content that aims to provoke, thought, inspire and entertain.