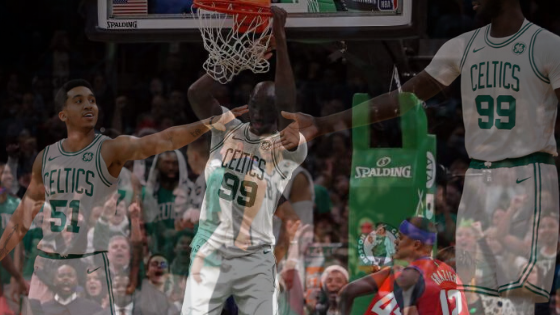 After Taco Fall went undrafted last June the Celtics wasted little time in snapping him up. His 7'7″ height when in shoes clearly a competitive advantage too good for Boston to pass up on.
Despite his record height, 29 other teams overlooked the man from the University of Central Florida.
Somebody Taco's size will naturally have limitations with movement. In today's league, moving into space and guarding multiple positions is especially crucial.
Fall however, moves surprisingly well in confined spaces and his size makes him beastly on defense especially around the rim.

Fall is currently on a two-way contract with Boston, plying his trade with their affiliate team Red Maine Claws.
His height and offensive ability has been on show in the G-League averaging a double-double with over 13 points, 11 rebounds and almost 3 blocks per game.
Boston fans and NBA fans in general have gone crazy as Tacko-mania continues to gain momentum. The league is embracing the big man and simply can't get enough of him. Chants of 'We want Tacko!" during garbage time situations is becoming mainstay. Height aside, he's also a man of humility.
"People, whatever the reason, like me, they come up to me," said Fall to Sean Deveney. "I can't complain about that. Sometimes though, you want some quiet, you want it to be normal,".
He's only played 24 minutes total for the Celtics but he's beginning to become the Maine man for the Red Claws averaging over 22 minutes per game.
It was well worth the wait to see Taco in his first game. In five minutes Fall scored five points, grabbed two boards, and blocked one shot. Proving he can translate his height into the NBA.
Boban Marjanovic has already laid the blueprint for Fall as a similar niche type of player since he entered the NBA in 2015. Now the league's second biggest player – dethroned by Taco Fall – at 7-foot-3, 290 pounds, he's been extremely productive in his career. He averages just under 10 minutes a game, 6.1 points per game and 4 rebounds per game as a role player.
Offensively he's extremely efficient but defensively can become a liability. If teams exploit rim-protectors like Marjanovic who struggles to defend past the free-throw line, perimeter-oriented bigs can score freely. It's something Taco will need to be mindful of.
For now, Taco is becoming the Maine man for the Red Claws but he well could be on his way to becoming the main man for the Celtics. As long as the Celtics keep holding onto him, they'll continue to reap the financial rewards of the big man.

Shout out to all of those at #sportstalk. Originally posted at Wolf Gang Sports. I curate sports content on basketball, soccer, American football and more. Avid collector of sports jerseys, trading cards and streetwear paying homage to special moments in sports history. Check out the full blog and sign up to the newsletter to be the first to receive our sporting content that aims to provoke, thought, inspire and entertain.