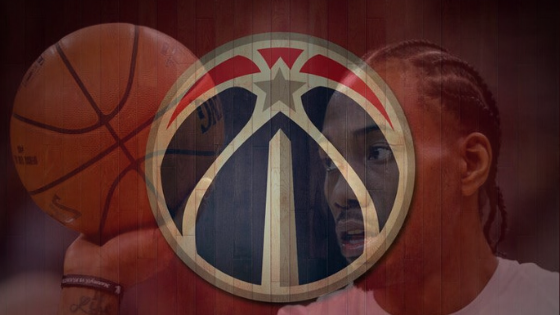 As a tired Wizards fan, I jumped onto myLeague on NBA 2k20 with the hopes of redrawing the league's landscape and to at least enjoy success for the franchise even if it's just fantasy.
I started from the end of the 2018-19 season and with a bit of luck and some shrewd trades I was able to change the fate of the entire franchise.I got lucky with the 3rd overall pick following the 2019 NBA Draft Lottery, but got even luckier as the Hawks and Bulls absolutely butchered their 1st and 2nd picks as you'll find out.
Starting Lineup
PG – Kemba Walker
SG – Bradley Beal
SF – Kawhi Leonard
PF – Zion Williamson
C – Boban Marjanovic
Bench
PG – De'Aaron Fox
SG –Troy Brown Jr.
SF – Rui Hachimura
PF – Michael Beasley
C – Jaxson Hayes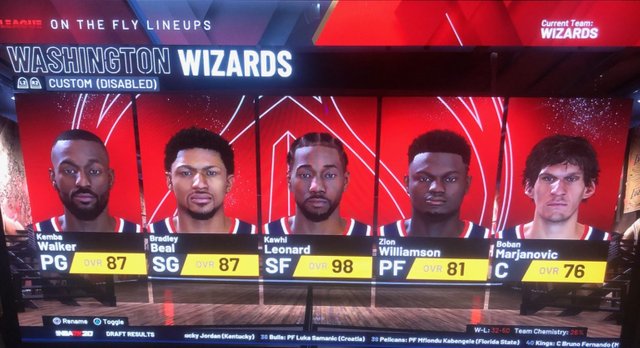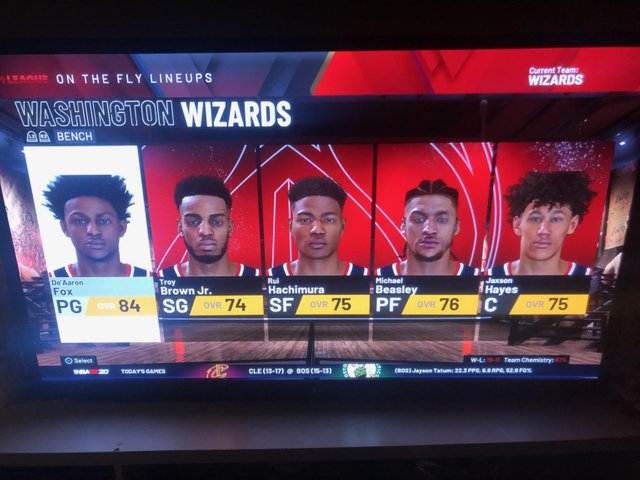 Key Trades
My strategy was to free up as much cap space as possible to hit free agency hard. That started with the trade of John Wall for draft capital which I flipped into De'Aaron Fox.The team would be built around Bradley Beal with the remaining pieces to come with the #3 overall pick and from free agency.
Wizards trade John Wall to the Knicks for '19 1st Round 5th pick (Knicks) and Mitchell Robinson
Wizards trade '19 1st Round 5th pick (Knicks) and '21 1st Round pick (Wizards) for De'Aaron Fox and Bogdan Bogdanovic
Wizards trade Bogdan Bogdanovic for '21 1st Round pick (Mavericks)
Wizards trade Mitchell Robinson and 19′ 2nd Round pick (Heat) for '19 1st Round 24th pick (76ers) and '23 1st Round pick (76ers)
The Draft
To my absolute bewilderment, Atlanta Hawks used their pick on some random generated player Homer Lynch, a 6'7″, 285lbs power forward who is 82 rated overall. Not sure why 2k threw him in?At this stage, I was ready to pick Ja Morant and work out what I'd do with Fox and Morant. Chicago selected Morant to my surprise with the #2 pick.I couldn't believe that Zion fell to third so without hesitation he became a Wizard. Rui Hachimura for some reason was in free fall and a projected second round pick. I couldn't wait to pick him up at #24.Everything's coming up Milhouse!
Wizards select Zion Williamson with the #3 Pick of the draft
Wizards select Rui Hachimura with the #24 Pick of the draft
Wizards select Jaxon Hayes with the #31 Pick of the draft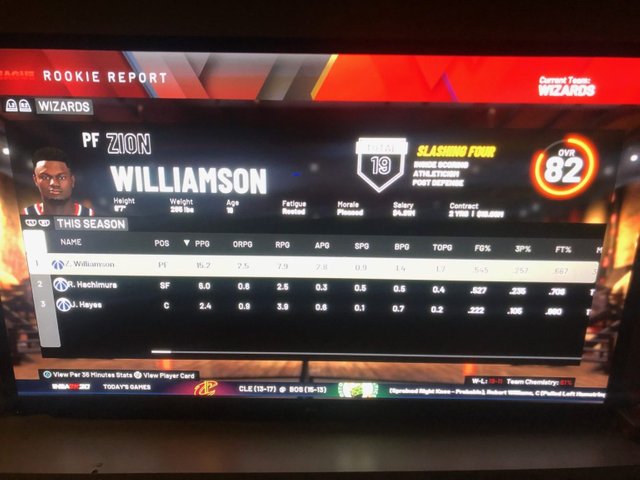 Free Agency
With so much cap space available I was able to throw max contracts in the hope of building a contender around Beal, Fox and Zion. I threw offers at all elite players and struck gold twice.
Wizards sign Kawhi Leonard to 4yr/$140.61M deal
Wizards sign Kemba Walker to 4yr/$97.22M deal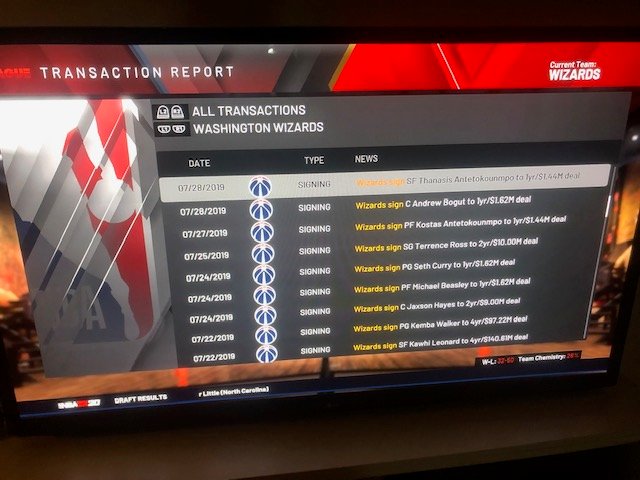 So the future is bright for the Wizards at last! A genuine contender with two superstars in Kawhi Leonard and Kemba Walker as well as generational talent Zion Williamson.I will need to consider an upgrade from Boban Marjanovic at center however his size is disruptive for opposition offenses.Looking ahead, Zion and De'Aaron Fox are the future. Kemba Walker is an asset that I'm considering trading with Fox on the roster, for draft capital or an upgrade at center. 

Shout out to all of those at #sportstalk. Originally posted at Wolf Gang Sports. I curate sports content on basketball, soccer, American football and more. Avid collector of sports jerseys, trading cards and streetwear paying homage to special moments in sports history. Check out the full blog and sign up to the newsletter to be the first to receive our sporting content that aims to provoke, thought, inspire and entertain.