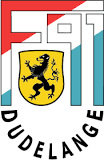 Dear friends
so next thursday will be the last match in Europa League for our beloved team Dudi.
We will follow them in a very long travel to Azerbaijan where Qarabag team will welcom Dudi to their big stadium just to be not the last team on this group, because Sevilla and Apoel get already qualified.
So this last bet want to be very interesting.
We will pay 5 times odd if Dudi will win and be not the last team, 3 times odd if the match will draw and 2 times if Qarabag will win.
So this time the memo bet will be:
Dudelange winner: DUDI OK
Match draw: DUDI =
Dudelange looser: DUDI KO
Any of these bets are with very high odd comparing the betting company offer, but as last time bet of this season we want to give a small gift to our friends.
So please send your bet amount to @intellihandling before thursday 6 PM CET with one of above memo and good luck!
Of course we hope in a miracle, because if Dudi will win will not be the last team of group stage and it will be incredible.