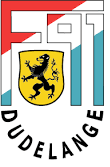 Dear friends
as usual we come to invite our friend to bet for our beloved team Dudelange.
Next thursday there will be the 5th round of Europa League group stage and our beloved team will welcome the team Apoel.
This is a very important match to write a new chapter in this miracle story.
Yes because if Dudi will win or draw will be still to be able to qualify to the 16th finals in the begin of spring next year.
When we started this season, be able to do a qualification match it was not even in our dreams!!
So lets be again crazy and send your bet to us with memo Dudi ok if you think Dudi will draw or win or Dudi ko if you think they will loose and no more hope will be to qualify.
Last week we made a bet for Steem and who bet NO now have the right to get a bet with the same amount for Dudi ok.
The odds are 2 with Dudi ok and 1.5 with Dudi ko.
So right now we have the following bet already qualified:
@loro68: 3 Steem for Dudi ok
@alberimsi : 3 Steem for Dudi ok
@ritxi : 1 Steem for Dudi ok
For all the others want to bet you can send any amount of Steem with memo Dudi ok or Dudi ko and you will have time till next thursday at 19 CET time.
So good luck Dudi and good bet for you!!