Hi guys,
Yesterday, a lot of Nigerians published a post on the Nigeria - South Africa quarterfinal game.
Well, I am a football fan and Manchester United is my club, but as a Nigerian, I am a Super Eagle lover although they can get on my last nerve like 80% of the time, I love them regardless.
Frankly, the boys have been doing so well in this tournament and I must give it to them plus the fact that we have an amazing coach.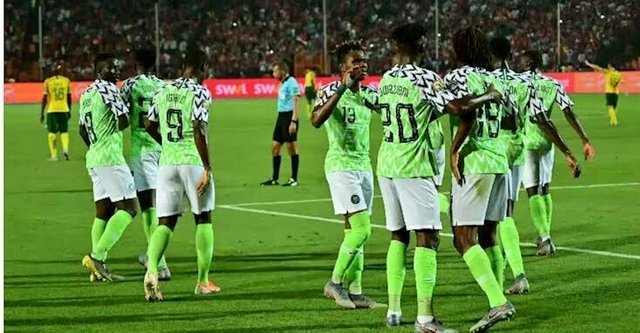 Image Sourced From @Ogoowinner's blog
It may interest you to know that the Bafana Bafana boys won the host nation which was actually a big deal. The South Africa team silenced the Egyptian crowd and it scared the hell out of me. So, I wasn't sure the Eagles will come out of this one.
During the game yesterday, I was tensed all through the match and could barely sit. At first, I thought I was going to pass out LOL! I tried to get hold of myself, but nothing seemed to be working until the first goal by Chukwueze.
Overall, it was a tough game, but I was happy the boys did an amazing job. The happiness that I had yesterday, spilled over to this morning. And I think it will last to the next game.
Congratulation to the Super Eagles
I am proud of you guys.
It will be really nice to bring the cup back home.
Thank you for reading