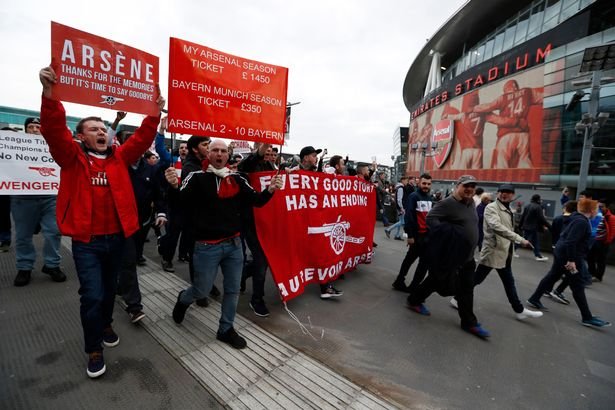 source
Thousands of supporters groups of the famous football club arsenal have gathered outside the emirate stadium to express their dismay and dissatisfaction at the way things are been run by the owner stan kroenke and urged the American to make new and dynamic appointment to rejuvenate the club back to title contender.
In a statement release by the 14 separate supports group the signatories said arsenal fans have never felt marginalized, questioning whether the board is fit for purpose and called on the club owner kroenke to explain how he intends to get the club back to the position where it will be able to contend for major trophies again.
One of the statement by the arsenal supports read "As arsenal fans we have watch with frustration as the teams football performance have declined over the past decade" when Stan kroenke began buying the club arsenal had just completed it first champions league final, twelve years on arsenal are about to play in the Europa league for the third year running.
They went further to express their grieve that off the pitch they felt more marginalized and less valued. This they say was illustrated when Stan kroenke forcibly bought out the last remaining supporters shareholders without even a word of appreciation for their custodianship role in the club.
Things need to change they said and demand that Stan Kroenke takes meaningful action to revive our football club.