We saw the Steem blockchain forked a number of times. Over the years, different projects came to Steem only to decide they were going to fork the blockchain and do things on their own.
Probably the most notable was Vice which was a projects that was backed by a number of porn related companies including Playboy. The idea was to replicate Steem but cater it to the adult content world. They were even going to include the SMTs as part of it, thus providing the ability to have different applications creating their own token.
Another project was Scorum. This caters to the world of sports while providing the same "Proof of Brain" that the Steem ecosystem has. It makes sense since it is a fork of Steem.
While forking Steem and having a project all on its own might seem appealing, there are a couple drawbacks.
As Playboy found out, it is not as simple as hiring a few IT people and taking off. The Vice situation seemed to die as lawsuits flew back and forth. It appears a blockchain developer that was hired did not provide what was promised. This ultimately destroyed the project.
Along the same lines, I am sure a lot went into the development of Scorum. The challenge there is the community is not real large. In other words, the idea is not taking off and the usage is down. It is not easy to start a community from scratch.
In my earlier post, I was provided a link that seemed to make a lot more sense. Instead of opting to go this route, a team took advantage of what is on Steem to fill a perceived void. We now see Sportstalksocial.com activated.
This is similar to PALnet in that it is a platform that caters to a certain crowd right here on Steem. By creating a token, rewards are provided to content creators.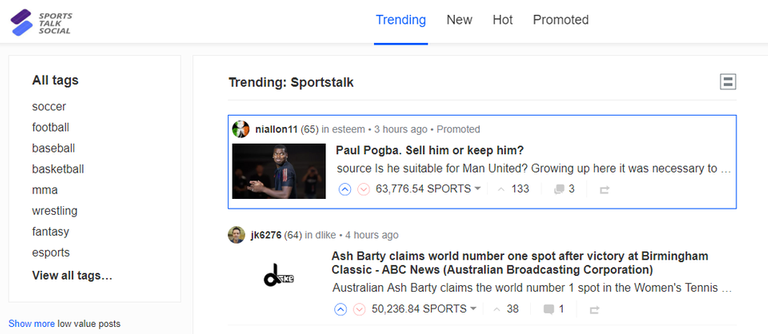 Here we see simplicity along with a few additional benefits provided.
First, anyone on Steem can post on that site and earn by using the #sportstalk tag. This will post the content where people with the SPORT token can upvote it.
A second benefit is the ability to use Steem-Engine. I have a feeling part of the problem with something like Scorum is the fact the token is not liquid. Having the SPORT token on Steem-Engine, it can be converted to any other token created on there via STEEMP.
Finally, there is the Steem community. Whereas Vice and Scorum, or any other project, would have to generate their community, Steem already has one built in. Not only does the community exist but they are familiar with how Steem and cryptocurrency work. The process of what happens on Steem is well known. Nothing has to be explained. It is simply a matter of getting the hashtag out and the link to the website.
Considering the advantages, the bigger question is whether the forking of the blockchain is going to continue in the future. Why would a team opt to do that when it can, simply use the available tools and build upon the top of Steem? While I am sure there will be teams with enough experience and a built in community that does it, I think, for the most part, this replaced the idea of forking Steem.
PALnet certainly started something. This system could see the generation of hundreds of sites covering many different topics. We could see the target audience getting smaller. For example, instead of just sports, we could see a site dedicated to the Los Angeles Lakers. As always, the possibilities are incredible.
For something that was not around two weeks ago, it is wonderful to see the rapid advancement of this. I am sure there are more but it is good to see Sportstalksocial.com getting started on Steem. Hopefully that will be a place where sports enthusiasts start to assemble.
To check out the site and post on there:
https://www.sportstalksocial.com/
From what I understand, the #sportstalk is the tag to use.
---
If you found this article informative, please give an upvote and resteem.