TRON's Purchase of Steemit Inc; An Eye-opener to the "GOLD" of Blockchain-powered Contenting and Social Blogging - Let's Rise to Protect STEEM!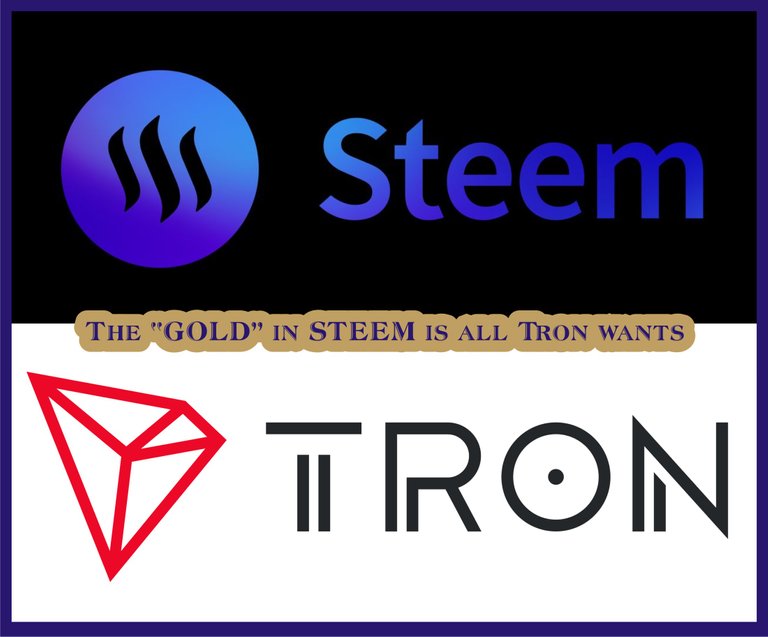 ---
Before I begin to share my thoughts on the envisaged TRON-STEEM collaboration through Steemit purchase, I wish to throw these questions:
How would the owner of a $1.44B worth blockchain decide to throw his wealth out just to acquire a $0.0734 B ($73.45 M) worth STEEM?
Why should Justin prefer to come for the 77th rank steem when his TRON is already at the 16th mark?
What would prompt one to buy the lead company of a token selling in less than 50 exchanges when his TRX was selling in 79 exchanges?
How do we explain that Sun's TRX was already trading against BTC and USDT on major exchanges but his eyes were still STEEM?
Let's take a look at the screenshot of the trading information for steem and Tron as captured on https://nomics.com/assets/ as at 17:40 (GMT+1).

Truth be told, Justin Sun sees more value in STEEM more than most steem users and stakeholders do, that is why he had to reach for the buy of Steemit Inc. knowing too well that he'll recover his investments from the GOLD in steem blockchain.
Until now, the eyes of many on steem blockchain was not open to see that they really sit on gold-mines. Indeed, everyone that makes up the steem-ecosystem is very important towards the achievement of the grand purpose of tokenizing the internet.
With a rare state-of-the-art creativity and array of high quality DApps with primary use cases second to none in the entire internet space, steem is more than an amazing blockchain.
Steem is GOLD not because it is a cryptocurrency, not because of the creative DApps nor it's decentralized nature, rather, it is because of It's premiere protocol that enables it to power contents.
There is no argument that content is the drive of internet and the revolutions around the internet space has been that of content upgrade. This is why a everyone is interested in owning a blockchain-powered socialmedia cum blogging platform.
Truly, there is GOlD in steem and this is all Justin is out for andwe all know how good a business man he is added to tron's popularity, Justin cannot just buy steemit to lose at the end.
He's got great plans and he'll surely meet his target.
What then do we do?
We all are clamouring for a win-win deal but how well would that go? I am pretty sure that the sales of Steemit would go a long way to inspire Steem 3.0 surely which will seek a breakout from "Tronit's" if there must be a true decentralization we all need.
Many lofty ideas have been issued from delegation to Steem's witness and the likes, but this won't succeed until all whales open up their eyes to see the value of valueful content creators and give them the necessary support in the shortest possible time so everyone can build a good SP strength then the witness votes would be stronger.
Curators should not be sting with votes especially on good blogs. Truly, this is not the time to disagree on rewards especially for creators that have a track of quality content. Freely boost their posts and in turn, their witness bvtes will be weighty.
Without content to mine the rewards, then all stakes would be useless at this material time. There must be a quick action on this. The more whales we create, the better for steema dn the more secured would the top 30 witness positions would be sustained by the community.
I must thank some good whales like @Theycallmedan @ocdb @upmewhale and @appreciator and others that utilize their stakes to vote quality contents. It's sad that many accounts are constantly on 100% Voting manna for days and weeks , yet they hold huge SPs. That's a shear waste. There would be no crime for such accounts to scout for quality content creators and place them on auto-votes and they are sure of their 50% curation reward still. An account mine need such lol!
Final Words!
Let's create more whales to secure top witness positions for community-minded witnesses. There is GOLD in steem and Justin will stop at nothing but mine it. Every businessman is worthy of his profit for every investment made.
All crypto market data/information are drawn from https://nomics.com/
---
---