A New Scot Tribe On Steem! SteemAce.io For Gaming Content | Over 100k SP, 7.5k PAL And 120 Splinterlands Beta Booster To Reward Great Content and GG Stakers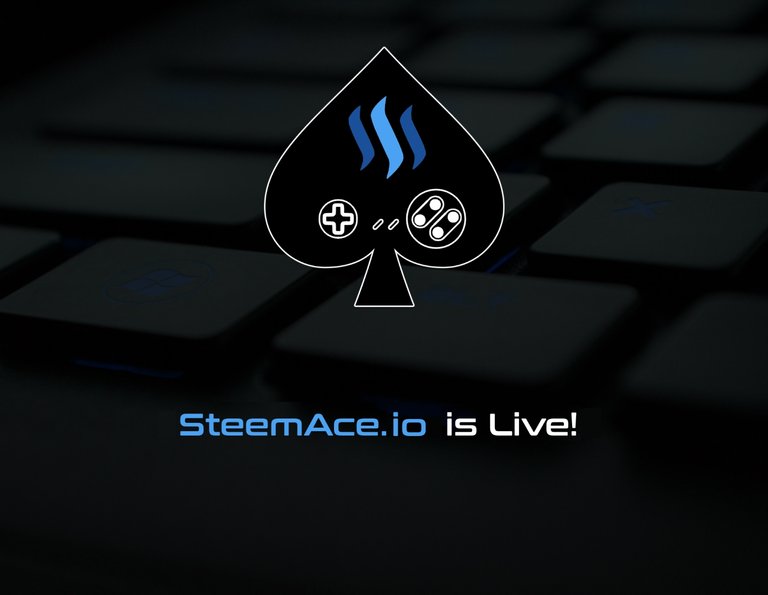 TLDR;
SteemAce is a community for gaming content of any type
The "Good Game Token"(GG), our underlying token, was issued and is used on:
Steemace.io --> Main Page (Condenser Instance)
Tube.Steemace.io --> Video Tube Page (ScotTube Instance) (will work soon)
1 million GG Tokens were awarded with an airdrop to Palcoin stakers and active authors in different selected gaming tags
1.3 million GG Tokens will be awarded in following airdrops
Initial Inflation = 14% in the first year; This figure drops by 2% each year and ultimately stays on an annual 4%
There are in total 20,000 GGM virtual miners available on the Steem Engine DEX
Use the "steemace" Tag in posts to earn both GG and STEEM rewards!
We will be using our main account to upvote great gaming content under the "steemace" tag with more than 100,000 SP
Regular raffles and contests sponsored by the SteemAce team
GG on SteemEngine
GGM on SteemEngine

We are proud to finally and officially announce the launch of SteemAce.com - a community aiming to connect gamers from all around the world in one huge social platform.
SteemAce was created for the evergrowing number of old and young Gamers that want to share their content or promote other peoples' interesting content.
What kind of content should be posted on SteemAce
SteemAce is open for any gaming content. Be it your new flash game, a comment on the last pro gaming match, or maybe even your own Let's Play videos. All of these might be interesting to readers and earn you GG rewards.
In order for SteemAce to grow into a well renowned gaming community it is very important that all posts contain actual gaming content. We set this as the highest priority.
There is nothing wrong with promoting or even advertising something you like – but make sure it is about gaming!
Our moderator team works towards promoting related content, while also flagging content that is completely unrelated to Gaming.
Integrations from Steem Engine
Steem Engine offers us a broad range of different tools for SteemAce.
We will launch with:
Nitrous a.k.a. Steemace.io - A fork of the Steemit condenser
ScotTube a.k.a. Tube.Steemace.io - A fork of DTube that features SteemAce video content
ScotPeak a.k.a AcePeak - You'll find GG Token in the list of tribes – so you can view your account feed and payouts both in GG and STEEM!
Digital Miners – GG can only be mined with the virtual "Good Game Miner", of which there is only a limited supply of 20,000 available.
Currently, there are no specific plans to implement ScotBB for a forum, though we are not opposed to integrating it in the future when needed.
GG Virtual Token Miner Details
The GGM (Good Game Miner) is now available on the Steem Engine DEX. It has a maximum supply of 20,000, of which the first 3,000 will all be sold at a discount.
There are 17 winning miners each hour
GGM has to be staked for mining
GGM is available for 10 STEEM per GGM
The first 3,000 GGM are on discount for 8.5 STEEM!
The STEEM generated from these sales will mostly be used to power-up our main account and in small parts for advertisements outside of STEEM.
Initial and Ongoing Distribution of the GG Token:
Initial: 7M
Team: 710k
Delegation Account: 190k
Mute Account: 300k
Sell Wall: 1.5M
First Airdrop: ~ 1M
Future Airdrops: ~ 1.3M
Bounties: 2M
Ongoing
Initial Inflation: ~ 1M GG – 14%
~ 150.000 GG to PoM (Proof of Mining) Pool (15%)
~ 850.000 GG to PoB (Proof of Brain) Pool (85%)
Unlike with PAL and LEO, the inflation rate drops by 2% each year until it is at 4%, then it will remain at annual 4%.
Initial Airdrop
We're airdropping 1M GG Tokens to:
Active authors in Gaming Tags within the last 30 days
Formula: (Squareroot of SP) * 7
Cap per User: 2000
Palnet Token Staker
Formula: (Tokens / 2)
Cap per User: 3000
Both combined
We have kept another 1.3M GG for future airdrops that will target active and loyal SteemAce users.
Our Team
The SteemAce team consists of 3 admins and 5 moderators.
Admins:
The admins are the founders behind the SteemAce community and its Good Game Token and take over administrative duties such as organizing regular contests and raffles, but also act as full moderators and make sure that SteemAce is advertised. They're receiving 35.000 GG Tokens + another 5.000 GG Tokens every month for one year.
Moderators:
Our five moderators take over the job of upvoting and rewarding quality content and flagging content unrelated to Gaming. Their incentive is 25.000 GG Tokens + a monthly reward of 5.000 GG Tokens over one year.
Especially in the early stages after SteemAce's launch, our whole team will dedicate itself to rewarding anyone contributing to the community in a positive way. Therefore neither the moderators, nor the admins are allowed to take any GG Tokens from their account for at least one year. Instead, these Tokens will be used to Power-Up their accounts and continously review and reward content on SteemAce.
The team's job is to guarantee a positive distribution of our tokens.
Important Accounts
@good.game
= An account to reward great gaming content on our platform with SP and PALpower
@bad.game
= Mute account with 300.000 GG staked; this account will flag inappropriate and completely unrelated content on SteemAce
@steem-ace.deleg
= An account with 190.000 GG staked; it will delegate its power to curators that have done a great job in the past to ensure an even better distribution of rewards to authors
@steem-ace
= SteemAce account with 2M GG for Bounties and currently additional Tokens for following Airdrops.
Upvoting with our SP and PALpower
For at least 4 weeks we have rented over 100.000 SP and 7.500 PALpower on @good.game. We will be using it to upvote great content on our platform so it also receives better visibility on other frontends. The value of the upvote depends on the amount of GG tokens staked by the author. The more you have staked the better the upvote you receive becomes.
We will be using a big part of our earnings to power up even more SP on @good.game, so great content gets rewarded even more.
Giving away 120 Splinterlands Beta Boosters
Every day for the next 30 days we will give away 4 Splinterlands Beta Boosters to 4 different GG Token Stakers. Stake more GG and increase your chance of winning!
(Members of our team are excluded from the giveaway.)
After the 30 days we will do more giveaways. We have a lot of different ideas.
You see it is worth to stake GG and being active!
The future of SteemAce
Making sure that the word spreads and that SteemAce is adopted not only by the community of Steem, but also by a much broader audience - the Crypto world and even the general public - we aim to market SteemAce to outsiders of the Steem blockchain in the future when we believe it's time for a bigger adoption. That also helps the whole Steem economy.
Our GG Tokens for Bounties are also part of it.
Bounties
We will be using 2M tokens for bounties over the course of the next years. These include multiple things:
Promoting Steem and SteemAce to gamers outside of Steem. We want to give new users an incentive to join SteemAce and Steem.

Rewarding the tokens in contests and tournaments (e.g. Splinterlands)
Sell Wall
We have created a sell wall of 1.5M Tokens for a price of 1 Steem each. It gives the possibility to distribute our Tokens even more in the future and we can use the revenue to grow and reward our community further more.
Scotbot Settings
Voting is slightly superlinear
You get 1 free downvote per day
60/40 Creator/Curator split
7-day payout windows; Unstaking occurs in 28 days within 4 installments
Inflation: First year at 14%; Drops by 2% every 10512000 blocks (=1 year) until it reaches 4%
author_curve_exponent: 1.1
author_reward_percentage: 60.0
cashout_window_days: 7.0
curation_curve_exponent: 0.5
downvote_power_consumption: 200
downvote_regeneration_seconds: 432000
issue_token: true
json_metadata_key: "tags"
json_metadata_value: "steemace"
reduction_every_n_block: 10512000
reduction_percentage: 1
rewards_token: 15.5
rewards_token_every_n_block: 100
token: "Good Game Token"
token_account: "steem-ace"
vote_power_consumption: 200
vote_regeneration_seconds: 432000
We would love to welcome everyone interested in Gaming to join the SteemAce community.
Let's bring Social Media to the next generation together and start with using the #steemace tag!

You are welcome to join our Discord Server:
https://discord.gg/qWxaPsr
(The team will be available for questions from 10AM CEST)
(Rewards of this post go 100% to @good.game except for GG tokens)
---
---