100k Sports Staked(Next Target 200k).. LET US DO THIS TOGETHER
I remember posting a few days ago of how I had 62k Sports staked and how I explained why everyone should stake some sports.
This is not financial advice, but I would advice everyone who is active now on Steemit to stake some of these many tokens from the different tribes.
I have been reading a lot of posts and most of them are pointing to Sports being a game changer in this Steem blockchain.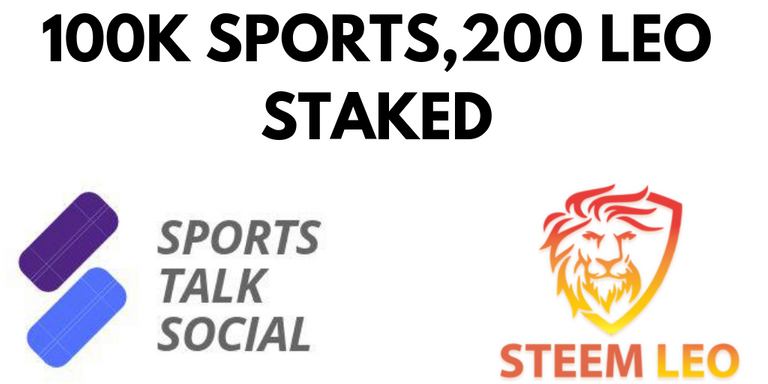 I know most of us are discouraged by the price, but we need to be happy because of the introduction of Steem Engine.
I have to admit that Steem Engine has opened up new opportunities on the Steem Blockchain.
I am sure if you have been active for the last one month here, you should been receiving new tokens on your Steem Engine daily!!
It all started with the Palnet airdrop, these Pal tokens were airdropped to Steem Power holders who had been active on the platform.
I know most folks missed because they were not active and did not have much Steem Power on their accounts.
Why You Must Stake Your Tokens
I will again state that this is not financial advice, but it is for educational purposes only!
I remember telling you above that , all the folks who received the Pal tokens had Steem Power!!
You should also know that , Leo tokens were airdropped to people who had staked their Pal tokens...
Are you seeing a pattern here folks...???
There are many people who sold all their Pal tokens just after receiving them. Anybody has a right to do what they want with their money!!
It means that all the people who sold all their Pal tokens NEVER received any Leo tokens!!
I remember staking 200 Pal when I received them and guess what I received exactly 200 Leo tokens!!!!
So folks learn to have the patience to stake your tokens.
I have also realized that the many tokens I keep seeing on my Steem Engine are given to me because I staked Pal or Leo tokens.
Who knows, maybe a new tribe will come here and say that they will be airdropping tokens to only Sports token holders(I wish it happens because I have many now hahahaha).
There are really many benefits to staking like earning big curation rewards.
So just a few days ago I had 62k Sports staked and guess what today I have 100k staked, this means I added up 38k in three days.
I am sure most of these came from curation rewards.

I am really happy to have hit this goal and want to have 200k staked in a week's time.
I have also staked my other tokens
Pal Stake(205)

Leo Stake(212)

I have began being active on the Steem Leo community so that I can learn a few investment ideas and also probably earn some tokens.
There are many posts put out their and also they have a daily manually curated investment letter that contains the best articles of the day from the community members.
The current newsletter which has many posts like the the idea of Steem Leo Magazine and more other educational posts.
I would urge you all to check the posts on Steem Leo.
Steem Leo has many posts that can teach and inspire me, one of the Steemians I love is @taskmaster4450.
Folks if you think Steem is going down the drain, then you have not yet read any of @taskmaster4450's posts.
I could list for you his posts, but I would end up listing all of them!! It is better you just visit his profile and take ample time reading each post !!!
So before I forget, go and buy some of these tokens and stake them, we have new opportunities popping in front of us now.
Let us nor regret 6-8 months from now when the platform is so big and you do not have any influence(token power) at least even on one tribe.
As I told you above, my next target is hitting 200k Sports and also accumulate;ae other tokens.
Love
Jarau Moses
---
---