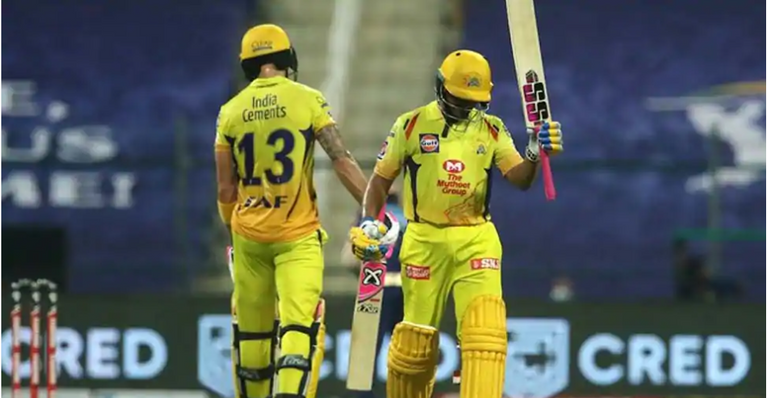 source
Everyone was eagerly awaiting the IPL 2020, which has started today, the first match of the IPL season 2020 was played today between Mumbai Indians and Chennai Super Kings at Sheikh Zayed Stadium, Abu Dhabi, in which Chennai Super Kings gave Mumbai Indians Beat by 5 wickets.
The result of which the Mumbai Indians made 162 by losing 4 wickets in 20 overs. Rohit Sharma and Quinton de Kock started the inning, Rohit Sharma was out for 12 runs in 10 balls as the first wicket, the second wicket Quinton de Kock was out for 33 runs in 20 balls, the third wicket fell by Suryakumar Yadav, 17 runs in 16 balls, fourth wicket as Saurabh Tiwary was out for 42 runs in 31 balls, fifth-wicket Hardik Pandya was out for 14 runs in 10 balls, then the sixth wicket Krunal Pandya was out for 3 runs in just 3 balls. , Seventh wicket Kieron Pollard was out for 18 runs off 14 balls, eighth-wicket James Pattinson was out for 8 balls 11 runs, and 9th wicket Trent Boult was out without a score, Rahul Chahar 2 runs in 4 balls and Jasprit Bumrah in 3 balls. Unbeaten after scoring 5 runs. In this way, Mumbai Indians batting first after losing the toss and scored 162 runs after losing 9 wickets in 20 overs.
Chennai Super Kings baller- Lungi Ngidi balled brilliantly he taken 3 wickets in his spell,
Deepak Chahar and Ravindra Jadeja got 2-2 wickets, Sam Curran and Piyush Chawla got 1-1 wicket.
In the second innings, Chennai Super Kings chased 162 runs, after losing 5 wickets in 19.2 overs and scored 166 runs to win the match easily by 5 wickets. Chennai Super Kings had a poor start as Murali Vijay and Shane Watson fell 2 wickets in just 6 runs, after that Faf du Plessis and Ambati Rayudu formed a brilliant partnership, both of them played a half-century inning, Faf du Plessis then the match was knocked out for 58 off 44 balls while playing the unbiten inning, and Ambati Rayudu scored a brilliant 71 from 48 balls. Apart from this, Sam Curran also played a tremendous inning, scored 18 runs in just 6 balls, Ravindra Jadeja scored 10 runs in 5 balls, and MS Dhoni remained unbeaten. In this way, Chennai Super Kings, chasing 162 runs, achieved the target after losing 5 wickets in 19.2 overs and won the match easily by 5 wickets.
Mumbai Indians' ballers- All bowlers of Mumbai Indians took 1-1 wickets.
reference