Awhile back I published a post about the greatest fine given to a tennis player, his name is Nick Kyrgios, a 24 years old Australian. I didn't know him, now I can say I know a few things about him but for the wrong reasons.
When I saw the articles about the fine (the news channels were flooded with the news, you could not escape) I decided to check him out. It turned out he's a very talented, promising player with anger issues that will most likely end his career way sooner than it should.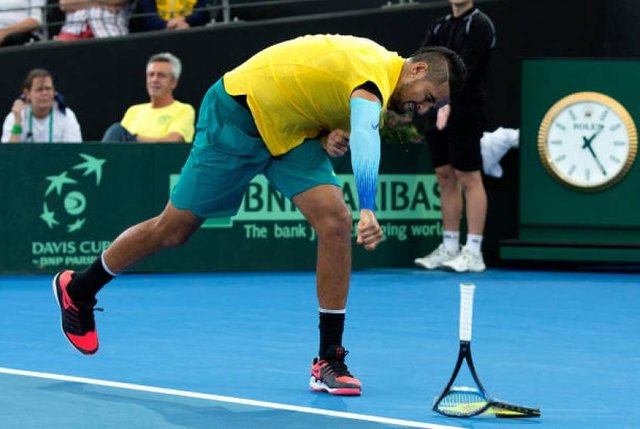 Today I saw his name in the news again. Is Kyrgios running out of time to mature? this was the title of the article in which former world number five Jimmy Arias, the director of tennis at the IMG Academy in Bradenton, Florida speaks about the Australian.
"I'm not Australian and it drives me crazy because you see how good he is. He would be a guy who could be number one in the world if he had anything upstairs.
"Even if he had half of (Rafa) Nadal's fight he would be top four in the world."
Kyrgios has shown little interest in taking advice, let alone the discipline of a coach, but Arias hoped someone could get through to him that a loss to a less talented player is still a loss. source
Looks like he has quite a reputation for the wrong reasons but not everyone thinks he's lost or he needs to change. Noah Rubin, the American tennis player says Kyrgios sometimes goes through some limits, but he is good for the sport. We need this character. According to him, the tennis needs another bad boy like John McEnroe was.
What can I say? These events can make the headlines and make a player famous, even though it's not for a good reason. However, no matter how "cool" it looks, one can lose a good career and it looks like Kyrgios could be the one.
I know some athletes have a mental coach that helps them handle pressure and overcome obstacles that are plenty when you're at top level. In time you can learn to control your anger and deal with situations like this. A good one can worth millions as your success depends on how you control your emotions. You can be the best, can have an amazing performance during trainings but that counts for nothing if you can't have the same performance during competitions. Maybe they both have one but judging from the results, I guess they are not doing a good job or none of the players care.
While reading the article mentioned above I saw a thumbnail image of another article talking about another tennis player who's having problems controlling her anger. On the photo is Serena Williams pointing her finger towards chair umpire Carlos Ramos while shouting at him. You don't have to know the whole story, it's enough to look at the photo. No matter what's happened there, you don't point your finger towards anyone, as that's ill-mannered. You should learn that as a child and never do that.
I truly hope cases like this won't happen again and from now on we're going to read and hear about good news only. No more fines, no more banning athletes from participating at competitions for inappropriate behavior. Being benched for a period of time can make you miss an opportunity that occurs once in a lifetime.