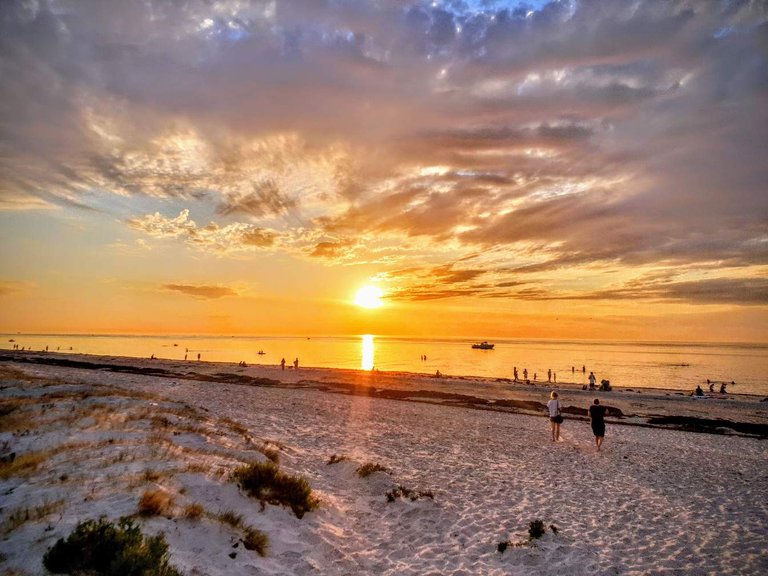 I'm not much of a hoop-shooter, I'll be honest. Basket ball was never my thing and well honestly...I suck at it. Still, being average to poor at a thing has never stopped me from doing it.
Tonight we headed to the beach for a walk and I took my basket ball which, for the reason you read above, doesn't get much use. After taking a walk we shot some hoops...Actually, technically I only shot hoop - Like, a single one...Faith shot multiple...She's 6 foot tall and was an expert netball player so yeah, made me look like a dick, and she trash-talked too! We had fun though.
We watched the sun dip down to the horizon, heading off to light someone's else's day and shared some fish and chips from our favourite shop whilst chatting about the day. We are starting to work up a trip to Tasmania for March 2020 which is to celebrate my 50th so chatted about that, also.
I'm not sure what it is about the air down there, is it the salt air maybe? It energises though and leaves me feeling relaxed yet invigorated at the same time. An odd, but welcome feeling.
Living in South Australia means we're not subjected to super-cold winters and it doesn't snow either. No show chains, spiked tyres or shovelling snow! I haven't experienced a winter day much colder than 8°C really but I think it would be cool, literally - Different to what I'm used to. Maybe I'll get a chance to spend winter in EU someday. It gets hot here though, very hot, and earlier this year in January we had temps of 47°C so yeah, kinda hot huh? It summer here now, officially and it's warming up with 37°C forecast for Sunday. More beach days.
It's weird seeing posts about snow storms when we're here walking barefoot on the beach soaking up the last warmth from the sun...I think I'd rather be here than there though, in the snow. I guess some of you would too! 🙂
Anyway, tonight was nice...I got my ass handed to me by my wife in a basket ball shootout, took a walk and started planning a holiday...Doesn't get much better. Life's good.
Hope y'all are doing great, getting after life and living it the best you can.
Design and create your ideal life don't live it by default 🇦🇺
Posted using Partiko Android