Fighting for the coveted Webb Ellis trophy in the Rugby World Cup as the underdogs and coming out victorious was an absolutely awesome experience!
The English team were the favourites to win but once the game started the determination in our South African team's faces shone fiercely and England started to look not as invincible as we all thought before the game.
A mighty battle it certainly was, our nerves were absolutely shattered but in the end our team won.
Photos taken by me during the live television broadcast, wish it was from the sidelines!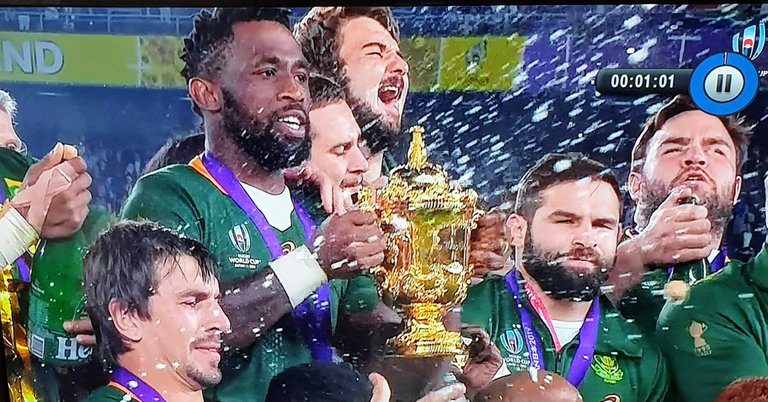 Tears of joy ran freely down the faces of some of the biggest burly men on that rugby field and we shed a tear or two here at home as well! Ex-pat family and friends messaged how proud they were and missed home all over again, shedding bittersweet tears.
What did this victory do for us here on the southernmost tip of Africa?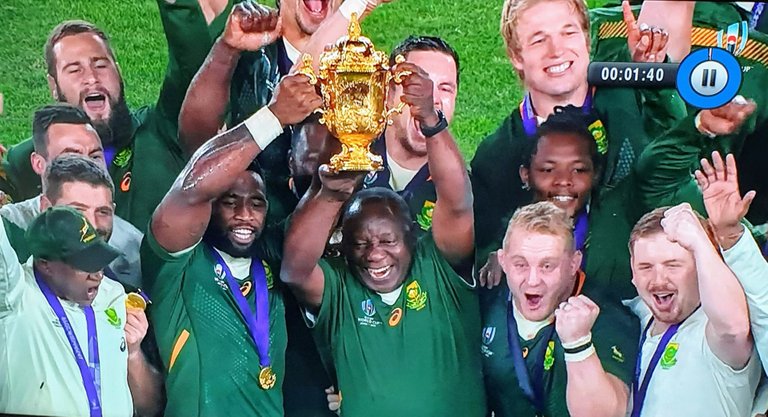 Firstly yesterday as we watched the game in awe, we saw the magic that takes place when people work together as a team.
They not only won the game but also gave us as South Africans hope; where many have lost all hope in our troubled country.
If these fifteen men can conquer the world of rugby, what more can we not do as a nation if we band together and work towards our goals!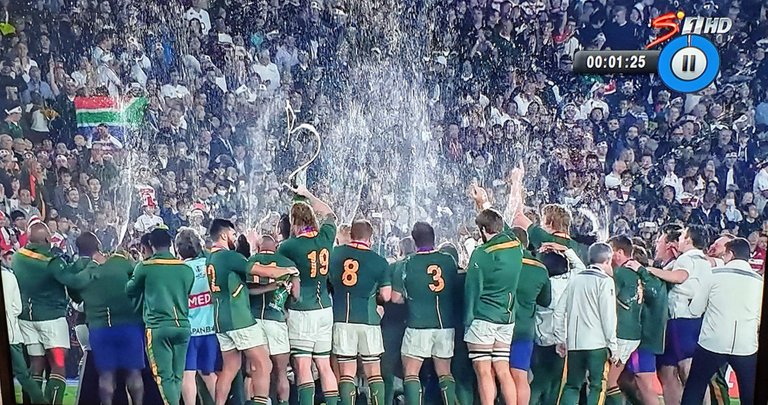 We need to stop putting the blame on them, whoever they may be and start effecting little changes around us, and I quote from Mahatma Ghandi:
Be the change that you wish to see in the world.
Nkosi Sikelel iAfrika…God bless Africa and the world at large is my prayer…


Of course when the rugby is on the small screen, we need loads of sustenance so what is one of the first things the men have to take care of?
The Braai
This is not an ordinary braai, no; this is a spit braai where large roasts or whole chickens are BBQ'd on a spit rotisserie.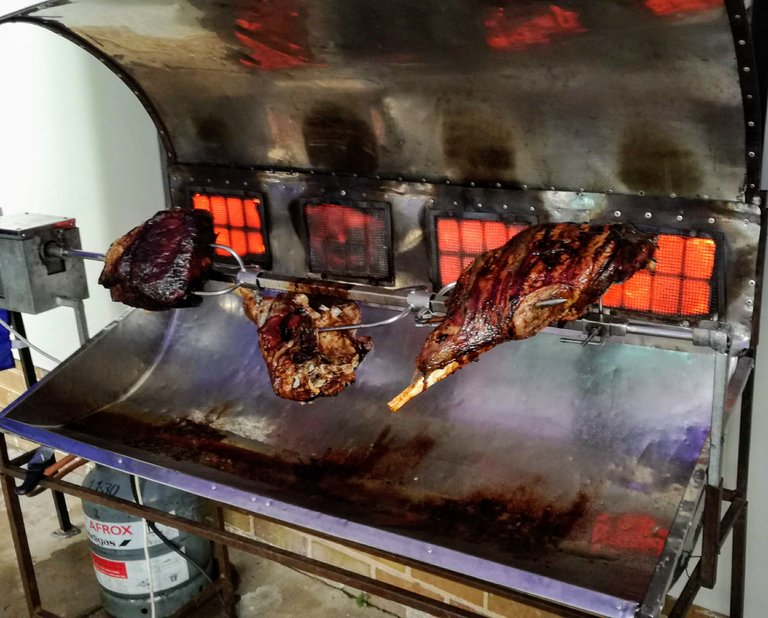 The Braai (BBQ) is the man's responsibility and they also have to make sure there's enough Beer and Biltong; that's if they don't get the women to buy it as well as the biltong, snacks, meat, breadrolls; make the salad, potato bake or Phutu with a Tomato & Onion gravy as well as a dessert; and often even cart everything to the men whose job is to stand around the fire after the game and boast about how they gave the women a night off from the kitchen as they're braaing the meat!
What's on the menu at a Braai?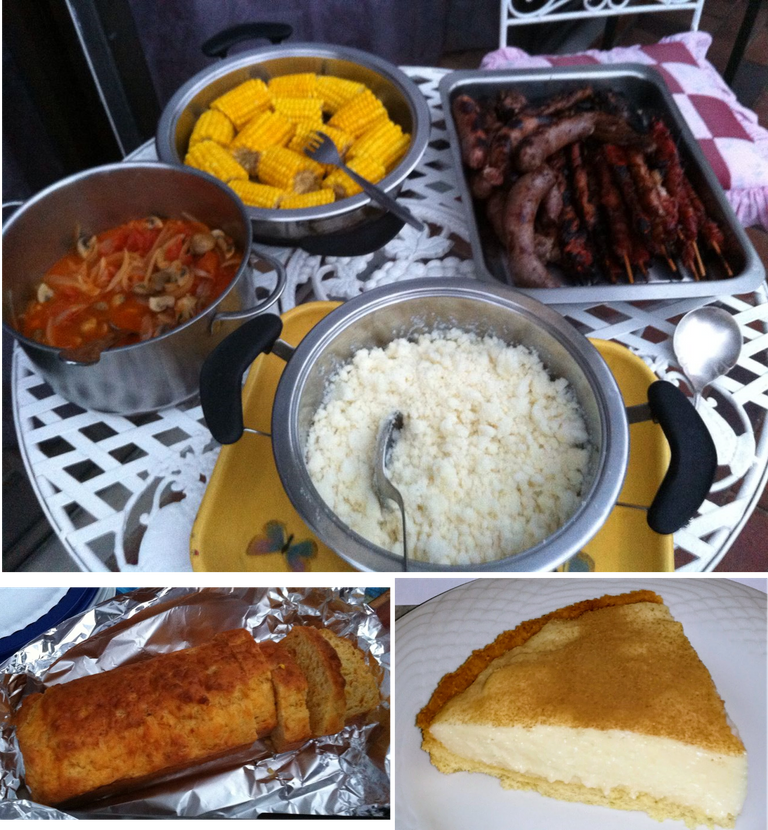 BBQ'd meat - Steaks, Chops, Spare Ribs, Boerewors and Kebabs as well as Fish, Corn on the cob, Braai Broodjies which are BBQ'd Cheese & Tomato sandwiches and we even braai desserts like marshmallow kebabs and other sweet treats.
Braaibroodjie with cheese, tomato & onion.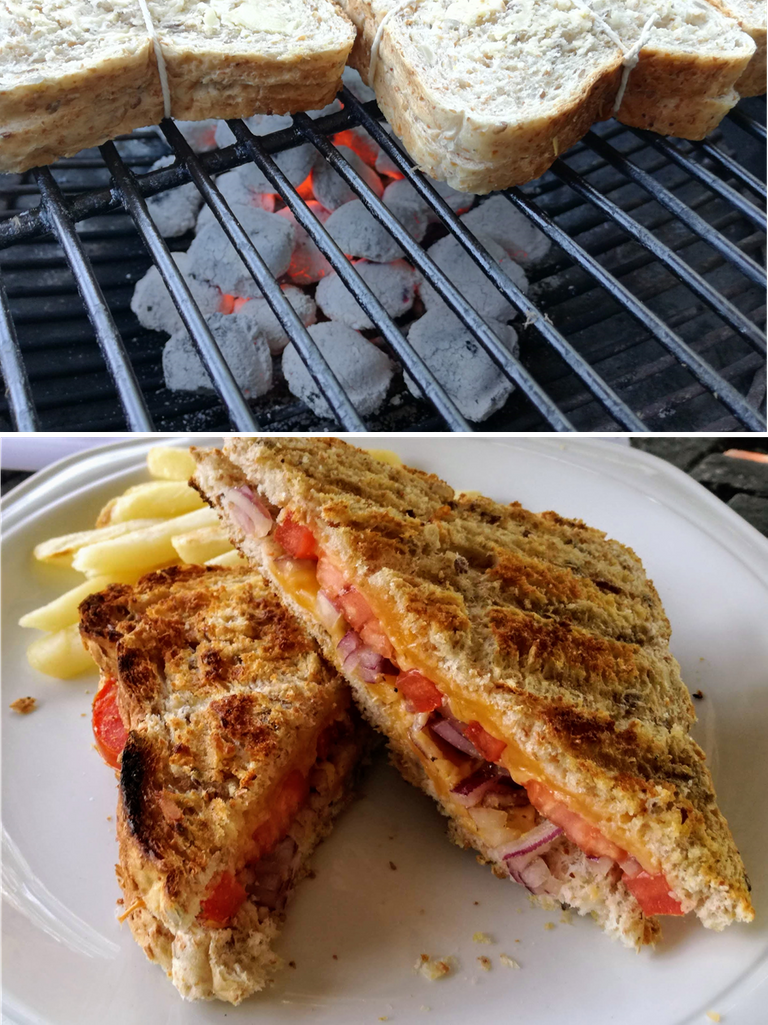 What is Boerewors?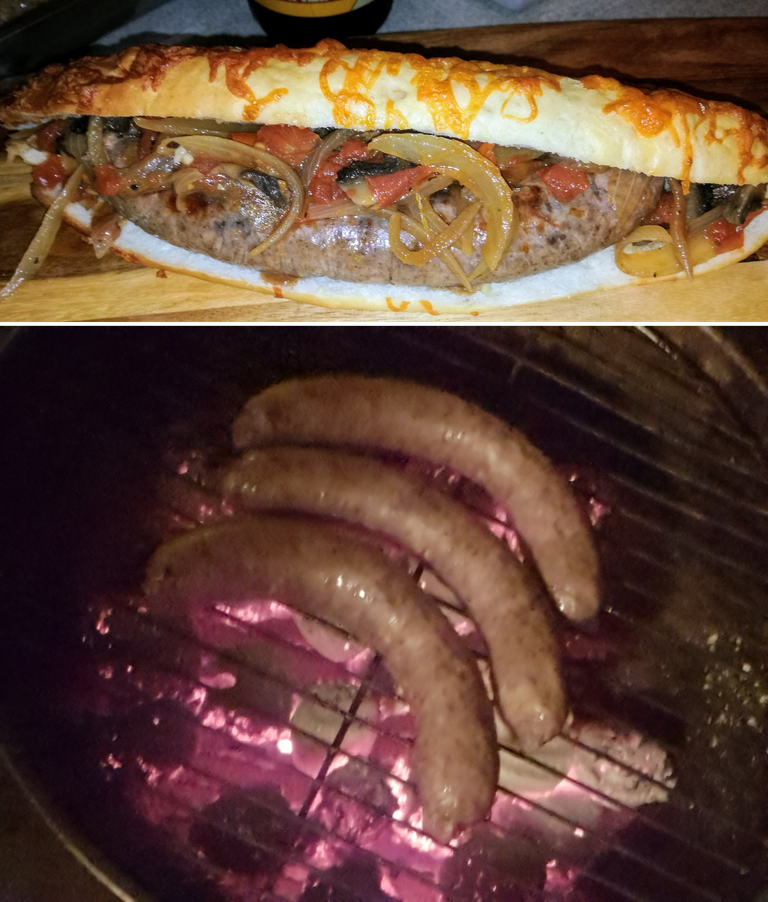 Very popular are our Boerewors Rolls aka Boerie Rolls – This is a bread roll filled with a BBQ'd Boerewors and a Tomato & Onion gravy. Boerewors is a traditional South African fatty sausage with heady overtones of Coriander, Cloves and Nutmeg; absolutely yum! We tend to be real fussy with this one and turn up our noses at the budget wors which really is a sub standard product.
A large supermarket chain also holds an annual Championship Boerewors competition with people from all over the country vying for a big prize!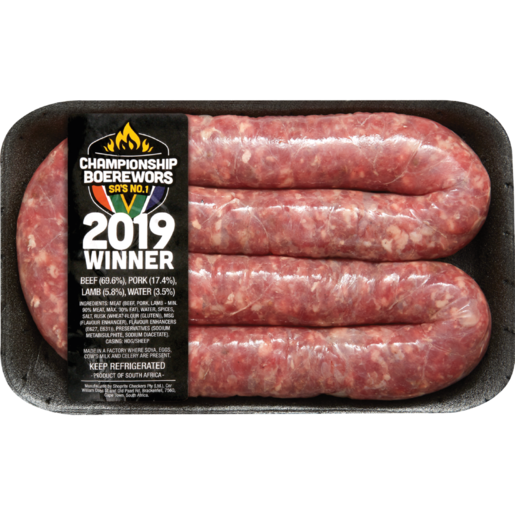 Image credit
What is Phutu?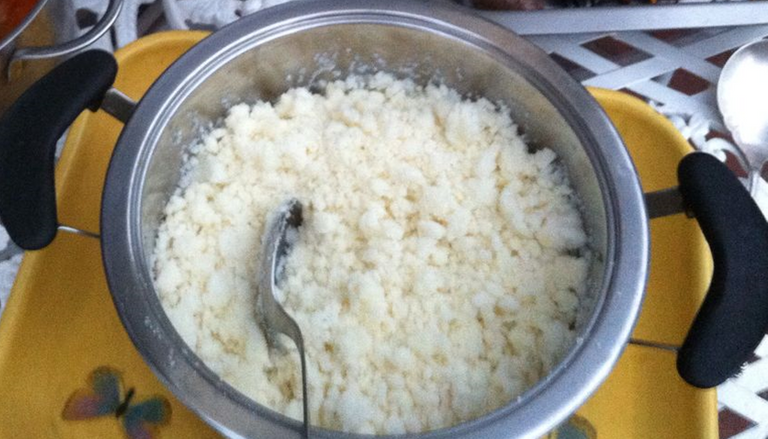 Phutu is a traditional South African crumbly maize meal porridge served at braais (BBQ) with a tomato & onion sauce; it's quite similar to polenta but more crumbly is the best way I can describe it for you.
What is Potjiekos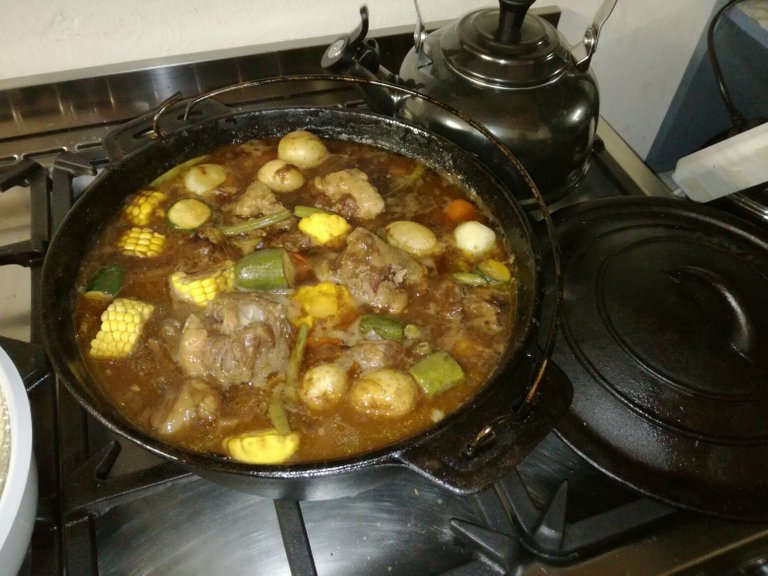 This was an Oxtail potjie cooked indoors as it was freezing outside.
When we're in the midst of winter and no one feels like standing over the braai for hours, their specialty is potjiekos; a kind of stew cooked in a black cast iron pot over the coals or gas. There are many potjiekos competitions held countrywide as well; often as fundraisers.
What is Biltong?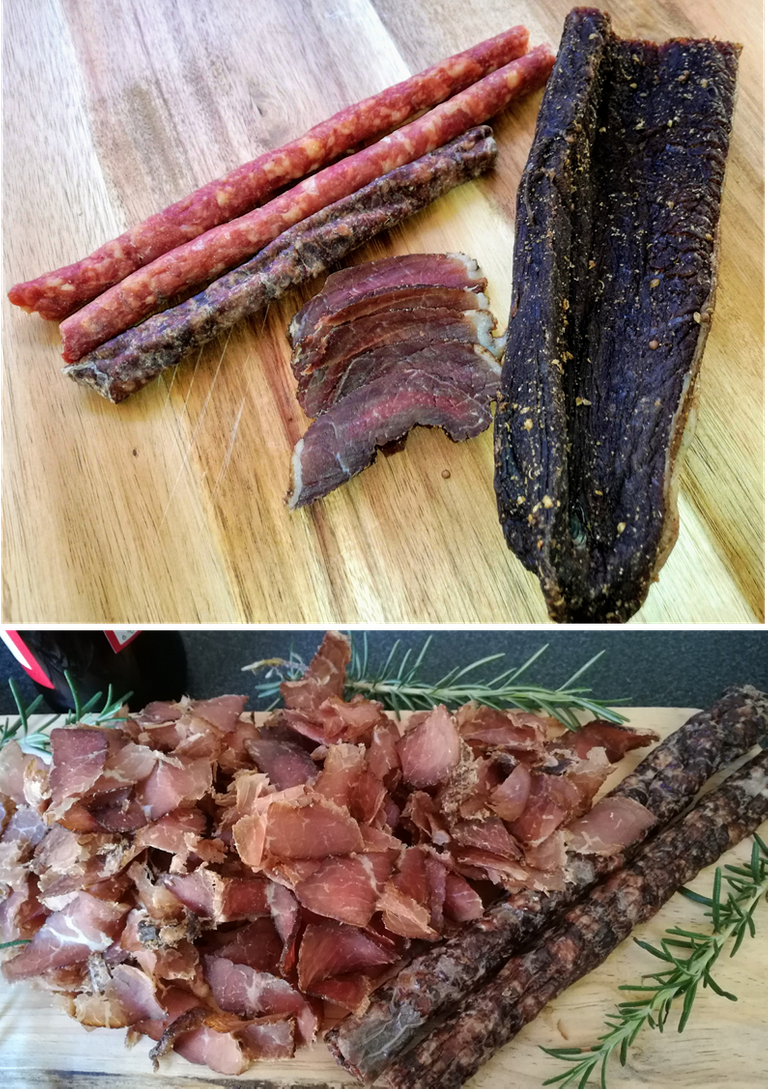 Biltong is a classic South African snack/treat - air-cured meat that's been marinated in vinegar and spices before being placed in a biltong maker; this is the more popular method of air drying with little or no heat or a dehydrator which uses air circulation and heat.
Only the best cuts of meat are used, Beef being the most popular, but Venison and Ostrich also makes great Biltong.
We also make Dry Wors, which is dried in the same manner and made with a sausage we call Boerewors.
What is Milk Tart?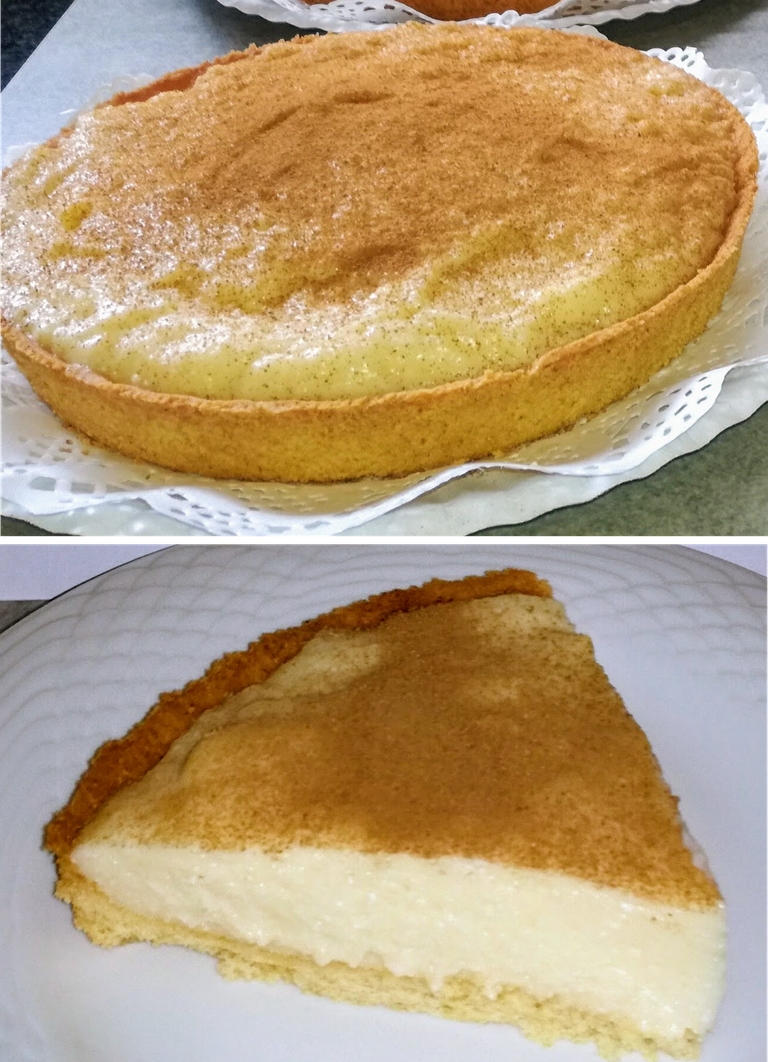 Milk Tart traditionally is made with a flaky pastry, but I make it with a crisp shortcrust pastry base; it is filled with a delicious creamy and fluffy vanilla egg custard with a sprinkling of cinnamon.


So I know I've arrived after the fight but nevertheless wanted to share our South African heritage and fighting spirit here with my new friends the wonderful Foo Fong Food Fight Friday contenders.

Let this RWC be a lesson for all of us to never give up and stand together - united we shall overcome all our troubles!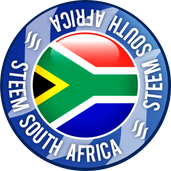 Connecting the people of #STEEM across South Africa. #steemsa
JOIN US HERE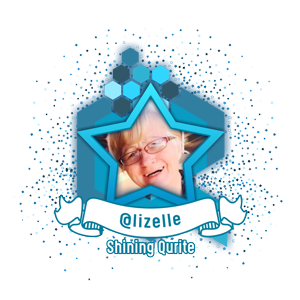 Original Content by @lizelle

Thank you for stopping by

Copyright @lizelle - All Rights Reserved