We have always said and considered that, "Yes, this is pre season, a chance or an opportunity for coaches to organize their squad and prepare well for the coming season and also an opportunity for players to prove their worth" and with this consideration we fail to look at the bigger picture that it is awkward that Champions of Europe and very close Champions of England has gone three matches without a win in their current Pre season US Tour.
I emphasized on my last article about Liverpool on how they are lacking firepower upfront and their apparent reliance on star attacking trio Sadio Mane, Mohammed Salah and Roberto Firmino, all three currently on holidays after playing for their respective countries in the just concluded African Cup of Nations and Copa America.
Those three were very vital in Liverpool's run to success internationally and domestically last season and it is no surprise that the team is finding it difficult to outscore the opponent without them. This should really pose a concern for Liverpool coach Jurgen Klopp because it now appears Liverpool cannot do without the trio.
It is not normal for a team to have to depend on defenders to do the scoring and as well, the defending at the same time. It is the reason there are attackers and it is true Origi has been at the right place at the right time for the past two matches to slot in two goals, it just seems like he isn't doing enough as a striker or his supporters upfront aren't professional enough to play Mane, Salah or Firmino.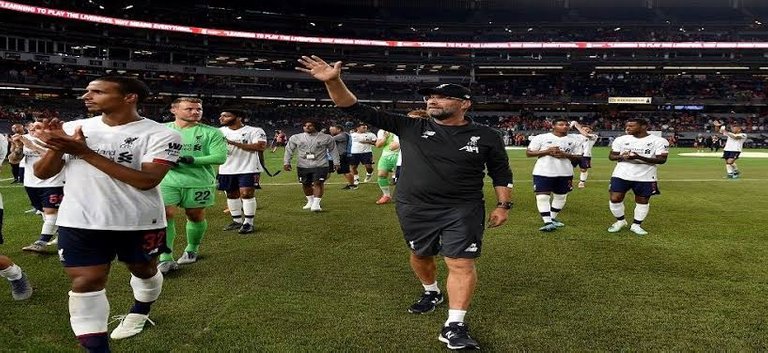 Source
Klopp might want to go through the excuse of preseason friendly matches being unimportant and a chance to check the team but testing the team thrice with same negative response shows something is wrong somewhere. Klopp's Liverpool cannot be compared to Zidane's Real Madrid who witnessed kind of an overhaul and players are seeking time to find foot in their new home and create a lasting chemistry with their new teammates. Such didn't happen at Liverpool and it doesn't seem like it would, therefore, Jurgen Klopp really has to check his check and balance it.
THANKS FOR READING