He has been my friend for more than four good year now and I've known him to be a sport lover, whenever he is arguing with friends on why Chelsea will win a match, analysing the strength and weakness of the team with respect to the opponent, all I just do is sit right there and watch a sport guru breakdown football to the minimal.
To be sincere, I do glean from his perspective on Sports.
Fast forward to present day after we've part our different ways and I still have his phone number, his WhatsApp status is always buzzing with one football update or the other. So I became concerned and wanted no time to bring him in here to Hive and Sportstalk, just a little bit of testing the ground, I helped him to create an account and from there told him how he is going to post, did a video tutorial and the likes. Fast forward to today, I saw his WhatsApp status again sharing the link to his article to many of his viewers and was moved. @ibkdagreat has picked up the pen 🙈🤦💻. I quickly rushed to check his blog.
Though the hive upvote hasn't been encouraging, thanks to @jphamer1 who dropped a +$1 upvote recently. But I am sure with time, he will be fully intergrated into hive and have a very good followers and also following some good content writer.
I see a future where more subtags will be created on #sportstalk for football fans and clubs, where we have tags like #Chelsea #Barcelona #Arsenal #Real Madrid, #Man-Utd and many more and if you want an update on any of this club, you'll just come to #Sportstalk and check the tags to be updated and I also see my friend @ibkdagreat being the sub-community leader for Chelsea fans in years to come.
So, here I am officially introducing my friend, sports lover and football analyst who goes by the username @ibkdagreat to Hive and Sportstalk. I am so sure he will drop his Introductory post soon.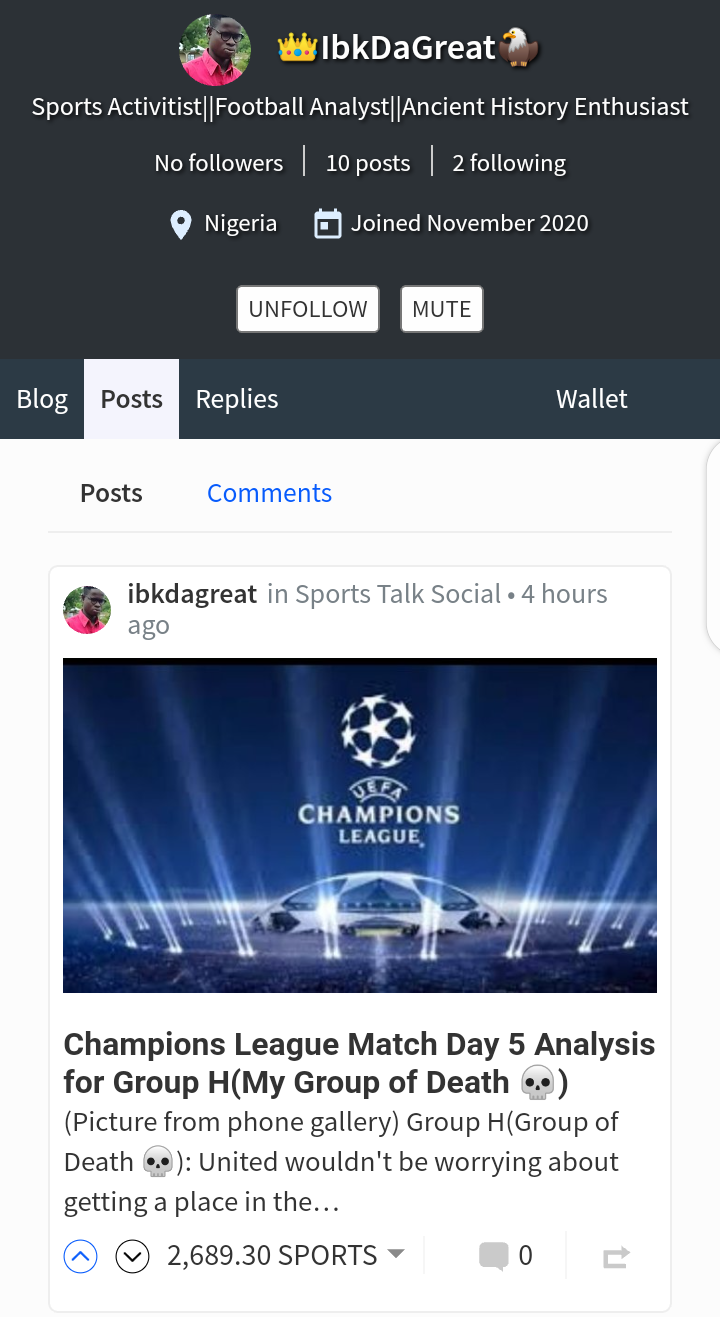 His articles are still withing the range of 100-200 words, I think that's why the curating eyes of big time curators like @cryptoandcofee and @uyobong hasn't come his way but I know give or take, weeks to this time, he will improve more on his content.
Join me to welcome @ibkdagreat to this great sportstalk platform once again.
You're free to also check his blog post, drop comments, criticism, recommendation and how he can get better at what he's doing.
Thanks.