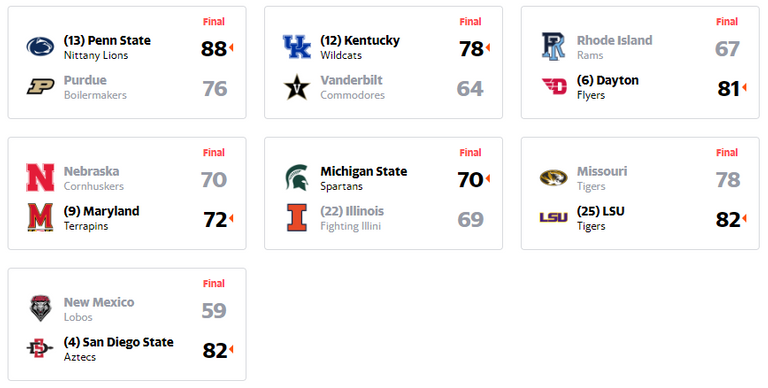 ---
Only one upset last night in the top 25 games and I think everything good in this world that it was my Michigan State Spartans. They were able to pull out a one point victory over #22 Illinois. I saw some comments this morning on Facebook that Foster Loyer played pretty horrible.
That is concerning since he is potentially going to be the replacement for Cassius Winston next year after Winston graduates. Loyer was Mr. Basketball in the state of Michigan and from what I heard, he was phenomenal in high school. I have seen some moments of greatness from him and I think if he can gain some confidence we should be okay. Only time will tell though. Personally, I'd really like to see him shoot more.
The Penn State/Purdue game didn't quite go the way I expected. It was mostly dominated by the Nittany Lions and the inconsistencies that have plagued the Boilermakers this season seem to continue.
I was watching some of the Kentucky/Vanderbilt game and in the first half, the Commodores were dominating the game. Apparently, they don't have the conditioning to go all forty minutes against a power team. That could come back to bite them if they happen to make it to the tournament.
Most other games were pretty much walk-over's with the exception of the Nebraska/Maryland game. Hats off to Nebraska for giving the Terrapins a scare and almost taking it into overtime. That two point loss has to be heartbreaking for the Cornhuskers who have struggled most of the season.
The good news is the Big 10 Tournament is just around the corner, and anything could happen then!
Seven more top 25 games on the schedule for tonight. Must watches? They all could be really good quite honestly. If you could only watch four though, stick with Xavier/Butler, Creighton/Seton Hall, Kansas/West Virginia, and Marquette/Villanova. Those should be really great games and in my opinion could go either way.
source