This post can also be read in Portuguese


It seems like yesterday the launch of Rabona to the public is not it? After weeks of testing the game was finally able to be played by me and many others. I confess that the expectations were the best. At first I was a little lost as expected, since I was getting acquainted with Rabona, but then things started to adjust.
I like to know that the team of developers are always attentive to serve their players, especially in Discord where we have an exclusive channel to resolve any bugs. Yes, as the game was recently released it is natural that with many players some bugs will appear but nothing that makes us angry haha ​​...
One thing I liked was knowing that my players at the end of the season improve their OS (Overall Strength). I noticed this on my control panel, but I couldn't identify if everyone gets better, but I believe so.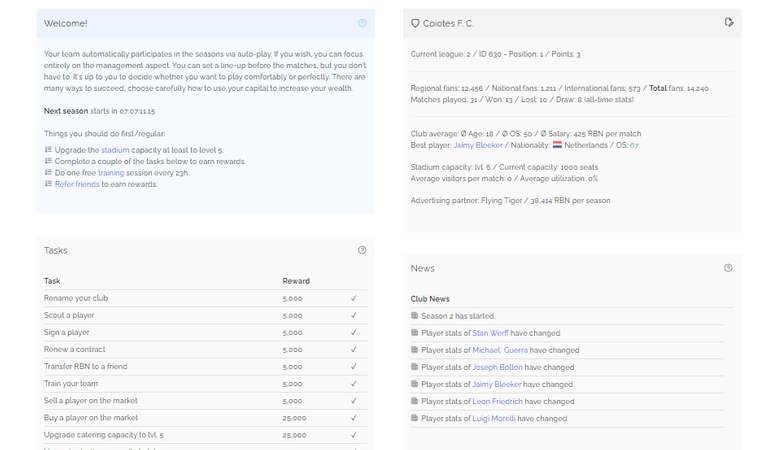 Source
My investment
For those who do not know, to be eligible to put their team to compete in a season we must pay $ 5, but in my case I was forced to take more out of my pocket because I was saving it to use in Rabona.
Altogether I believe I have spent $ 35 in addition to the initial amount so far, that is, in total it was about $ 40. I am not thinking about ROI now, not least because my priority in the game is fun. I reached lv 7 and to increase my capacity I will need to pay something around 2 million RBN, $ 20 and I will not focus on this installation now.
Each must have one or more priorities in the game. I particularly want to make the most of the options I have and I will invest in my youth academy which, as you can see, is at level 6 and with a 42% efficiency rate. In the future it will be very interesting to have him at the highest level so that I can have very promising players for me to sell.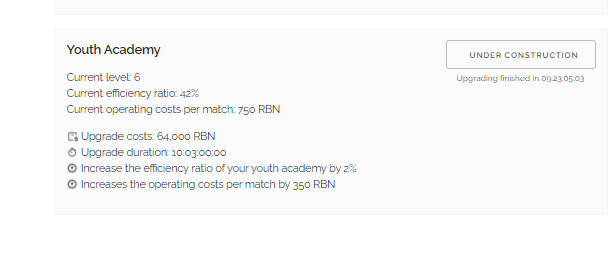 Source
HIVE rewards
At the end of the season I also noticed that we also won a reward. I am not sure how this was calculated to distribute among the players because I finished in 7th and received 0.358 HIVE, but whoever was in 1st of my table received only 0.488 HIVE. Perhaps in the future we will have something more enlightening about these rewards.

Source
Greed
It is true that the team of developers spoke since long before the launch of Rabona that no one was obliged to spend their fortune on the game. It doesn't really make much sense now to make big investments as I see in some clubs, but since I spent more than $ 30 others are free to spend as much as they want.
What is important to note is that we should not invest anything that we may need later. For Rabona, although it is still too early to say, but every penny has been worth it so far. I hope that the game can evolve a lot in the course of its time and that more possibilities may arise for us players.



Versão em português
Parece que foi ontem o lançamento de Rabona para o público não é mesmo? Após semanas de testes o game finalmente pôde ser jogado por mim e por muitos outros. Confesso que as expectativas eram as melhores. No começo estava meio perdido como era de se esperar um pouco já que estava me familiarizando com Rabona, mas depois as coisas começaram a se ajustar.
Eu gosto de saber que a equipe de desenvolvedores estão sempre atenciosos para atender seus jogadores, principalmente no Discord onde temos um canal exclusivo para resolver algum bug. Sim, como o game foi lançado recentemente é natural que com muitos jogadores alguns bugs surjam mas nada que nos deixe irritados haha...
Uma coisa que gostei foi saber que meus jogadores ao término da temporada melhorar seu OS (Overall Strength). Observei no meu painel de controle isso mas não consegui identificar se todos melhoram, mas acredito que sim.
Meu investimento
Para quem não sabe, para ser elegível para colocar seu time para disputar uma temporada devemos pagar $ 5, mas no meu caso fui obrigado a tirar mais do meu bolso até porque estava guardando para usar em Rabona.
Ao todo acredito que gastei até agora $ 35 além do valor inicial, ou seja, no total foram cerca de $ 40. Não estou pensando em nenhum momento sobre ROI agora, até porque minha prioridade no game é a diversão. Cheguei ao lv 7 e para aumentar minha capacidade precisarei pagar algo em torno de 2 milhões de RBN, $ 20 e não irei focar agora nessa instalação.
Cada um deve ter alguma ou várias prioridades no game. Eu particularmente quero aproveitar o máximo as opções que tenho e irei investir na minha academia juvenil que como podem ver está no lv 6 e com uma taxa de eficiência em 42%. No futuro será algo bem interessante tê-lo no mais alto nível para que eu consiga ter jogadores bem promissores para eu vender.
Atualmente possuo 20 jogadores em meu time e não pretendo comprar mais nenhum no mercado interno. Estou treinando eles diariamente e caso você queira deixar seu time bem "treinado" basta pagar $ 1 para poder treinar instantaneamente. Sim, usei essa forma umas 3 ou 4 vezes mas no momento não vou fazer isso.
Recompensas HIVE
Ao término da temporada verifiquei também que ganhamos também uma recompensa. Não sei bem como isso foi calculado para distribuir entre os jogadores porque eu terminei em 7º e recebi 0.358 HIVE, mas quem ficou em 1º da minha tabela recebeu apenas 0.488 HIVE. Talvez no futuro tenhamos algo mais esclarecedor sobre essas recompensas.
Ganância
É verdade que a equipe de desenvolvedores falaram desde muito antes do lançamento de Rabona que ninguém era obrigado a gastar sua fortuna no game. Realmente não faz muito sentido agora fazer grandes investimentos como vejo em alguns clubes, mas como eu gastei mais de $ 30 outros são livres de gastar o quanto quiserem.
O que é importante a se notar é que não devemos investir nada que possa nos fazer falta depois. Para Rabona apesar de que ainda está muito cedo para dizer, mas valeu a pena até agora cada centavo investido. Espero que o game possa evoluir muito no decorrer do seu tempo e que mais possibilidades possam surgir para nós jogadores.

Thanks for reading so far. If you liked it, give that strength with your upvote and rate me. Feel free to leave a comment .Thanks guys!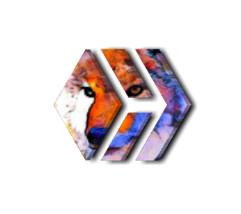 Posted Using LeoFinance Beta