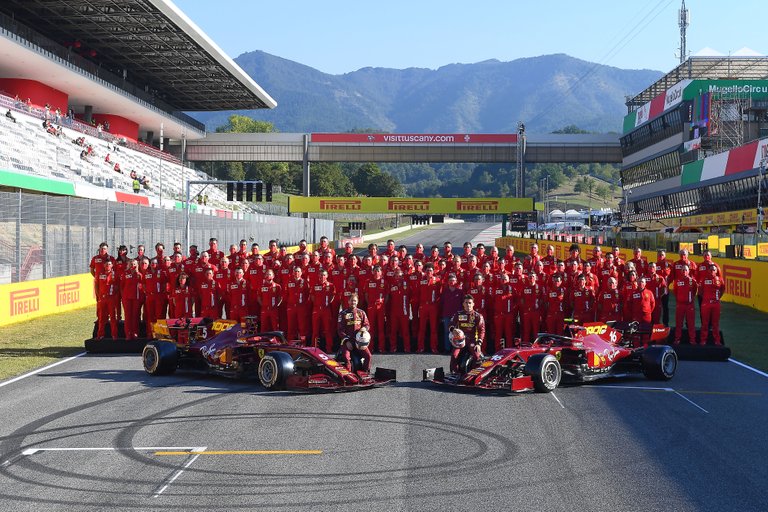 source
A weekend full of celebrations marking their 1000th Grand Prix race.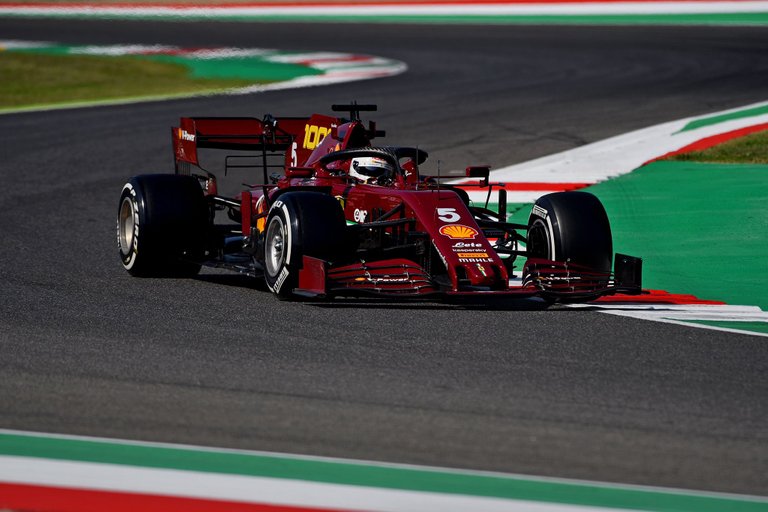 source
Special livery which was the original Ferrari burgundy red before it changed to the iconic red which we now associate with all Ferrari cars.
This burgundy red was the original Ferrari red before it evolved to the famous red we know today. This was used in their first Grand Prix on the 21 st May 1950. Spectators have been allowed to attend the special achievement achieved by Ferrari, 2880 fans are allowed in every day from Friday on wards. On Sunday Michael Scumacher's son Mick will drive the 2004 Title winning car around the track in tribute to their most successful car and driver.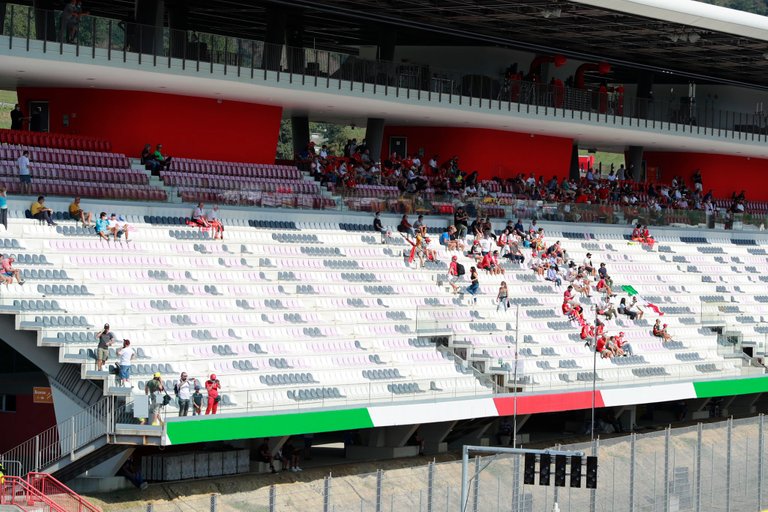 source
Not cardboard cut outs but real live human beings this weekend with all 2880 of them each day.
Here are their team stats from the last 71 years.
Races 999
Wins 238 (23.82%)
Podiums 772 (77.28%)
Pole positions 228 (22.82%)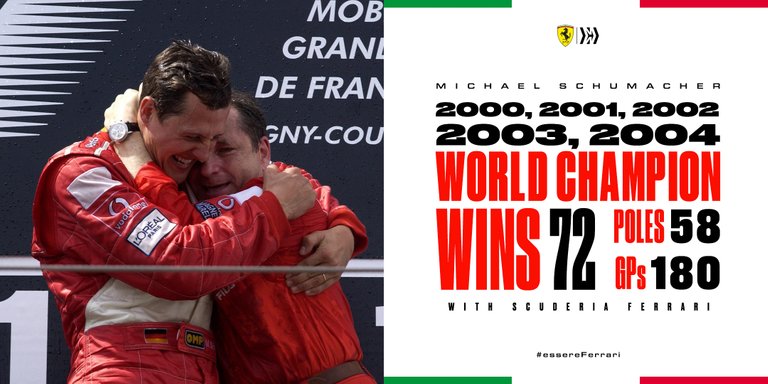 source
Michael's son Mick will be there to celebrate with Ferrari this weekend. He currently drives with the Ferrari team in the GP 2 class
Considering they haven't been that competitive for the last 10 years the figures are still impressive. Over the 999 races Ferrari has covered the equivalent of 580 000 Km or 14.5 times around the circumference of the earth.Breaking it down further Ferrari has lead a race for around 80 000 Km or twice around the planet.
Ferrari have had 110 drivers represent the team with Italians unsurprisingly making up the biggest number of 32 when breaking it down to the various nationalities.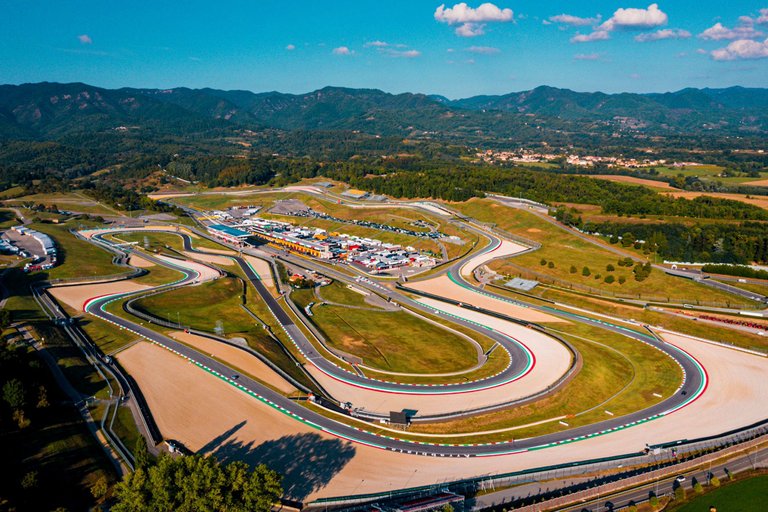 source
This weekend will not be a celebratory weekend on the track though as the team is struggling of late as their car is lacking raw speed. The Mugello circuit is all about down force and pace which is a weak point for them right now. It is weird to see Ferrari so far down the pecking order and must be a hard pill to swallow for everyone involved. Last weekend at Monza was disastrous for the team with both cars failing to finish the race.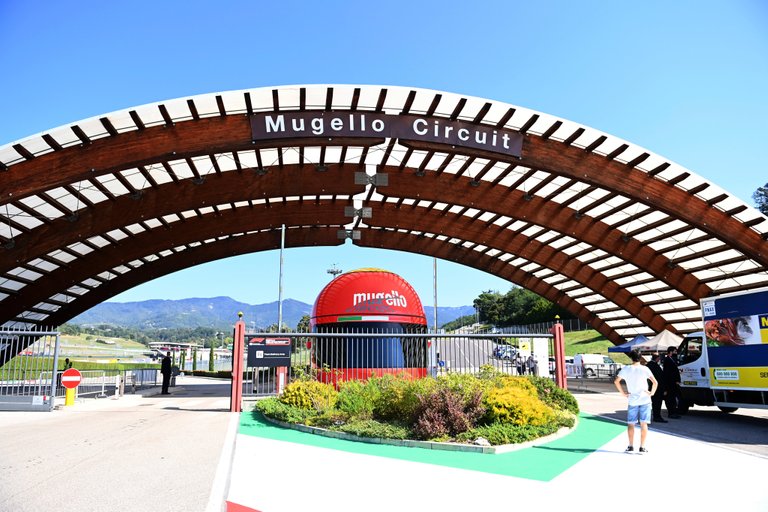 source
Impressive entrance including a giant helmet in Ferrari red.
There have been over 100 constructors involved in Formula One over the last 70 years and one of the reasons why the likes of Ferrari,McLaren and Williams receive an extra monetary bonus for their loyalty each year. Ferrari have the biggest team by far which makes it even harder to take that they have been struggling so much. Next year they need to trim their staff numbers due to budgetary caps which I don't think will hinder them one bit. Ferrari have always had a grey area when it comes to their spend as they hide the figures in amongst their road car research and development which makes everything unclear.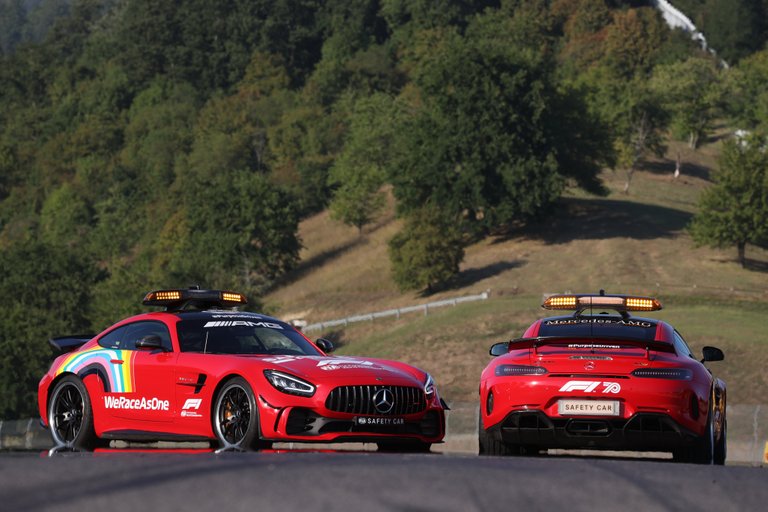 source
Safety cars decked out in Ferrari red this weekend paying tribute to the team.
This morning during testing Ferrari looked half decent coming in third overall but that is rather not telling the full story. Vettel was in 13th which is where they should be so it tells us immediately the car that was running third had little to no fuel on board and therefore is misleading. Unfortunately the only success Ferrari has had over the last few years was when they were known to be cheating and were reprimanded in some type of FIA cover up. Luckily for them the FIA is run by an ex Principal of Ferrari and will always protect them.
The race weekend has somewhat been head line grabbed by their driver Sebastien Vettel who is moving to another team next season. In some ways it is diverting the attention away from the team right now as under normal circumstances their would be a crowd baying for a Ferrari victory. Covid has saved them the embarrassing moments in front of their fans and bought them time to fix their car problems until next season.