Fitness Is The New weapon
The other day I did a post about the Japanese Rugby team and the sacrifices that had to endure to become a better team. They didn't do it for money even though I am sure they are financially better of now it it was more about pride. There are not many sportsmen in the world who have had to endure what this group did. Personally I don't think others would have put up with it and walked long before it was over.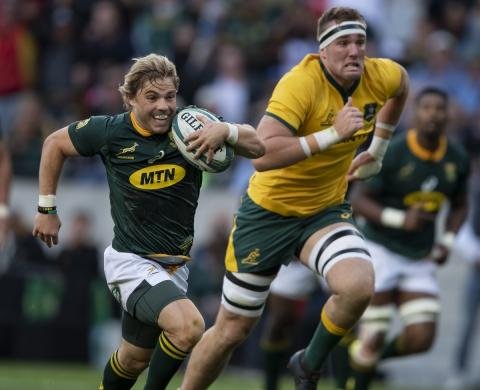 source
The fittest South African player I have ever seen and is like a jack in the box playing as two players. This is what fitness has done for him as he has transformed his game.
What was highlighted to them was something that has been obvious for some time and it raises questions over the capabilities of previous South African coaches. The fitness levels of the Springboks for the last 10 years or so and longer. If one looks back at most of their matches they tend to fade in the last 20 minutes of the game compared to a team like the All Blacks. The Springboks are not alone in this and most international teams would have succumbed to the Japanese on that day.

source
Fitness is a huge weapon if your opponent doesn't have it. The All Blacks had this and was one of the reasons why they were so successful for so long. There is a huge difference from being match fit and being really fit. In rugby unlike other sports you are not just running so running fit isn't good enough whereas football or cricket that would be just fine. In rugby you need upper body strength and stamina as you are man handling and wrestling for the ball on and off for 80 minutes.
American Football is a doddle as you have an offensive and defensive team so you are taking breaks in between the plays depending on what team you are. Rugby you don't have that luxury and are out there for the full 80 minutes unless you are replaced. I will be the first to admit it that I was never super fit but I could run and had the stamina to go with it. In the army I was 94 Kilograms though and the difference was I was 120 kilograms when I played rugby after my army days
Rugby has always been about bigger is better but that is not the case as if you are as fit as the Japanese were back in 2015 fitness and speed overcomes size and power. In the past size and power controlled the possession which controlled the match and the Japanese showed a different way of winning. The Japanese were fit for this World Cup as they had an ex New Zealand fitness coach this time around. This tactic would beat teams less fit than them like Ireland and Scotland but not the Springboks as they were fitter than ever before this time.
The Springboks were fitter for this one as well and is the reason why they were challenging the All Blacks prior to the tournament. All one has to do is watch a player like Faf De Klerk and it is easy to see why they won as they were the fittest team there this year and as the others faded away they remained constant and ground their opponents away.
I thought this was odd as Eddie Jones coached the Japanese then and England now and looking at the England the players they were not super fit. What Eddie had done to South Africa in 2015 Rassie Erasmus had done to him in 2019 and going forward I expect a much fitter England. Certain players are just not built for this and over the next year will be replaced as they have now become the weak links.
---
---