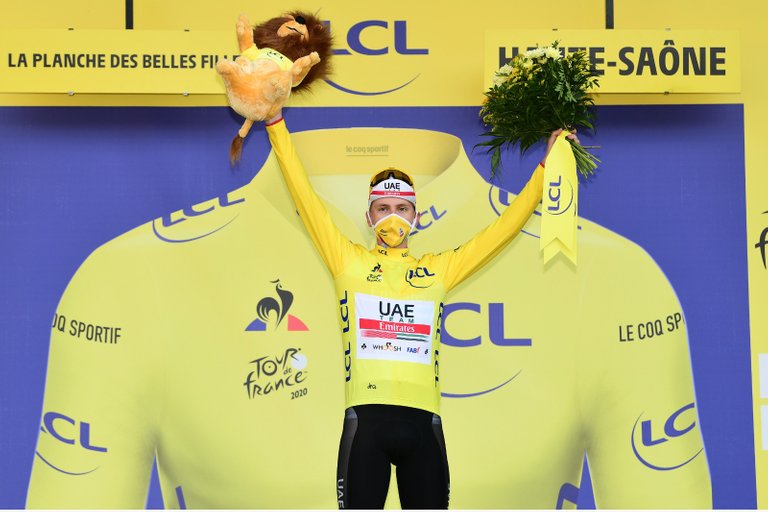 source
He literally shocked everyone yesterday with his performance.
Yesterday we saw the Tour de France turned on it's head from a magical display of bike riding. Tadej Pogačar came from 57 seconds down to be leading by 59 seconds in a time trial that will go down in history. What unfolded had the Jumbo Visma team in a state of shock as they had dominated the Tour up until this point. They watched as they saw the bonuses for winning disappear what they had worked for over the last 3 weeks.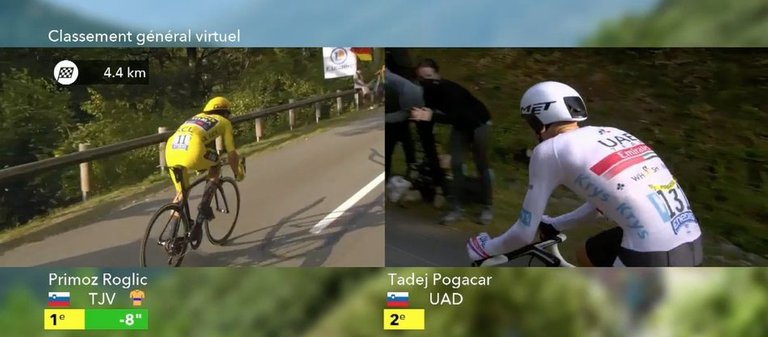 source
Nearly there with Roglic holding on by a mere 8 seconds at this point with 4.4 km to go.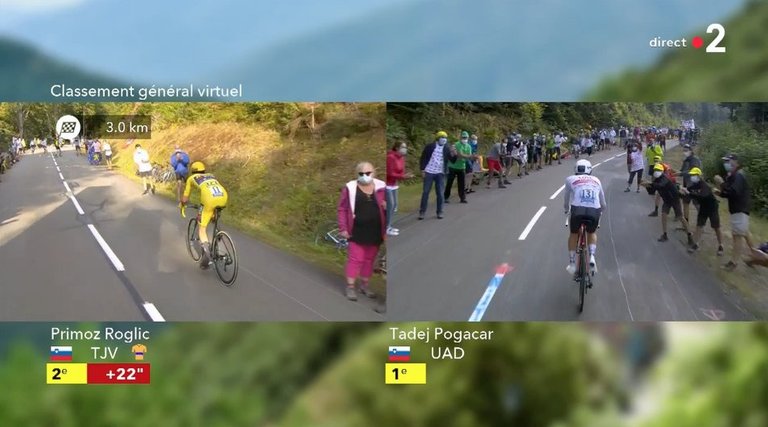 source
Job done with only 3 km left Roglic is now behind by 22 seconds.
The prize money is quite interesting as only a few jerseys are worth anything to be fair. Yellow,green,white and polka dot all represent various categories with prize money.
Yellow is the jersey awarded to the overall winner and is worth €500 per day during the race. The other 3 jerseys are worth €300 per day and the top youngster under 22 receives a €500 bonus for that stage. These are the prizes teams fight for every day plus the winner of each stage earns €11 000 sliding down to 20th spot.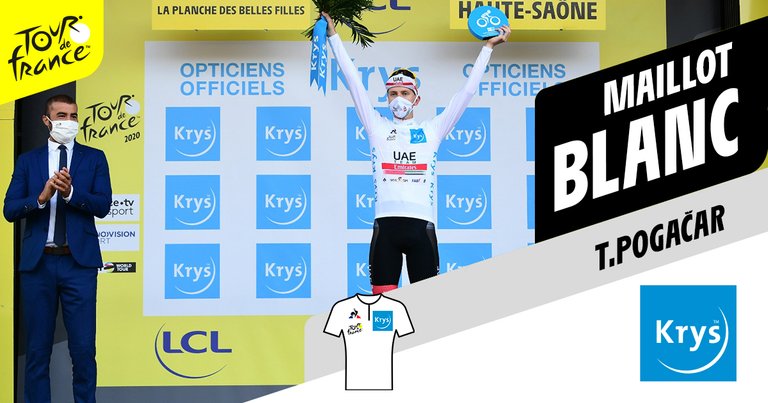 source
White jersey for the youth winner of the race.
If you are a professional cyclist you really only want the yellow or white jerseys as the others offering little financial reward and it is the prestige of winning it that holds any value.
Tomorrows winner will receive €500 000 for the 3 weeks of racing which will be shared amongst the team. This is customary and he will earn far more from sponsorships and bonuses. If you are going to ride for a team the UAE does have it's advantages as they have been generous in other sports.
This is where it drops off quite quickly and unlike some other sporting events I feel it is a little unfair.
1st €500 000
2nd €200 000
3rd €100 000
4th €75 000
5th €50 000
And this is when it really drops off the cliff
7th €11 500
10th €3 800
19th €1100
20th €1000
Everyone from 20th down who completed the 20 stages earns €1000
The Green jersey (sprints) is worth €25 000
The Polka Dot jersey (mountains) is worth €25 000
The White jersey Youth) is worth €20 000
The winning team overall receives €50 000 down to 5th on a sliding scale receives €8 000 and 6th nothing.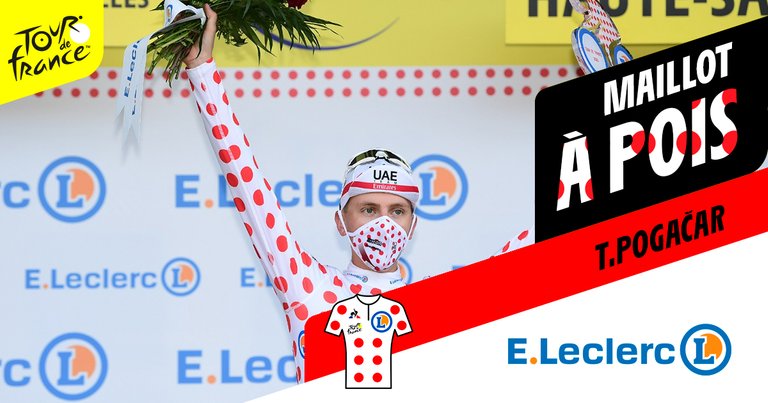 source
Polka Dot being the king of the mountains.
Now you can see why team mates Wout Van Aert and Tom Dumoulin were in shock at the finish line as Roglic lost the jersey and the stage to Pogacar having dominated for so long. They could almost taste it and must have been thinking that they could defend the jersey for one more day.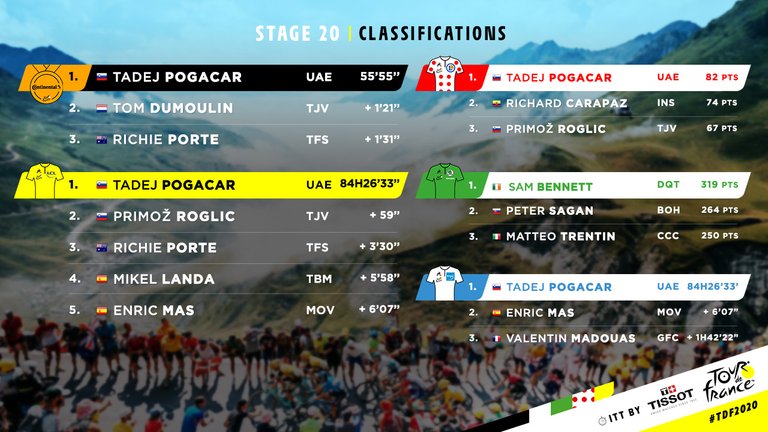 source
Dominated by one man except for the green jersey.
The UAE team is in for a big bonus as Pojacar not only won the yellow jersey but also the polka dot and the white jersey. He has pocketed them €545 000 plus all the various stage prize money added on top of that. As a team they made nothing finishing 9th overall ,but they won't care about that.
Looking back Jumbo Vima and Roglic should have had a bigger advantage as they had the dominant team in the mountain. Leaving it up to the second last stage with a time trial is always risky. Possibly they needed to be further ahead and were hoping their rider could pull it off. In the past he had on two occasions even though he lost the last one by 9 seconds. Today he lost nearly two minutes and it was game over. In the process they kissed €300 000 away, but losing the overall title will hurt even more.