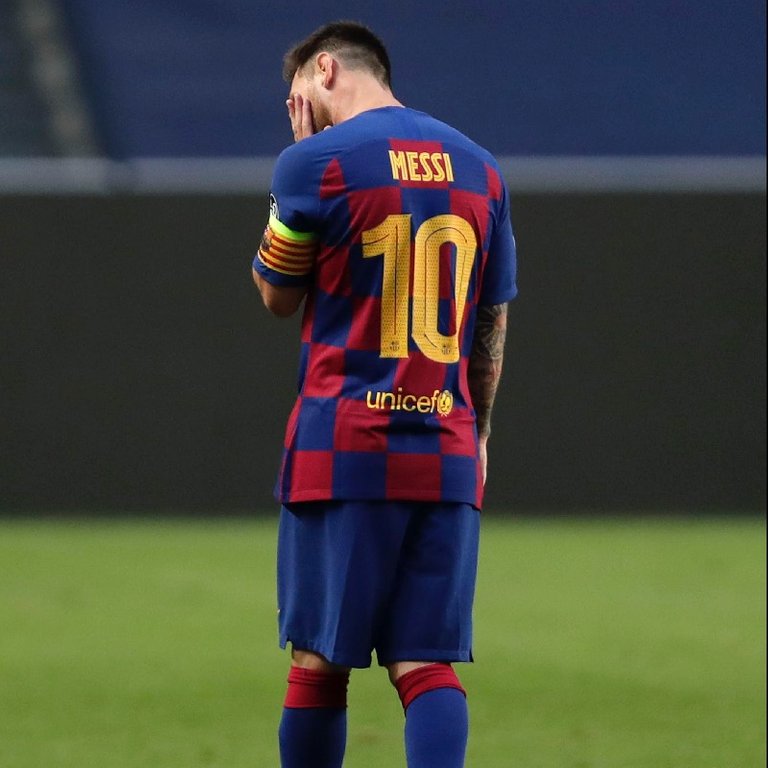 source
Victor Font a presidential candidate believes it is too late to convince Messi to stay. He has the right attotude though saying it needs to be handled properly making Messi happy so it leaves the door open for his return later in the future. Who knows Messi could go into coaching or be able to play another role in football.
I cannot believe Barcelona Football Club back pedaling trying to cling onto what would be a broken promise through a technicality. Lionel Messi was allowed to leave the club on a free transfer due to his years of service if he announced it within two weeks after the season closed.

source
Pep Guardiola is in Barcelona and expect he is in contact with Messi helping him. Manchester City are favorites to sign him and must have their lawyers assisting with this one. This was 4 years ago and I like how Pep handles the Messi question.
The clause in his contract expired on June the 10th, but due to the season being extended due to the Corona Virus he handed in his request the day after their final match last month. Honestly we all know Barcelona would have found something if he had done it whilst the season was still active and have just changed it to suit themselves.
A play maker and their talisman for 20 years and you treat him this way? What is wrong with just being a decent person and standing by your agreement. No one is going to pay the €700m release clause for a player who is 33 years old. What they are doing is disrespecting a player who has served his entire career with them.
I read the other day that the clubs President is liable for any losses incurred during their tenure. I find this interesting as from news reports they have lost plenty due to the lock down and missed gate receipts plus all the merchandise sales. The €700m would cover this and can see the angle being played. Messi leaving would also bring forward the new presidential election which has been postponed until March next year.
Messi arrived at the club when he was 13 and has been with the club ever since. I can think of very few players who stayed at a club for their entire careers. Ryan Giggs and Paolo Maldini spring to mind as it is very rare in today's foot balling world. Normally clubs will try and cash in at some point as it is a business after all.
Messi hasn't pitched up to Ronald Koeman's practice sessions this week and I believe he is correct in what he has done. This needs to be resolved over the next month as the transfer windows close on October the 5th. I am hoping Barcelona see some sense and to not alienate a player who has given everything to the club.
Barcelona were built around Messi and he has generated billions for them over the years.Holding onto a player who you have allowed to leave and holding onto him through a technicality is not only unfair but unsporting in so many ways. The Barcelona Board should be embarrassed and disgusted in their behavior and this is going to end in tears for everyone involved. Sporting people need to be in charge of sporting clubs and not bureaucratic politicians trying to earn votes on popularity polls.
Obviously Barcelona fans don't want to see their idol leave but holding him back is not the thank you he deserves. I expect the courts will see common sense and will favor Messi's move away from the Noucamp later this month. If not Messi will be sitting this one out and will run his contract down and everyone loses.