[ENG + ESP] Chelsea defeats Manchester City 1-0 and wins the Champions League!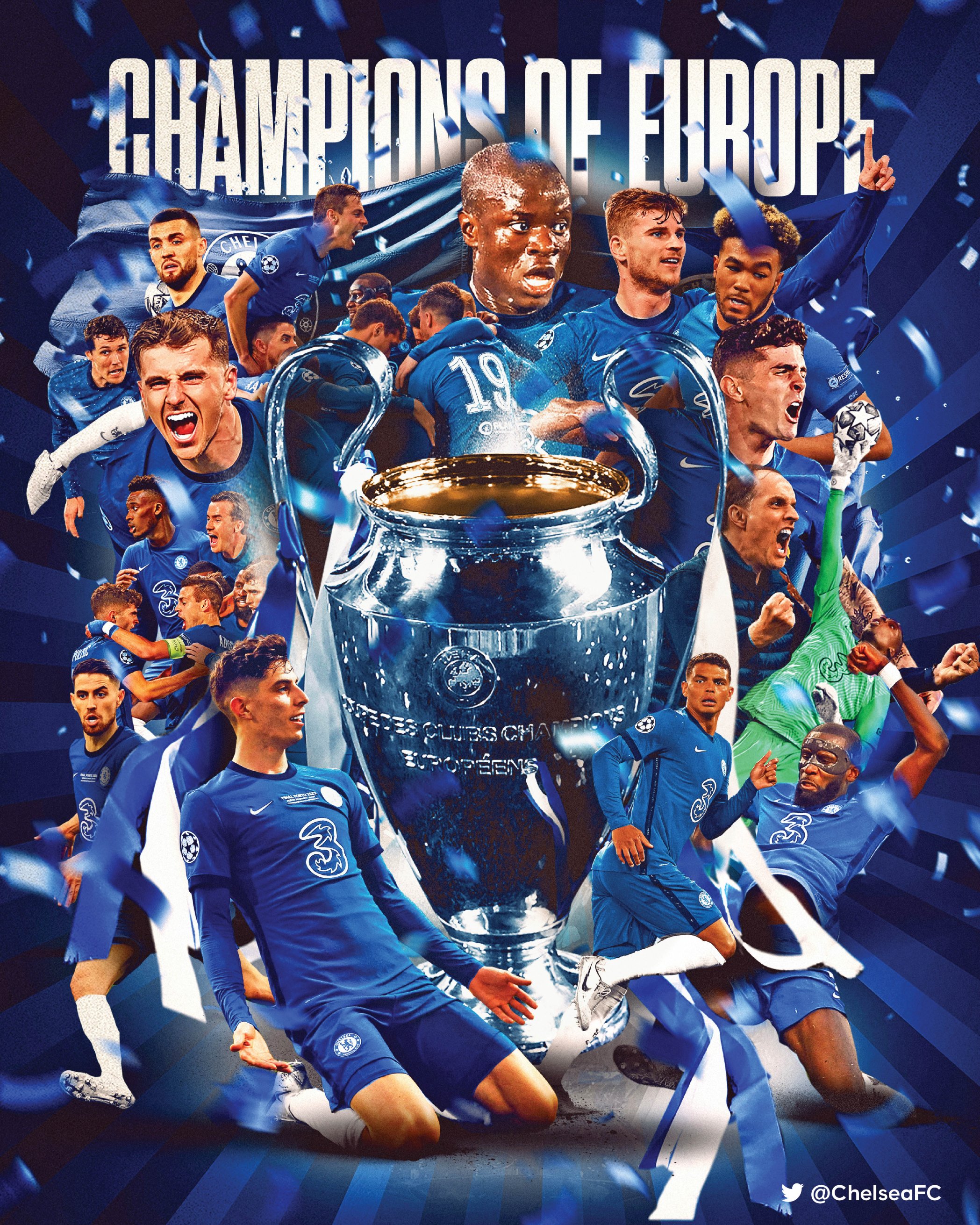 Source
English
Español
---
Yesterday I was able to see the most important match involving football clubs of the entire season, the Champions League final. This is a tournament where only the best teams of the main European leagues can participate and has been considered as the most prestigious club tournament since its creation.


This season's final was between 2 British teams, it isn't common to have 2 teams from the same country in the final but it has happened several times in the past few years. Chelsea already won this tournament for the first time in 2012 against Bayern Munich, but all of Chelsea's players who participated in the match are now either retired or have left the club. The current players have no experience winning this competition, and Thiago Silva, a veteran defender who just arrived last summer, is the only Chelsea player who has participated in a Champions League final. He did it last season with his previous team, PSG, but they lost the match against Bayern Munich.


This season wasn't an easy one for Chelsea, they had a hard time in the league throughout the season and were lucky to finish in the fourth position. In the national cups, they weren't able to win either of them even though they achieved the FA Cup final but only to lost it against Leicester City. The Champions League final was their last chance of winning a trophy this season.


Manchester City, on the other hand, had a great season. They had some trouble at the beginning of the season to consistently score goals, but eventually, Guardiola figured out a way to make his teamwork. He decided to play without natural strikers and this produced awesome results that allowed them to win the league, and the Carabao Cup, which is the secondary national cup in importance, the main one being the FA Cup. Winning 2 trophies in a season is awesome for any team, and the possibility of winning the Champions League meant this could be the best season in the history of the club.


In summary, we had Chelsea hoping to save their kind of mediocre season by winning the most important trophy, and Manchester City hoping to make an already good season into a historic one.
How was the match?
Manchester City began with a lot of energy and doing intense high pressing in order to generate mistakes in Chelsea's defense that could allow them to score a goal. It was clear that Guardiola wanted to score the first goal quickly and then play a little bit with Chelsea's frustration but that wasn't what ended up happening.


Chelsea began with a more conservative attitude, letting City control the ball and patiently waiting for their opportunities. Chelsea was ready to play the long game and wasn't anxious to do anything too risky in the first few minutes.


Despite City's being the team taking the most initiative, it was Chelsea the one more effective with their attacking plays. The first dangerous attacking play happened around the 9-minute mark and was created by Chelsea but it was missed by Werner who wasn't able to make a proper shot. Seconds later, City responded with their more dangerous play up to that point.


Around the 13 minute mark, Chelsea's players proved once again how fast and dangerous they can be. They created another attacking play that was finished by Werner again but sadly for them, he once again missed the opportunity. This time he did a weak shot easily stopped by City's goalkeeper. City was controlling the ball up to this point but the best plays were lighting fast and created by Chelsea.


Chelsea was able to create good attacks without giving too many touches to the ball while City required many more touches that were sooner or later interrupted by some Chelsea players. It was harder for City players to stop Chelsea's attacks due to how fast they were. After the first 25 minutes or so both teams reduced their intensity.


Thiago Silva had to left the pitch due to an injury around the 38-minute mark. This was an important loss for Chelsea because Silva isn't only the leader of the defense but also one of the best in the world in his position and a true veteran. However, I didn't notice any difference in the defending performance of the team after Silva left the pitch, which means the substitute played as well as Silva.


The first goal was scored around the 43-minute mark, Chelsea caught City's defense by surprise, Haverts received a long pass from Mount that left him almost alone in front of the goalkeeper, dodge him, and scored an easy goal in front of an empty net. This goal was possible due to City's open spaces in their defensive areas. They were putting too much focus on their attacking movements and as a result, were leaving spaces that were exploited by Chelsea's fast attacking players.


This goal was also an important psychological factor because it happened right at the end of the first half, which means it surely conditioned whatever happened in the mid-match discussions between players and coaches.


Chelsea wasn't the only team who suffered an important injury, during the second half, De Bruyne, who is probably the best player in Manchester City, got injured and was forced to leave the pitch, this happened at around the 59-minute mark and was caused by a strong hit that left him with a black eye, or rather a kind of purple eye. This was an important blown for City because there is no other attacking player who is as skilled as him in the team. The guy even left the pitch crying and this was very sad to see but injuries and hits like this are actually common in football.


During the second half, there was a lot of tension in both teams, and the pace got slower. This might have been caused by accumulated fatigue. Chelsea didn't have many good attacking plays in the second half, they were more focused on defending their 1 goal advantage. City's players had a hard time dealing with the frustration of being at a disadvantage, which for them isn't common. Guardiola did a lot of changes in an attempt to figure out how to tie this challenging match but the truth is Chelsea's defensive players were absolutely top-notch.


City almost tied in the last minute with a great shot from Mahrez that passed only a few centimeters above the post. It would have been a spectacular goal but I guess it wasn't meant to be. By the end of the match, City's goalkeeper was in the midfield line and the entire Chelsea team was either inside their penalty box or very close to it. They resisted Manchester City's attacks and were able to win this great trophy for the second time in the club's history.


I believe Tuchel and Guardiola are 2 of the greatest coaches in today's football and this match was a clear victory for Tuchel. His strategy to create quick attacking movements with as few passes as possible resulted in a well-deserved victory, and his defense was also able to effectively stop City's attacks.
What's next?
The next matches I plan to watch will be from the UEFA Euro and the Copa America. Things will get interesting in those tournaments in July after the group stage is finished but there are a few matches in the first 2 weeks that I plan to watch.


There is an important discussion that the football community needs to have and it is related to the best player of the season. There will be a lot of candidates and I believe the UEFA Euro and the Copa America will be of big influence in choosing which one was the best, but for now, it isn't an easy choice.


I plan to share another article doing a general review of the season very soon maybe tomorrow.


Thanks for reading!
Ayer pude ver el partido más importante de toda la temporada de clubes de fútbol, ​​la final de la Champions. Se trata de un torneo donde solo pueden participar los mejores equipos de las principales ligas europeas y ha sido considerado como el torneo de clubes más prestigioso desde su creación.
La final de esta temporada fue entre 2 equipos británicos, no es común tener 2 equipos del mismo país en la final, pero ha sucedido varias veces en los últimos años. El Chelsea ya ganó este torneo por primera vez en 2012 contra el Bayern de Múnich, pero todos los jugadores del Chelsea que participaron en ese partido están ahora retirados o han abandonado el club. Los jugadores actuales no tienen experiencia ganando esta competición, y Thiago Silva, un defensa veterano recién llegado el verano pasado, es el único jugador del Chelsea que ha participado en una final de la Champions. Lo hizo la temporada pasada con su anterior equipo, el PSG, pero perdió el partido ante el Bayern de Múnich.


Esta temporada no fue fácil para el Chelsea, lo pasaron mal en la liga durante toda la temporada y tuvieron la suerte de terminar en la cuarta posición. En las copas nacionales, no pudieron ganar ninguna de las dos a pesar de que llegaron a la final de la Copa FA, pero solo para perderla contra el Leicester City. La final de la Champions League era su última oportunidad de ganar un trofeo esta temporada.


El Manchester City, en cambio, tuvo una gran temporada. Tuvieron algunos problemas al comienzo de la temporada para marcar goles consistentemente, pero finalmente, Guardiola descubrió una manera de hacer que su equipo funcionara. Decidió jugar sin delanteros naturales y esto produjo resultados impresionantes que le permitieron ganar la liga, y la Copa Carabao, que es la copa nacional secundaria en importancia, siendo la principal la Copa FA. Ganar 2 trofeos en una temporada es increíble para cualquier equipo, y la posibilidad de ganar la Liga de Campeones significaba que esta podría ser la mejor temporada en la historia del club.


En resumen, teníamos al Chelsea con la esperanza de salvar su temporada mediocre al ganar el trofeo más importante, y al Manchester City con la esperanza de convertir una ya buena temporada en una histórica.
¿Cómo estuvo el partido?
El Manchester City empezó con mucha energía y haciendo una intensa presión alta para generar errores en la defensa del Chelsea que le permitieran marcar un gol. Estaba claro que Guardiola quería marcar el primer gol rápido y luego jugar un poco con la frustración del Chelsea pero no fue eso lo que terminó pasando.


Chelsea comenzó con una actitud más conservadora, dejando que el City controlara el balón y esperando pacientemente sus oportunidades. Chelsea estaba listo para jugar a largo plazo y no estaba ansioso por hacer nada demasiado arriesgado en los primeros minutos.


A pesar de que el City es el equipo que más iniciativa tuvo, fue el Chelsea el más efectivo en sus jugadas de ataque. La primera jugada peligrosa de ataque ocurrió alrededor de los 9 minutos y fue creada por el Chelsea, pero Werner no pudo realizar un tiro adecuado. Segundos después, el City respondió con su juego más peligroso hasta ese momento.


Alrededor de los 13 minutos, los jugadores del Chelsea demostraron una vez más lo rápidos y peligrosos que pueden ser. Crearon otra jugada de ataque que fue rematada por Werner nuevamente, pero lamentablemente para ellos, una vez más perdió la oportunidad. Esta vez hizo un disparo débil que fue fácilmente detenido por el portero del City. El City controlaba el balón hasta ese momento, pero las mejores jugadas eran rápidas y creadas por el Chelsea.


Chelsea supo crear buenos ataques sin dar demasiados toques al balón mientras que el City necesitaba muchos más toques que tarde o temprano eran interrumpidos por algunos jugadores del Chelsea. Era más difícil para los jugadores del City detener los ataques del Chelsea debido a lo rápido que eran. Después de los primeros 25 minutos aproximadamente, ambos equipos redujeron su intensidad.


Thiago Silva tuvo que abandonar el terreno de juego debido a una lesión en el minuto 38. Esta fue una pérdida importante para el Chelsea porque Silva no solo es el líder de la defensa, sino también uno de los mejores del mundo en su posición y un verdadero veterano. Sin embargo, no noté ninguna diferencia en el desempeño defensivo del equipo después de que Silva dejó el campo, lo que significa que el suplente jugó tan bien como Silva.


El primer gol se marcó alrededor del minuto 43, Chelsea tomó por sorpresa a la defensa del City, Haverts recibió un pase largo de Mount que lo dejó casi solo frente al portero, lo esquivó y anotó un gol fácil frente a un arco vacío. Este gol fue posible gracias a los espacios abiertos del City en sus áreas defensivas. Se estaban concentrando demasiado en sus movimientos de ataque y, como resultado, estaban dejando espacios que eran explotados por los rápidos jugadores de ataque del Chelsea.


Este gol también fue un factor psicológico importante porque sucedió justo al final de la primera parte, lo que significa que seguramente condicionó lo que sucedió en las discusiones a mitad del partido entre jugadores y entrenadores.


El Chelsea no fue el único equipo que sufrió una lesión importante, durante la segunda parte, De Bruyne, que probablemente sea el mejor jugador del Manchester City, se lesionó y se vio obligado a abandonar el terreno de juego, esto sucedió alrededor del minuto 59 y fue provocado por un fuerte golpe que lo dejó con un ojo morado. Este fue un golpe importante para el City porque no hay otro jugador atacante tan hábil como él en el equipo. El chico incluso salió llorando del campo y fue muy triste verlo, pero las lesiones y los golpes como este son comunes en el fútbol.


Durante la segunda parte, hubo mucha tensión en ambos equipos y el ritmo se hizo más lento. Esto podría haber sido causado por la fatiga acumulada. El Chelsea no tuvo muchas buenas jugadas de ataque en la segunda mitad, estaban más concentrados en defender su ventaja de 1 gol. Los jugadores del City tuvieron dificultades para lidiar con la frustración de estar en desventaja, lo que para ellos no es común. Guardiola hizo muchos cambios en un intento de averiguar cómo empatar este desafiante partido, pero la verdad es que los jugadores defensivos del Chelsea fueron absolutamente de primera categoría.


El City casi empató en el último minuto con un gran disparo de Mahrez que pasó apenas unos centímetros por encima del poste. Habría sido un gol espectacular, pero supongo que no estaba destinado a serlo. Al final del partido, el portero del City estaba en la línea del medio campo y todo el equipo Chelsea estaba dentro de su área de penalti o muy cerca de ella. Resistieron los ataques del Manchester City y consiguieron alzarse con este gran trofeo por segunda vez en la historia del club.


Creo que Tuchel y Guardiola son dos de los mejores entrenadores del fútbol actual y este partido fue una clara victoria para Tuchel. Su estrategia de crear movimientos de ataque rápidos con la menor cantidad de pases posibles resultó en una merecida victoria, y su defensa también pudo detener eficazmente los ataques del City.
¿Qué sigue?
Los próximos partidos que planeo ver serán de la Eurocopa y la Copa América. Las cosas se pondrán interesantes en esos torneos en julio después de que termine la fase de grupos, pero hay algunos partidos en las primeras 2 semanas que planeo ver.


Hay una discusión importante que la comunidad del fútbol necesita tener y está relacionada con el mejor jugador de la temporada. Habrá muchos candidatos y creo que la Eurocopa y la Copa América serán de gran influencia a la hora de elegir cuál fue el mejor, pero por ahora no es una elección fácil.


Planeo compartir otro artículo haciendo una revisión general de la temporada muy pronto, tal vez mañana.


¡Gracias por leer!
---
---